Trailerable Cruiser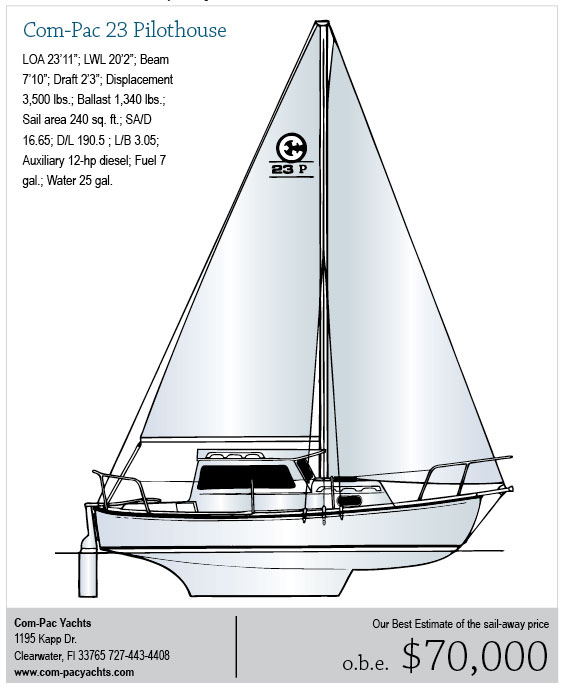 So as long as we have just looked at a "minimalist" 23-footer why not take a look at a "maximumist" 23-footer? This new Com-Pac model was based on a Clark Mills design first built in the early 1970s. The hull has proven very successful, offering trailering ability and shoal draft.

I know many of you will say, "What a silly little boat." But I'll bet that there are just as many of you thinking, "Now that's a damn cute little boat." Living on deep Puget Sound I'm not wild about any boat that doesn't have deep draft. But I'm lucky, I guess. I talked to the factory rep and they told me the owner of hull No. 2 just returned from two months in the Bahamas on his 23 Pilothouse. That sounds very appealing to me.

Clark Mills was a very clever designer-ask any Optimist sailor­-and very aware of the challenges of designing to shoal draft. It's a nice looking hull. It has a perky sheer spring, a shapely spoon bow and moderate freeboard. The boat only draws 2 feet 3 inches. The keel is a long, low-aspect fin with an arced trailing edge. It's not exactly going to give you blistering speed sailing to weather but you buy a boat like this knowing that. This boat is a motorsailer and has a 12-horsepower Westerbeke diesel that will get you up to weather in fine fashion if you are in a hurry. The L/B is 3.05 and the D/L is 190.

This design is about comfort. There is an inside steering station. The helm chair converts to a counter for the stove. There is a head aft to starboard with standing headroom. The dinette to port folds down to make a berth. There are V-berths forward. It's an amazing layout for a 23-foot boat. But it comes at a price and that price is a small cockpit and very minimal side decks.

The rig is a simple, single-spreader masthead sloop with fore and aft lower shrouds. It's the identical rig to the standard 23 rig except for a higher boom to clear the pilothouse. The SA/D is 16.65, which is just fine for a motorsailer. The mainsheet is a bridle type on the transom so it does not clutter the small cockpit. The mast is deck-stepped and supported by bulkhead corner posts. This gets rid of a centerline compression post and opens up the passage forward.
When I do a design review I automatically picture myself on the boat being reviewed. I wonder if I would be happy on the boat and would it work the way I expect a boat to work. I've been thinking about taking this little hooker up to the San Juan Islands for a cruise. Our summer northerlies on Puget Sound can be a bit brisk midafternoon and with the shoal draft of the 23 a long beat would not be very enjoyable for me. But I could putt along with the diesel doing the work. I have this problem with trying to get anywhere at 3 knots especially with a 3-knot flood tide. But the shoal draft would mean I could hug the beach and take advantage of the tidal back eddies.

The trip across the Straights of Juan de Fuca, about 35 miles, could be a challenge but if you leave Port Townsend first thing in the morning it can be a very placid crossing. Or I'd trailer the 23 up to Anacortes behind a big fancy pickup truck, launch it there and shoot right into the San Juans the easy way, through the side door.

Oh yeah, I'm pretty certain I could have some fun with this boat.