Here is a new 36-foot daysailer from designer Steven Weiss, who works out of Trenton, Maine. I was thinking as I walked my dogs that there are a lot of "retro" looking designs being produced these days. I wondered why and concluded, and my dogs agreed, that it may be a reaction to the extreme styling we see in many of the European production models, a style my Danish pal Tom likes to call the "bloated tennis shoe" look. Maybe. There is something going on. It could be that with the bar raised so high for high-performance boats the emphasis for many of us has turned from boat speed to boat style. There is no question that the boats of the 1920s and '30s have a romantic look to them.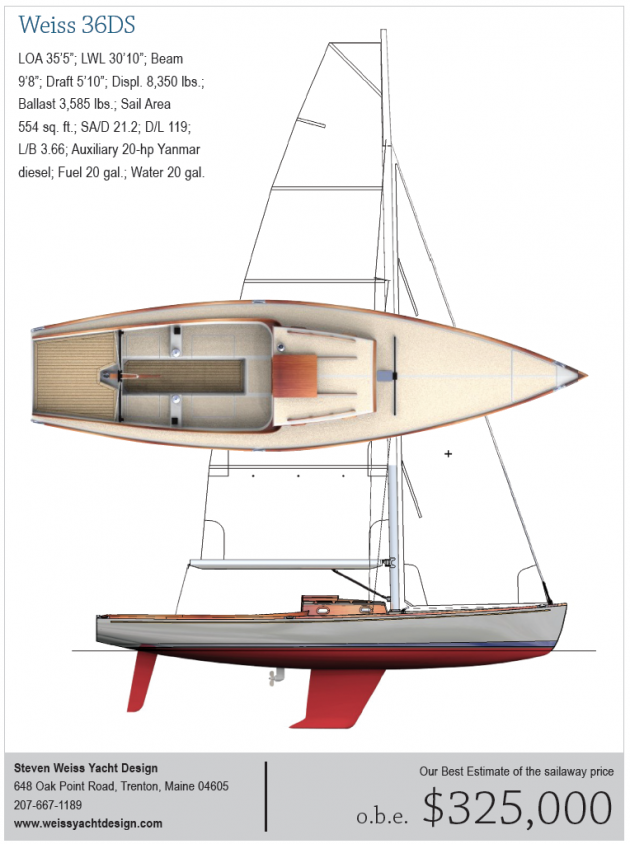 Weiss has given us a 36-footer with a D/L of 119 and an L/B of 3.66. This means we have a moderately light boat that is on the narrow side. In keeping with the retro look there are overhangs forward and aft, but not much forward. The freeboard is low and the transom is vertical.
The vertical transom is not a retro feature, and a 12-degree rake would have been enough to add some old-school grace to the stern while not removing much from the sailing length and diminishing boat speed.
The sections are arclike with modest deadrise running aft to the transom. Draft is only 5 feet 10 inches, so that should keep everyone happy. The keel has a flared tip with a flat bottom. This hull should slip along nicely.
The interior is simple. There is an enclosed head to port of the companionway and a mini galley space to starboard. Maybe you don't need a galley. Then you can do whatever you please with that space. Settees extend into a V-berth so you could sleep aboard the 36DS.
But daysailers like this are all about big cockpits. There is a bridgedeck that provides the height needed to squeeze in the 20-horsepower Yanmar 3YM diesel with saildrive. With the freeboard this low and the cockpit relatively deep, the cockpit sole is just slightly above the DWL, and that could make self-draining the cockpit a problem when heeled.
The tiller head is recessed into the aft deck that is slightly above seat level. I probably would have kept one level throughout the cockpit if only for ease of building.
The cabintrunk is very boxy. That's OK; there are plenty of old boats with boxy cabintrunks. It's traditional. Still, given that there is rake on the forward face of the trunk I would have added a bit of rake to the sides too. Lines exit the cockpit coaming and lead to primary winches inboard on raised platforms.
With an SA/D of 21.2 and that nice big square-top main, the 36DS will scoot in light air. The self-tacking jib will make life easy, and the low clew and foot will take advantage of the end-plate effect of the deck for efficiency. Swept spreaders mean that no standing backstay is required. I wish this boat were hanging on my mooring right now.