It's impossible for me to review a Mark Mills design without a sense of pride. Mark has done very well for himself producing a long string of race-winning designs in Europe. But my connection with Mark is that he was an intern in my office many years ago. I have no idea how or why he ended up in my office, but he was a fun lad to have around, and he really knows sailing. With his current successes, I'm not surprised that Mark designed this newest C&C model, sporting the Redline name with its C&C history. I thought this is a good excuse to give Mark a jingle and have a good gam. We had a thoroughly enjoyable chat about boats and life.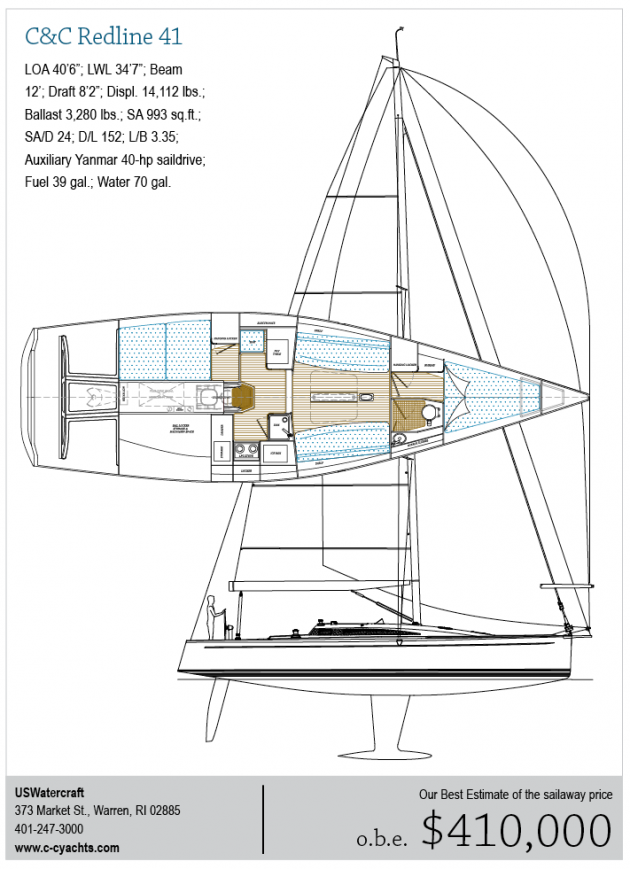 The Redline 41 is designed as an IRC racer. The IRC rule encourages dual-purpose boats and has been hard on ultralight, extreme race boats. The result is a fleet of good old dual-purpose racer-cruisers. The D/L is moderate at 152 and the L/B is also moderate at 3.35. Waterline beam is narrow to give the boat speed in light to moderate air.
A 7,232-pound cast iron fin and lead bulb provides stability for a ballast-to-displacement ratio of 51%. That is very high and indicative of the lightweight construction of the entire boat. There are no hollows in the entry and the hull rocker is an attractive clean line rising aft to give about 5 feet of overhang aft. This ensures low drag at low-to-moderate speeds. This boat will not drag its transom at any heel angle. The plan view is very conventional. The beam at the transom is 80% of the maximum beam. The entry is fine. This is a very slick moderate hull that should be fast and have no bad manners.
I call this accommodation plan basic layout A. This layout has been around longer than I have. Why? Because it works. The only change over the years is that modern boats with wider sterns can fit a double quarterberth whereas in the old days a single would have fit. The galley is a tight U-shape with a large sink and small icebox outboard. The useful bank of drawers aft will be appreciated. The nav station looks workable. The saloon with the drop-leaf table will sit four comfortably for meals. The head is spacious, but guests sleeping aft will have to enter the forward cabin to access the head at night. There is a huge cockpit locker to starboard.
The tall, fractional rig has a SA/D of 24. This is plenty of power without becoming overpowered too easily. There is a short, fixed sprit for the asymmetrical chute and the code zero. There looks to be about 14 inches of roach overlap on the backstay so after you tack in light air you had better look up to make sure the roach has flopped over or you will look stupid. The chainplates are outboard on the hull. The minimal overlap jib will sheet well inboard of the shrouds.
The deck plan features a huge cockpit with lots of room for flying elbows. Twin wheels are aft of the mainsheet traveler that spans the cockpit sole. The transom flips down to make a swim step. It is a very conventional and clean deck layout. For cruising, the primary winches are too far away from the wheels. But that's what autopilots are for.
C&C stands for the two Canadian designers, both named George, Cuthbertson and Cassian. Cassian died quite young. The two of them produced some of the most beautiful and race-course effective designs that were dominant in the 1970s. You have to look hard to find an original C&C design that is not eye sweet. The old C&C 39 is right in the top five of my all time favorite designs. It seems a bit odd that C&C models have almost zero connection to the two Cs today. But if the new company had to go somewhere for the latest design I'm happy it went to my old pal, Mark.