Thriving one-design classes have found the right formula to keep sailing flourishing
A willingness to evolve
One-design sailing is a fascinating segment of the sport, because boats with decades-old designs remain at the cutting edge of competition. Year after year, they continue to draw multiple generations of sailors into the sport.
Celebrated designer Olin Stephens developed the Lightning in 1938. This sloop-rigged, planing dinghy carries a racing crew of three, and while it has a simple rig, sail-shape controls ensure intense competition on the water.
Bill Faude, the International Lightning Class Association's vice president of marketing, was co-chairman of the Lightning North Americans held in Sheboygan, Wisconsin, last summer. For the first time in almost 10 years, the NAs attracted more than 100 boats, and Faude attributed this to the class's innovative approach to overcoming its challenges. To start, ILCA reached out to potential regatta participants individually.
"We looked at our lists and asked ourselves if we could personally reach out to people," Faude said. "We'd call them and say, 'We want you to come. What can we do to help?'"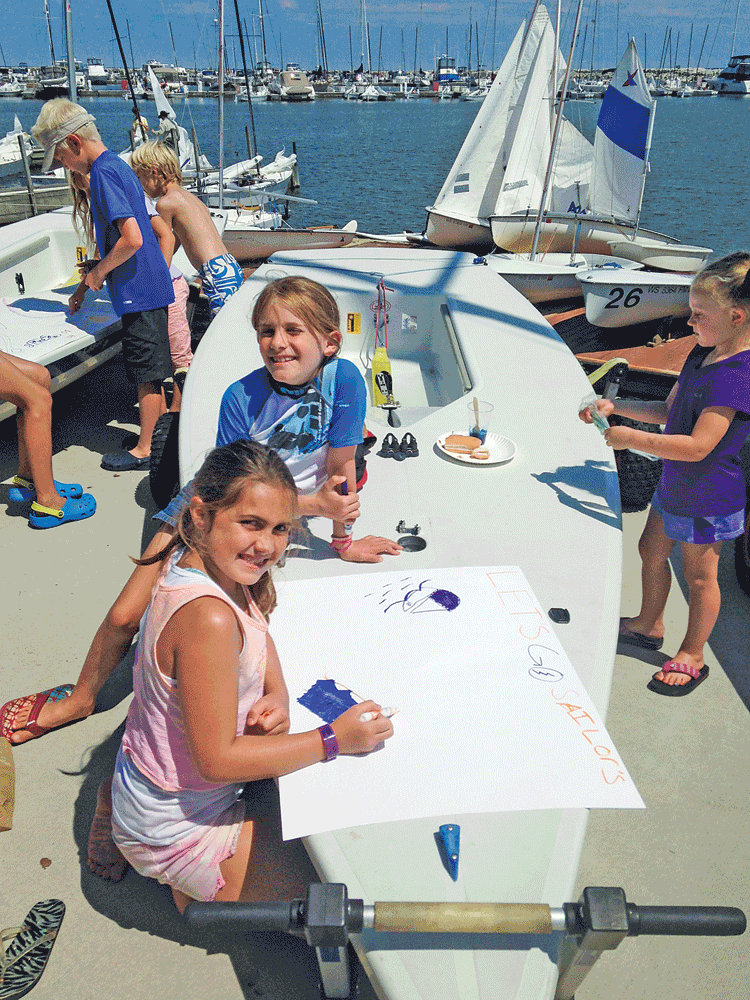 Chris Gribble photos
Many sailors reported challenges with finding childcare or taking time away from the family summer vacation, so ILCA did something new: It created a sailing camp.
"It was an enormous hit," Faude said. "We had more than 25 kids from the hour gun in the morning to protest time in the afternoon."
At the camp, children enjoyed activities such as arts and crafts, kayaking, stand-up paddleboarding and playtime in a waterpark. Those who wanted to sail could go out on a 420 with an instructor. ILCA will host the sail camp again this July at the 2015 Lightning International Masters and World Championships at the Buffalo Canoe Club in Ontario, Canada.
"The camp is great for our class," Faude said. "It helps sailors get their kids into Lightning sailing, to the point where they want to keep coming because now they have 'Lightning friends.'"
ILCA also undertook an impressive communications campaign. It created a blog a full year before the event, populating it with information about class activities and race management.
"Our members are our customers," he explained. "They care about the details, and we respect that, so we want to let them in the tent. We showed them the yacht club, the race course—I even took a picture of each hotel and wrote a summary from a one-design-sailor-with-a-van perspective."
In the end, 105 out of a targeted 130 boats attended the NAs. A concierge was assigned to the fleet, assisting with everything from parking to boat measurements.
"You're on vacation, and we're your hosts," Faude said. "We extend the same attention to our volunteers, showing them they're appreciated. We make sure they get good T-shirts, they're well fed and they have a great experience."
In addition, to attract more young people to the class, ILCA offers the Lightning Boat Grant Program, which gives select sailors an opportunity to experience Lightning racing. Not only do grant recipients receive a competitive boat and a class mentor, ILCA pays for insurance and significant regatta expenses.
"We award two to three boats per year," Faude said. "We let the recipients have them for the summer, and we make sure they have a good experience so they want to stay with us. Some of the recipients are accomplished sailors, while others are candidates who we feel simply deserve a shot."
Then there is the Southern Circuit Coach Program, a mentoring program for new sailors and those who feel their skills have plateaued. It includes pre-sailing weather briefings, post-race debriefings and ongoing mentor support.
"It's really cool, because we find that some of the better sailors drop by to eavesdrop," Faude said. "That reinforces the idea that this is valuable information for everyone. You can refresh your memory, take advantage of new perspectives and make your sailing better. That makes the event more valuable."
Faude noted that one-design classes are under pressure to find new ways to add value and to leverage existing assets.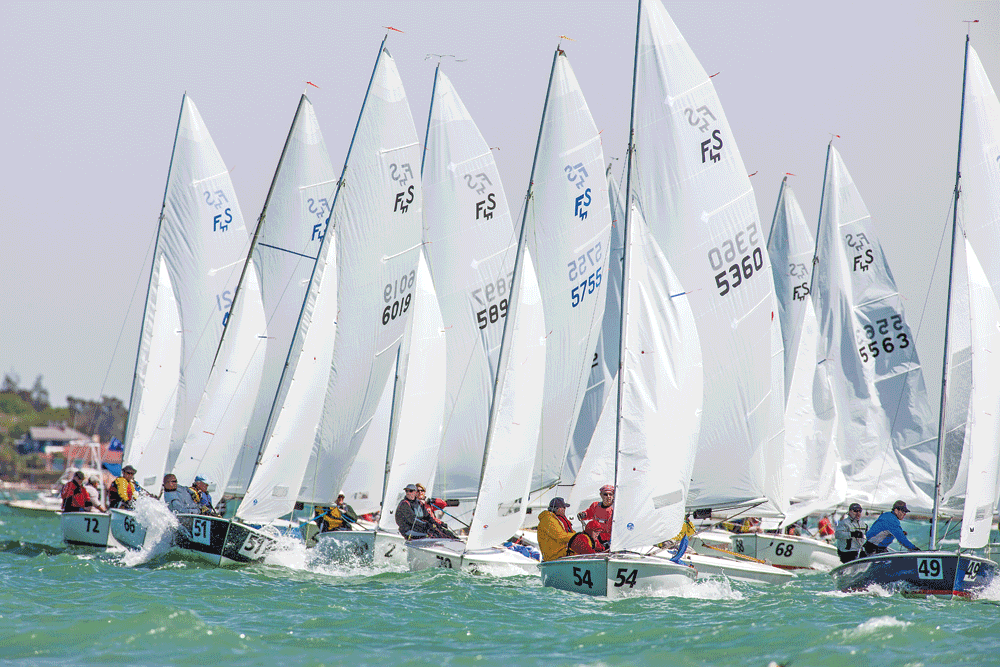 "We have to keep trying new things, because we're not in an amazing growth area," he explained. "People have less leisure time with more options for how to spend it, so it's not a given that they'll attend a regatta that they've attended in the past. We have to do more, not just sit around saying, 'I wish it was like how it was in 1965.' We need fresh thinking, flexibility, and a willingness to evolve."
It's not just about the boat
Like the Lightning, the Thistle is a high-performance racer with a three-person crew. Designed by Gordon K. "Sandy" Douglass in 1945, the boat sails with a main, jib and spinnaker and is renowned for its surprisingly low planing speeds.
The Thistle has not changed in seven decades, and TCA is stringent about class rules to ensure that all available boats remain competitive. TCA Secretary Craig Smith, who sails a 1953 wooden Thistle, said this is critical to the class's success.
"A boat built in 1968 is still competitive, and you might only spend $1,500," he said. "That's within reach of a young person just out of college."
Also like the Lightning class, TCA has a growth and development program. It was started by Chris Klotz, past TCA president and national champion who still owns hull No. 1. Program funds are dedicated to paying regatta fees for skippers age 26 and under.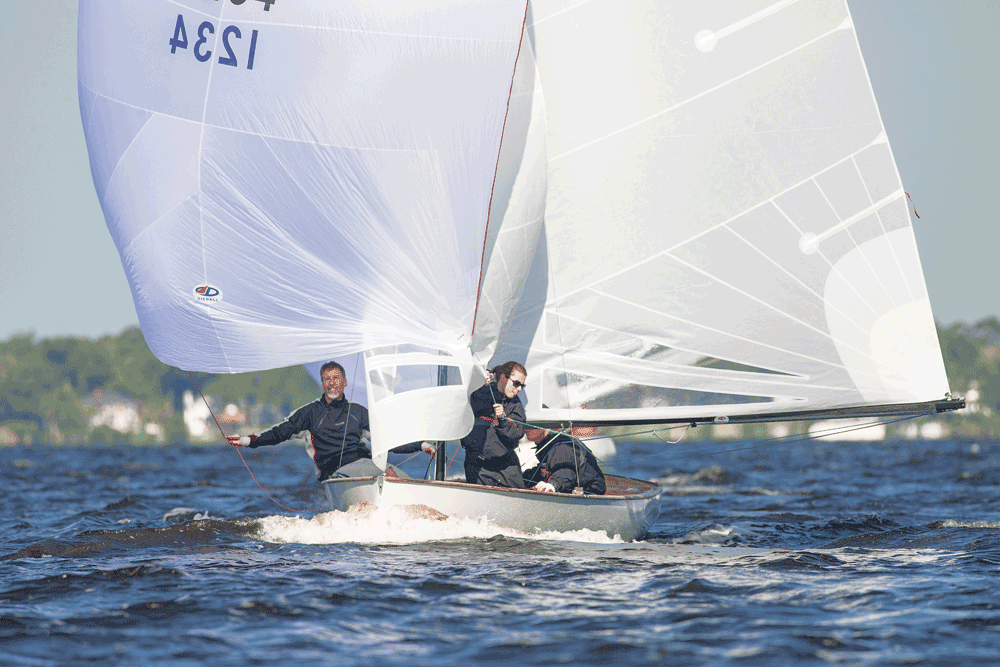 "The Lightning class has a fabulous boat grant program, but unfortunately, we don't have the funds for that," Smith said. "Our growth and development program is small, but helping with the fees does make a difference."
At the Thistle Midwinters East Regatta in St. Petersburg, Florida, in March the fund was able to cover regatta fees for four boats.
"Three of the four are third-generation Thistle sailors," Smith said. "They might not have come without help."
TCA will assist with fees again this July at the 2015 Thistle National Championship Regatta in Fort Walton Beach, Florida, and four spots in the program are already reserved. Fee assistance is limited to major national regattas for now, but Smith said he hopes that word will get out and result in more donations.
The class is dedicated to attracting more young people to Thistle sailing, and so far, they seem to be coming. Last year, 105 boats participated in the national championships in Sandusky, Ohio, with an average age under 30. Second-, third- and fourth-generation Thistle families are regulars on the circuit, and Smith noted that for five consecutive years, he had both his daughter and father on his boat as crew at nationals.
"How many activities allow you to do that?" he said. "For years, I always had a person in my boat under the age of 25. That increased the fun factor for me, and the fun factor is like a magnet. With more young single people, the regatta becomes more fun and more people show up. The younger sailors go to the bars and have the energy to get the 50-plus-year-old guys to ride a mechanical bull downtown.
"I did," he added, laughing, "and I stayed on for three and a half seconds in my blue blazer!"
Since a Thistle requires a crew of three, young sailors have plenty of opportunities to get into the class without significant costs.
"There are a lot of open doors to join us, if you're looking for an inexpensive weekend on the water in a beautiful location," Smith said. "Despite diminishing leisure time, young people always find time to do something fun. The Thistle is an athletic, competitive boat, but in this class, it's not really about the boat. It's about making it and keeping it fun."