Solitude and untouched beauty in the Spanish Virgin Islands off Puerto Rico's east coast make this charter feel like old time Caribbean
We had hoped to visit Mamacita's guesthouse and cantina for the much-touted Friday night conga drums but the entertainment instead flowed from the nearby Dinghy Dock Bar, a colorful establishment that quickly became part of our routine during our three days on Culebra.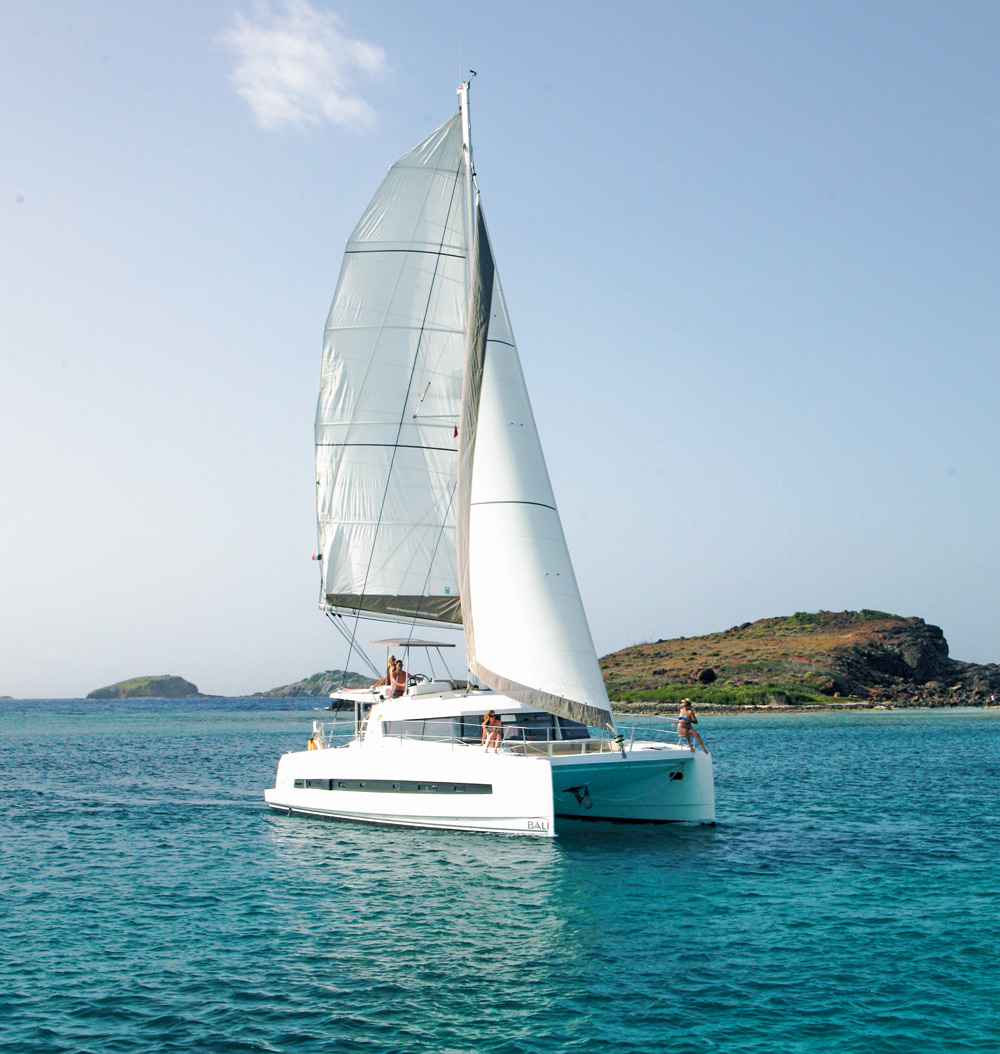 David Liscio photo
The Dinghy Dock, with its open-air café feel and wooden dock where locals and travelers tie up their dinghies, acts as a central gathering place for those seeking information, supplies, ice or simply a cold beverage and tasty meal. It's also in walking distance to Milka's, a tiny grocery and hardware store packed to the brim with food, beer, liquor and all sorts of other products.
Playa Flamenco was on our radar because it's frequently described as among the world's most beautiful beaches. We rented a six-person golf cart from Carl's Rentals for $45 to reach the beach where dozens of families were enjoying the sunny day. We swam, snorkeled and investigated two derelict World War II army tanks, but soon decided to try another beach called Playa Tamarindo where there were far fewer bathers and a more vibrant reef for snorkeling. We spent the afternoon snorkeling on the reef, accompanied by eels, rays, turtles, countless colorful fish and an array of living coral.
We also explored Playa Zoni, on the northeast tip of the island, which required traversing narrow roads that climbed and dipped like a rollercoaster. Numerous road signs warned of baden, which means bump in Spanish. We shouted out the word each time the golf cart bounced over one, but the slight discomfort was outweighed by our arrival at Playa Zoni, which was travel-magazine picturesque.
No visit to Culebra would be complete without spending a day anchored off nearby Isla Culebrita, the smaller sister island. We were the only boat anchored off Culebrita's Playa Tortuga in early morning but by noon the sprawling white sand beach was lined with powerboats, double-anchored and rafted together. We later learned it was a national holiday and three-day weekend. But no matter, it was a joyful atmosphere in which children hopped from one boat to another, playing games while the adults splashed in the warm waves or gathered for drinks in the larger cockpits.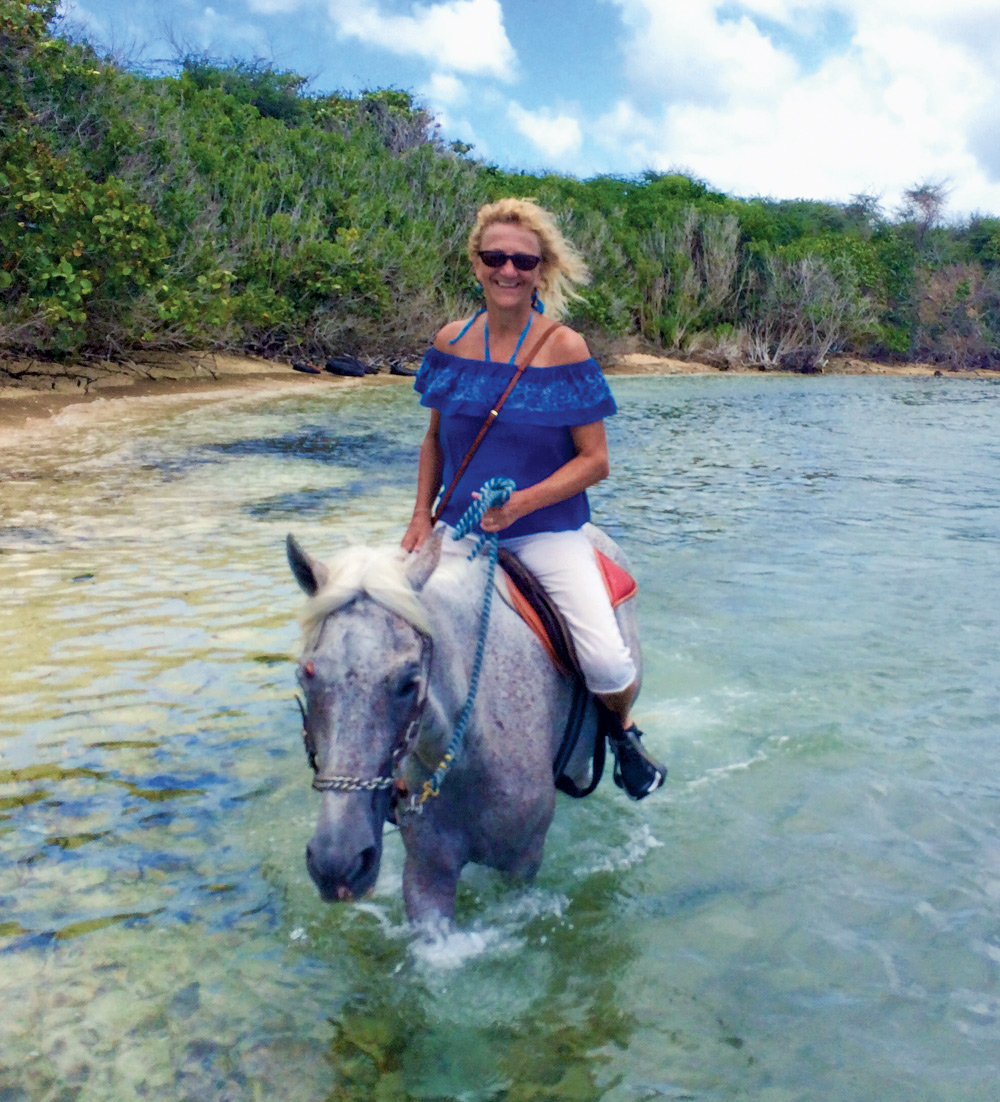 Christine rides through the surf on Vieques Island.
David Liscio photo
Although the sun reached oven temperature, we drove the inflatable onto the beach and hiked to the crumbling Faro Culebrita lighthouse for the panoramic view. Since Playa Tortuga is open to northern swells, we returned to Ensenada Honda for the night and a fun dinner at the Dinghy Dock. Our inflatable was lashed alongside three others a few feet from our outdoor table. When dinner was done, we fed the remains of our grouper and red snapper to the massive tarpon that hang out at the dock. People cheered as the fish leapt from the water and splashed those nearby, the riotous scene illuminated by our headlamps.
Feeling as though we'd had a glimpse of Culebra, we pointed Despacito south toward Vieques. We had been warned that Vieques, with its larger land mass and 10,000 residents (compared to Culebra's 2,000) might have a different vibe as well as petty thievery. Vieques has been undergoing a transformation from former U.S. Navy bombing practice range to tranquil Caribbean island. The policy shift and subsequent environmental cleanup were preceded by years of protest and civil disobedience. It has bred a lingering animosity against the military and an anti-development attitude among certain locals and members of the ex-pat community.
Rounding the eastern end of Vieques, we were met by ocean swells and confused seas, conditions sailors typically don't encounter in the BVI, but the sail took less than four hours. Although no buoy marked the location, our chartplotter showed the entrance into Bahia de la Chiva, aka Goat Bay, a protected, palm-fringed anchorage on the south side of Vieques. There were no other boats. It was idyllic.