As waterfront condos rise, boatyards sink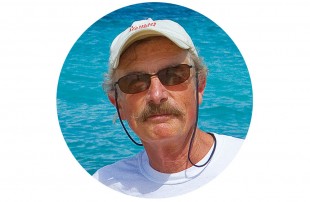 A real estate ad I saw recently boasted of properties with a "pond view."
No kidding.
No matter that the pond was a storm water retention basin that was required by the building code and that it would surely bloom in the warm months with a layer of slime-green pond scum, this is more evidence that water views, however humble, are golden.
Which accounts for condoization of the American waterfront.
No one, least of all sailors, can blame people for wanting to live near the water, but the buying up of property fronting on water connected to the oceans and the Great Lakes for condo developments is an unwelcome trend on several counts.
The condominium buildings, which too often are tall edifices of dubious aesthetic appeal, block water views and access that have long been available to the public.
For boat owners, they pose another problem: They are incompatible with working waterfronts. In some ports they have displaced the boatyards and haul-out services sailors and powerboaters need and are threatening the existence of those that still have a place on the water to operate.
This unfortunate dynamic is powered, of course, by the surging market value of waterfront property. Developers can afford to pay dearly for it because the condos they build command breathtaking prices. Municipal officials are delighted because tax revenue increases. And as property values jump, so do the property taxes paid by surviving boatyards, putting more pressure on those businesses.
That's not all. Condos can be unfriendly neighbors to boatyards. Ask Molly Strassel. She's the Molly of Molly's Marine Services in Naples, Florida, and she is under siege by owners of condos that surround her boatyard on Naples Bay.
The condo owners are suing Strassel, claiming her boatyard is a nuisance because it makes too much noise. "An outdoor boatyard with loud noises is an inconsistent use with residential properties," the plaintiffs' lawyer said.
Really? Then one has to ask, why were the condos built next to a boatyard? Strassel's property has been used as a boatyard for more than 70 years. It has been operated as Molly's Marine Service since 2009.
Like all boatyards, Molly's does make noise, but not enough to violate the city's nuisance ordinance. City Attorney Jim Fox told the Naples Daily News: "That place has been a marina for about as long as anyone can remember, and so far as the city's concerned, Molly's is and has been operating according to law."
Molly thinks the lawsuit has more to do with property values than noise. She points out that the condo owners knew about the boatyard when they bought their units. The complaints started, she says, when new condos were built across the street and were valued much higher than those adjacent to the boatyard.
She may be right about noise not being the primary issue. The condo owners, like all Naples residents, should be inured to noise, since they live in a city that has to be one of the loudest per capita on the continent.
I write this as someone who is fond of this tropical community with its miles of public beaches that rank with the world's most beautiful and an intimate relationship with both the Gulf of Mexico and the Intracoastal Waterway that makes it a boater's dream. But in spending time there over many years I've learned that its charms have to be enjoyed amid a rolling cacophony.
The Naples airport is located near the city center. One of the consequences of the lofty net worths of the populations of the city's high-rent districts, notably the gold-plated Port Royal neighborhood, is that many Neapolitans commute by private jet. The airport approach on most days is directly over what is fondly known as Old Naples (and over the condos in which Molly's neighbors dwell). The business jets come and go low and loud night and day.
The Naples economy is spinning like a jet engine and construction is booming—literally. The racket of cement trucks, pile drivers, excavating machines and the like is incessant.
Then there's the city's most prominent industry—landscaping. Thanks to the fecundity of its resident tropical plants, Naples is a city of gorgeous properties, Keeping them that way and keeping up with the ever rising standard for floral extravagance requires morning to night operation of power equipment.
Naples has an attractive city marketing symbol in images of its iconic Gulf-side pier. But a cynic might suggest that an image of a Stihl gas-power leaf blower would be a more apt logo, so ubiquitous are these ear-racking machines.
I strolled over to Molly's Marine Service on a hot day in February and observed the following: it wasn't noisy at the time; it's uncommonly neat and organized for a boatyard; a crossbeam on its massive 70-ton Travelift is painted pink; the condo complex occupied by the complaining neighbors has a nice view of the boatyard and Naples Bay beyond.
If they win the lawsuit, and Molly's is driven out of business, it's pretty much a foregone conclusion that the land occupied by the yard will be bought for condos.
If karma does its job, the suing owners would then have to live for several years up close and personal with construction clutter and noise and watch their views slowly disappear. Meanwhile, the Gulfstream business jets and their kin would still be thundering above their ceilings and the leaf blowers would still be roaring.