Bathtubs breed the best sailors
Deltaville, Virginia, population 800, was dubbed "Optiville" for one very hot week in July when 315 Optimist sailors descended for the 2010 United States Optimist Dinghy Association Layline Nationals Regatta.

Although hosted by the Fishing Bay Yacht Club, the club did not have the space required for 315 dinghies plus their entourages, so Keith Ruse agreed to accommodate the regatta at his Deltaville Boat Yard and Marina. The Deltaville Maritime Museum also opened its arms for the event, offering parking to the visitors and plenty of space for the many vendors at the event.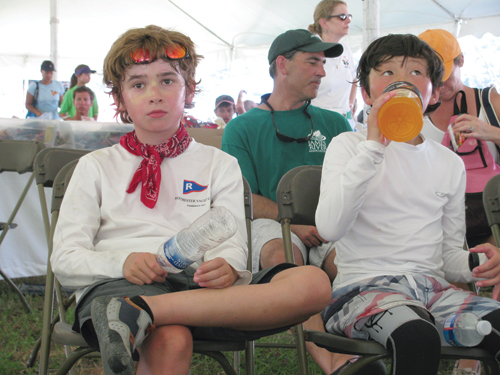 The first Optimist dinghy was designed in 1947 by Clark Mills in Clearwater, Florida.
He intended the design, originally a simple five piece wooden construction eight feet by four feet with a pram bow, to be suitable for a young child to sail solo. If he were alive in 2010, he probably would have been astounded by the success of
his design, as the surface of Jackson Creek in Deltaville resembled a meadow covered in hundreds of swooping white butterflies. Optis are now built on five continents. There are 130,000 of them registered with the international organization and a possible 150,000 sailed world wide in 110 countries.

The competitors traveled from across the United States, Caribbean and South America. Thirteen-year-old Frederico was missing part of the school year in Uruguay. What he stood to gain from the trip was obviously worth it for his family and his father Roberto noted, "His English teacher will be happy at least."

The winds were light at 5 to 8 knots for the start of team-racing, with temperatures that soared above 100 degrees. Finally, a front brought a 15-knot breeze out of the southwest to carry the sailors out to the mouth of the Piankatank River for the finals. The regatta also featured a Girls' Nationals Day, where Olympic Gold Medalist and 2009 World Sailor of the Year Anna Tunnicliffe signed autographs and answered questions about her achievements in sailing.

For boys or girls the Opti fleets are divided by age into White
Division, 10 years old and younger; Blue Division, 11- and 12-year-olds; and Red Division for 13- to 15-year-olds. The sailors must not turn 16 in the calendar year of competition.

The Green Fleet is for novice sailors of any age from 8 to 15. At competition events all Green Fleet sailors win a prize. After they place well in Green Fleet racing they are expected to move into their age-appropriate fleet. Leigh Sterflinger accompanied her 14-year-old son Peter from Long Island, New York, for his final regatta before aging out. She said the benefits of the Optimist program for her son included increased self-confidence, fitness, physical and mental resilience, sportsmanship and seamanship.

"Peter now researches the tides, currents and buoy weather reports when preparing for a regatta," she said.

Many Optimist sailors go on to race Lasers and 420s and take advantage of attractive university scholarships in team racing. At the Beijing Olympics, 85% of medal-winning skippers were former Opti sailors. The old saying goes, Optis are "bathtubs that breed the best sailors."

The overall winner was Nic Muller, 13, of U.S. Sailing
Center of Martin County. No matter where the others finished, they left better sailors, and at the very least, they understood the importance of staying well hydrated during extreme physical exertion in the record-breaking heat. The sailing, the travel and the thrill of competition are all important factors of Optimist sailing, but when asked, most Opti kids say they enjoy "just hanging out with my friends on the water and having a lot of fun." --Virginia Cross