I started working with this client over two years ago. The design process for this project was in many ways a snug harbor for me while a full gale blew through my life with the death of my son Spike. The design represents countless hours of design exploration and endless revisions.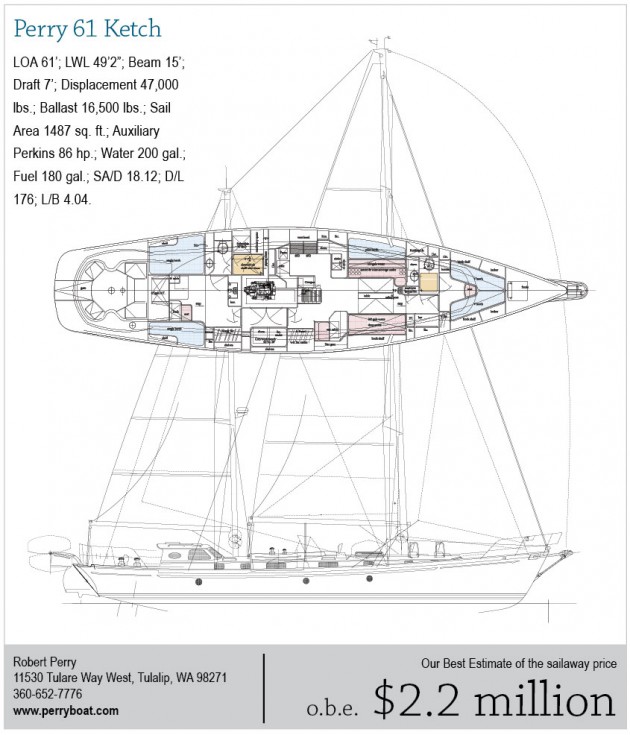 The build is now underway at the Pacific Seacraft yard in North Carolina with the computed numerical control hull mold already on the shop floor and the deck tooling probably already CNC cut as you read this review. I have a wonderful client for this project and we have enjoyed watching this design come to life.
Primarily my client wanted a ketch that would sail very well, accommodate his family in comfort and have a timeless, classic look. Displacement is moderate with a D/L of 176 and the beam is relatively narrow with a L/B of 4.04.

We played with various approaches to the overhangs but in the end my client's wife made the call and we gave the boat moderate overhangs for a graceful look. I think I probably drew and redrew that sheerline 50 times.

Draft is always an issue so we did numerous velocity prediction studies to evaluate the effect of draft on performance, and settled on 7-foot draft with a moderate-aspect-ratio fin with a bulb at the tip.

After exploring both center cockpit and aft cockpit layout options we were stuck. Each configuration had distinct advantages over the other. So we made a simple decision. We would have both: an aft cockpit for operating the boat and a center cockpit for lounging.

The owner's stateroom is aft with a double berth to port and a single sea berth to starboard. The raised pilothouse aft will allow the skipper to stand on the companionway platform and get a 360-degree view of his surroundings.

There is a large head aft to port with a big shower stall with access to the engine room through the shower stall. Adjacent to the engine room is a small area that has a work bench and tool storage lockers, but the size of the workbench top is precisely the regulation size of a baby crib. There is access to the engine from this work area also.

Moving into the main cabin there is a large wet locker to port and a nav station with a big chart table. To port there is the galley with twin Wallas diesel stoves. There is not a cubic inch of this interior volume that has not been tested and argued over for improvements to this layout. My client is an avid chef so I had fun designing the galley.

Laying out this deck for efficient sail handling was a challenge. Primary sail handling will be from the aft cockpit but we did put some controls and halyards at the center cockpit.

The aft cockpit has a broad helm seat with a hinged center section that folds down to become a boarding platform. Sheet bins are located in the wide coamings. There are 44 inches of covered forward seating under the pilothouse overhang so the crew can stay dry in rough weather. Full-size mock-ups of both cockpits were artfully done at Pacific Seacraft to insure everything worked as drawn.

There are advantages to a ketch rig for shorthanded sailing of a boat this size. In a breeze you can sail quite effectively with jib and mizzen. I kept the big mizzen well forward so it didn't have to be reefed early just to keep the boat balanced. The SA/D is 18.12. The rig will be carbon with in-boom furling.

I must give credit to my team on this project. Tim O'Connell has been the man behind the deck layout details. Ivan Erdevicki has been the engineer on several of my recent projects. Rick Beddoe did all the conceptual 3-D work. Jody Culbertson did the working 3-D models for the CNC process. Steve Brodie runs Pacific Seacraft, and along with his foreman, Thumper Brooks, they have been very instrumental in the design process. There is a female mold for this boat so we can build more copies.

To my eye this design has classic beauty in the style of Phil Rhodes. It meets all my client's design goals. It's a boat that will be a pleasure to sail under a wide range of conditions and will take very good care of its crew.