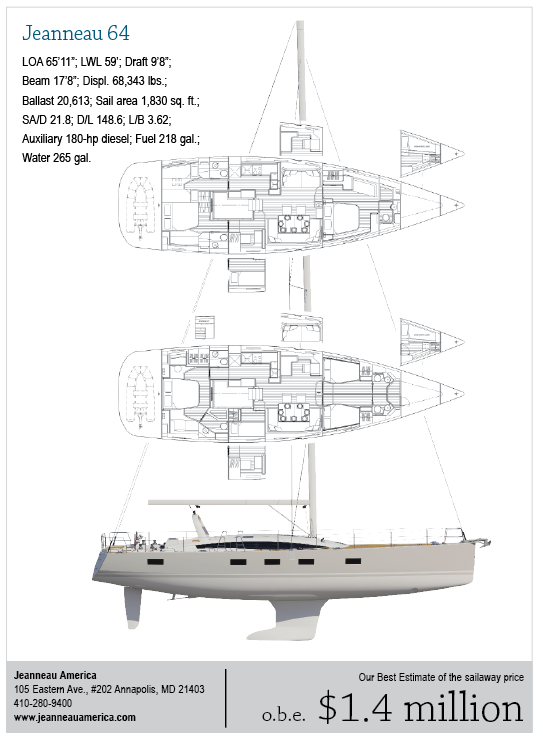 Philippe Briand and Andrew Winch designed this new Jeanneau. I suspect the interior is by Winch and the rest by Briand. Jeanneau Design is also listed, and I would guess it did much of the deck styling. The brochure says it was designed with "classic proportions," but to my eye this design is thoroughly modern and very much in the dominant style of European yachts today. Do I like it? Sure I do; it's sleek and sexy looking, but it's not my definition of "classic."
By today's production-boat standards this is a narrow boat with an L/B of 3.62. But it's normal for boats to get proportionately narrower as they get longer, and this boat is 64 feet 1 inch long. Not much beam is lost at the chopped-off transom. Again this shows an effort to max out length on deck while retaining the reverse transom rake.
There is a chine that develops amidships and continues to the transom. It adds a tiny bit of stability and some useful volume around the aft berths, but chines are also fashionable. Maybe those are good enough reasons. I like chines. They add interest to the hull shape.
The D/L is 148.6. There are two keels available, one drawing 9 feet 8 inches and the other 7 feet 2 inches. I really like the bulb shape on the deep keel. It's quite fine forward and fairs right out of the fin foil. It looks right to my eye. The hull has nice, conservative lines, and I'm sure that anything Briand designs will be a very good performer.
As is typical these days with production boats, there is a plethora of interior options. You can have a big open fo'c'sle, or you can fill it with crew's quarters, sans head. You can have mirror image, twin staterooms forward with snug looking double berths and adjoining heads with shower stalls. Or, you can have a single large stateroom with a queen-sizes berth and a very spacious head-and-shower arrangement.
In the saloon you can have an extensive navigation and communication center to port, or you can have a big, deep settee. To starboard is a U-shaped dinette with centerline seats. If you go with the deep settee your nav station goes just aft of the dinette. If you go with the nav station adjacent to the dinette this area aft of the dinette can be another snug stateroom with a single berth.
Aft, you can have one large stateroom, or you can split the area down the middle and go with port and starboard staterooms with split single berths or double berths. There are enough options here that I'm sure one combination would suit you fine. For me, I'd go with the big empty fo'c'sle, the twin staterooms forward, the deep settee and one stateroom aft. I'm easy. The galley stays the same on all versions, and it appears to be a large, very well thought out galley.
The triple-spreader rig is tall with a SA/D of 21.8. If you go with Jeanneau's standard in-mast furling rig the SA/D drops to 17.5. Note the mainsheet leading to a traveler on top of the arch that spans the cockpit.
There is nothing special to the deck design other than very nice styling. There are twin wheels in the cockpit, of course, and there is a large fold-down swim platform. Funny, except for size and scale this deck design has pretty much the same features as the Xc 35. You just get a lot more of it with the 64. There are two fixed tables forward in the cockpit for outside dining. Note the dinghy garage aft, which is another benefit of the ultra-broad stern with chines.
No doubt this will be a fine performing yacht that provides more than sufficient comfort for all on board.
Like I said, I'm easy.