Can't keep this Jersey girl down
After Hurricane Sandy destroyed the Raritan Yacht Club fleet, Jersey sailors rallied to rebuild the Cal 40 Sinn Fein
Marianne Lee Photography
The day before the start of the race, the tight-knit team was emotionally and financially spent and physically exhausted. Tools were everywhere as the crew scrambled to finish last-minute projects. By all accounts, Sinn Fein was not quite ready with 10 hours to go to the starting gun.
"We couldn't even think about getting new sails," said youngest son, Pete Jr., "We had a lot of discussions of what we should and should not replace, repair or purchase new. We tried to re-use a lot of old stuff, and it cost us a lot of time. But my father was a Boy Scout when he was young, and he was always taught to be thrifty."
Because of the long list of things to do to get ready for this race, the brothers were anxious.
"As we get ready for the start we are doing a lot of work now that is due diligence," said Pete Jr. He and his brother admitted they were a little worried about their father's overall health and his mobility on the boat. Peter Sr. spent most of the race in the navigation station and used a makeshift wheelchair on deck.
Even after the starting gun fired, the crew continued working on the boat.
"While the boat did not let us down out there, it was definitely not 100%. We were fixing, finishing and installing various bits and pieces for the first three-plus days of the race," Mark said.
"My father was also extremely limited with his mobility," he said. "We were very fortunate that the weather conditions were fairly calm. If the wind or waves had been heavier or bigger we would have needed to strap my dad into a bunk and put off doing the various repair and finishing work. We actually joked around saying that my dad had planned it all along, to do this race as a way of finishing the boat. Ultimately, we were seven guys onboard who all wanted desperately to get to the beautiful island of Bermuda. We decided we would have to fix the boat or do whatever necessary to get there."
Meanwhile, the team was also focusing on the race itself. They never gave up shooting for a strong performance or a shot at the podium.
"Our low point in the race was probably when we were about 105 miles from the finish. We were hung out on the west side of the course waiting for a southwest breeze that was already over a day late. Our fleet ranking was dropping, we were sailing 30 to 40 degrees off course to the finish and the wind was a paltry 5 knots," Mark said.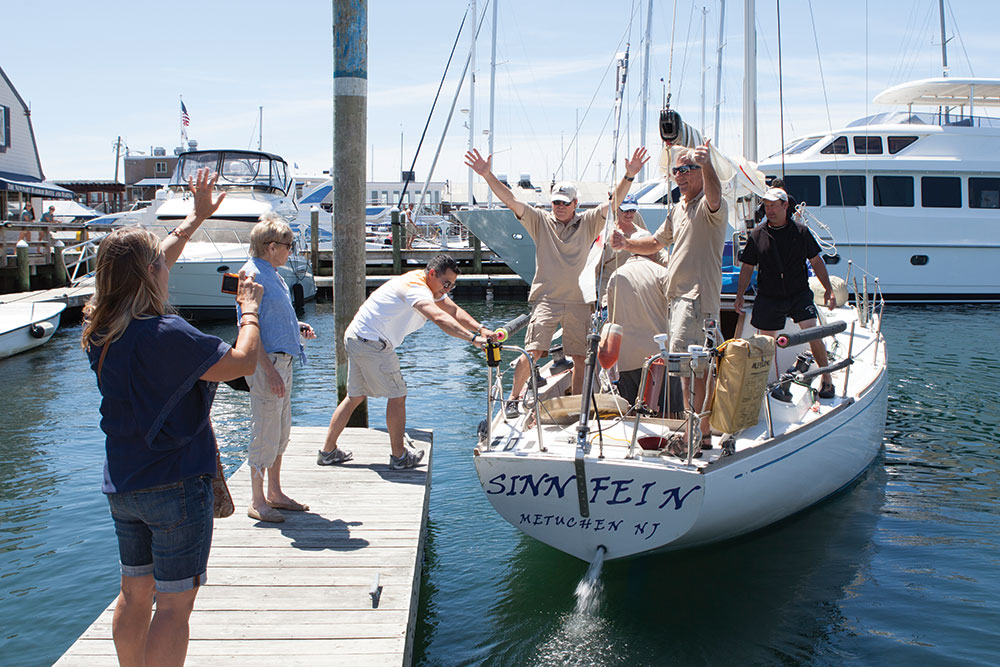 Marianne Lee Photography
"Then, we found another wind hole and the boat stopped for the third time in the race. At that point it was looking like we were going to have a 50-mile light air beat to Bermuda and arrive on Thursday if we were lucky and be in contention for the Cook's trophy (last place). Fortunately the southwesterly wind finally arrived and we had a nice fast beam reach, broke out our reaching asymmetrical and sailed directly to the North East Breaker," Mark said. "So it turned out OK for us and we were having our first dark and stormys early Wednesday afternoon."
This may have been the Rebovich family's last Newport Bermuda Race together and the emotional toll the race took on the Sinn Fein team was obvious. The name Sinn Fein, which means "We ourselves," was already on the boat when the Rebovich family bought her, but it could not be more fitting for this beloved boat and special community.
"Looking back on the past year, it is hard to believe that we accomplished so much of the restoration and actually got Sinn Fein to the starting line, finished the race and performed well in all areas," Peter Sr. said. "Without the help of many friends and club members, as well as the efforts of my sons, we would not have been able to reach our goal of competing, finishing and scoring well in the Newport Bermuda Race. Although we did have some issues with the boat, we had no issues with the crew; they did an excellent job especially during light air. The food was great and Henry did a great job of keeping all of us fed."