Cruising to the toe of Italy
A mid-September cruise along Italy's southwest coast is an ideal time to find the beauty without the hassle
The following day, wind gods apparently appeased, we cast off. We hauled in the two bow lines to shore and let go the marina's two stern lines aft to anchors. With a helpful shove, we cleared the lines and hulls of our closely packed neighbors, and motored out of the protection of a long sea wall.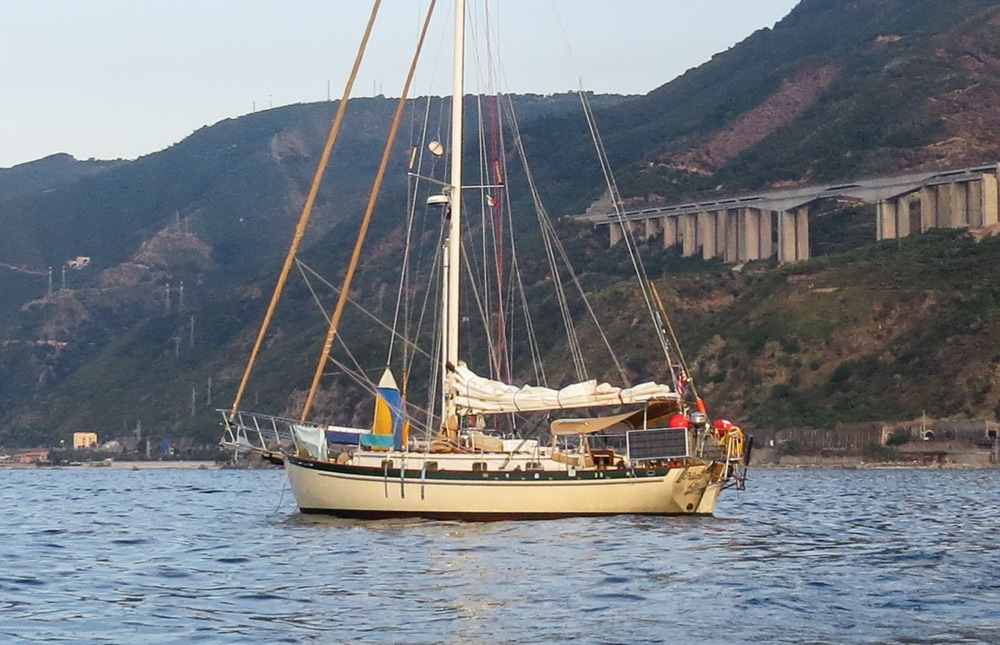 Ida Little photo
If I thought air and land travel were stressful, I multiplied that many fold to appreciate what Karl and MaryBeth handled. From docking Med style to calling an Italian marina without speaking Italian, to getting weather reports and planning anchorages, there was novelty and surprise at every turn. Because Michael and I have spent most of our boating time at sea or away from civilization and docks, and much of the time out of reach of weather reports and official anchorages, we were largely handling vagaries of nature. That always felt less fraught than people type uncertainties. I was impressed by their cheerful willingness to take on these challenges for the pleasure of cruising here.
As we sailed along the coast of Calabria, the town of Tropea appeared not just ahead but overhead. Tenuously clinging to cliffs high above the sea, the ancient jumble of pastel squares resembled a work of abstract artwork more than a fortified town. Certainly the people who built the town thousands of years ago had safety from marauders more than aesthetics in mind. Nice to live in an era when we can view fortification as art.
As we approached the marina in Tropea, MaryBeth hailed the office in English. To the Italian in response she says "si si" having no idea what she's agreeing to. We all have faith that a marinero will appear and indeed a young man waving his arms like a conductor, directed us into a designated slip. MaryBeth sees that the slip will require a turn the boat cannot make and simply steered for a berth farther over. We picked up the stern lines while Karl tossed a bowline to the frowning marinero. Karl has a very smooth way of looking so sorry and yet alas, determined to proceed. Not only did we not go into the right slip, but we didn't go in stern first. We all smiled and the marinero shrugged and it was all right. If the Americans needed to moor bow to, then, well vive la differenza.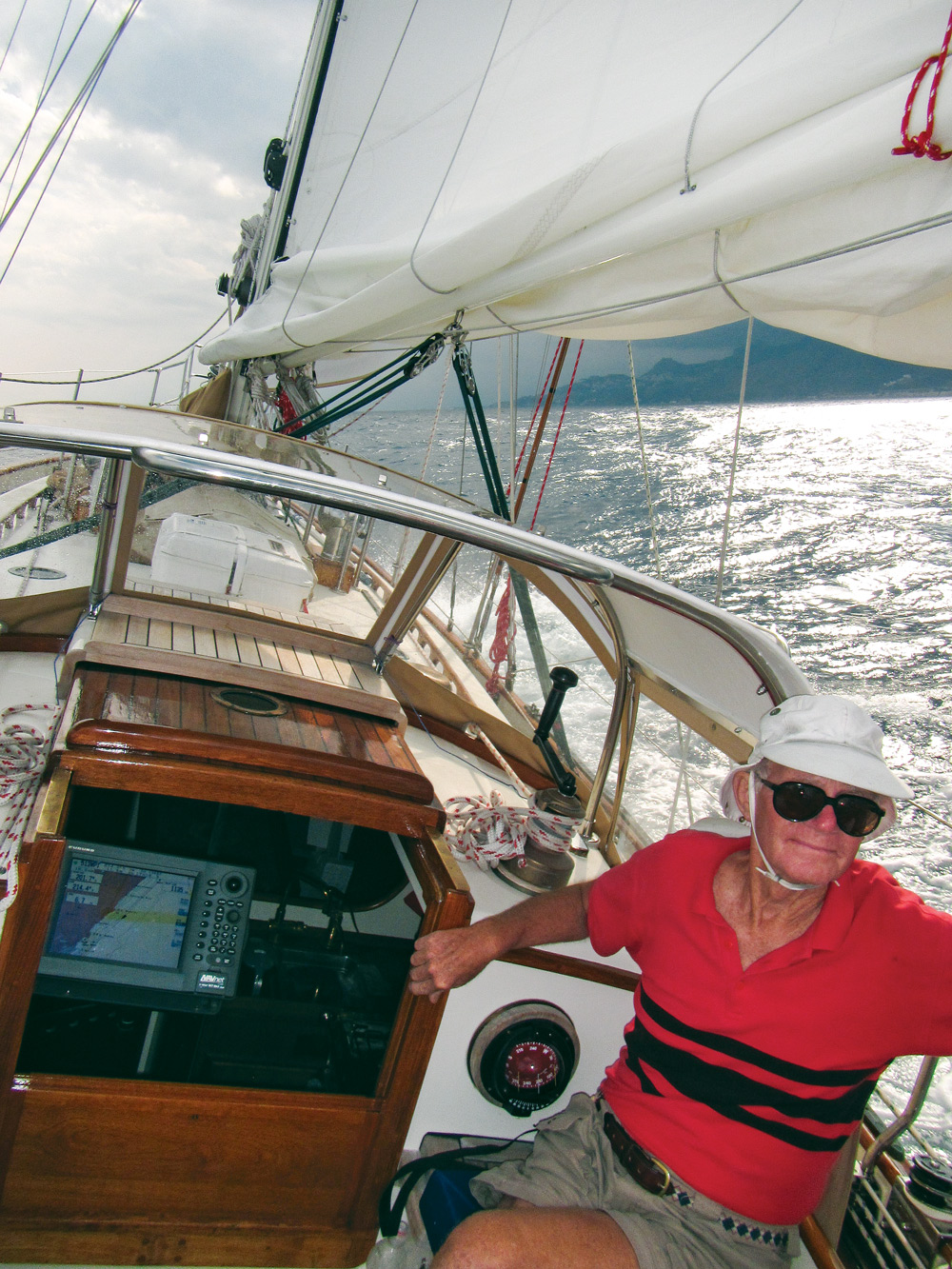 Ida Little photo
Between the soporific 80-degree breeze and gentle swell, we all fell into the sleep of the well-worn mariner. No doubt Hercules, who some believe founded the town, took a little nap here as well.
The cool of late September afternoons lent themselves best to strolls around town. Around 4 p.m. we called a taxi to carry us up the steep incline to one of the best preserved historical towns in this region. When I stepped out of the taxi it was as if I'd stepped into something organic, made of living matter, not man made. The buildings crowded and bent and circled around each other. The street we followed rose then dipped, curving back, to rise to where we stood, serenaded by a babel of exotic European languages from the belvedere terrace. Below the high jagged cliff was the transparent azure sea. Nearly 40 miles away the 3,000-foot-high Stromboli volcano threw smoke and sparks above the Tyrrhenian Sea as it has done for centuries.
Not ones to hurry, or feel pressed for getting anywhere fast, we lingered in Tropea for two days. Each restaurant with its intimate setting among the serpentine streets served dishes of whole fish or octopus and local wine and enough ambiance to satisfy a lifetime. Each afternoon we watched the late yellow glow illuminate the Benedictine sanctuary, the opening act for Stromboli's eruption of fiery smoke into the yellow orange red of a setting sun.
On a dead calm morning we set out for Scilla, 30 miles to the south. After a day of motoring through a deep blue, mirror calm sea, we arrived at Scilla where marinero Antonio met us in his rubber dinghy and guided us to a mooring below the high cliff town. Looking up at the houses that blended in to the cliff face like so many pebbles and sticks naturally woven into the rock, it was fantastic to realize people have lived in them for hundreds of years. And that they've survived the earthquakes and wars that have erupted around and under them.
In the late afternoon, we landed the dinghy at a concrete pier and followed a narrow road behind houses parallel to the sea. Strolling slowly, enjoying the brightly colored fishing boats pulled up on ramps in front of and between the houses, we came to an older woman standing in one of the open doorways. She gave us a big grin, greeted us with ciao and gestured to her mouth. "Ristorante?" she asked. "Si Si." And with that we were directed across the street and up outdoor steps to an outside patio overlooking the coast and a securely moored Hattie Lee. Perfect. There's nothing better than a great view to the horizon that includes your boat. Some vino, some freshly caught fish, octopus and local veggies as the sun exits west, made it even sweeter.
One thing's for sure, if we all hadn't been sailing and cruising in our younger days, we would not have enjoyed this cruise so much. For me and Michael it has been a lifetime of boating nearly every day in a gamut of boats and places: anything from a Hobie Cat and sailing canoe in the Bahamas to 40-foot oceangoing ketch to canoe cruiser in the Florida Keys. For Karl and MaryBeth it has been a deliberate choice to interrupt their attorney careers to go cruising at the very time they could have been building their resumes and experiences to climb the career ladder upward. Those five years they took to cruise the Caribbean in a 28-foot Pacific Seacraft gave them the experience and knowledge they would call on years later. When the time came to retire, they had purchased Hattie Lee for sailing across to Europe where they could comfortably live aboard. Though the Atlantic crossing did not come to pass, the cruising in the Mediterranean did. And 25 years later, the four of us are able to live the dream not by chance but by design.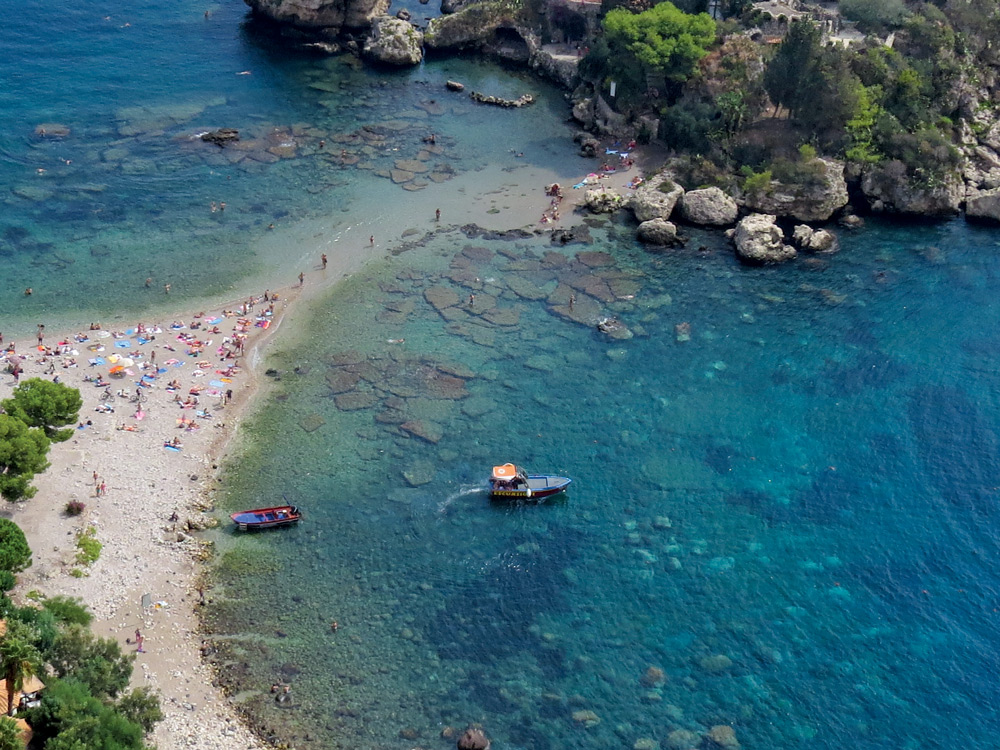 Ida Little photo
After several days spent along the quiet coast with rarely a moving cruising boat to be seen, we prepared for the interstate highway of the Med. The Strait of Messina, about three miles wide, separates Italy from Sicily. Where Ulysses feared the monsters Scylla and Charybdis, today we feared the tug boats and high-speed ferries and container ships that crisscross the strait. We were careful to check in with traffic control and place ourselves in the southbound, or westerly, side of the strait.
Toward midafternoon, wending our way southward amid the commercial traffic and dearth of private sailing vessels, dark clouds formed over land to the west. Maybe this was the squall that would make us all feel brave. Even better, it looked scary enough to raise my pulse without doing more than bringing us more wind. We raised more sail and silenced the engine. On the down side, with this slightly onshore wind we could no longer anchor below the ancient town of Taormina. Instead, we tacked away and continued to Riposto.
Odysseus in 6th century B.C. might very well have made 6 knots in a warm breeze watching dark clouds looming over an erupting Mt Etna. Fiery sparks from the volcano shot streamers into the air. Just as the light faded into a penumbral gray, our brave crew scouted the shore for a narrow passage into the marina. When no gap appeared in the shore, MaryBeth was just about to turn when the only cruising boat we've seen all day made a quick turn into the entrance. By nightfall we were tied up snug in our berth.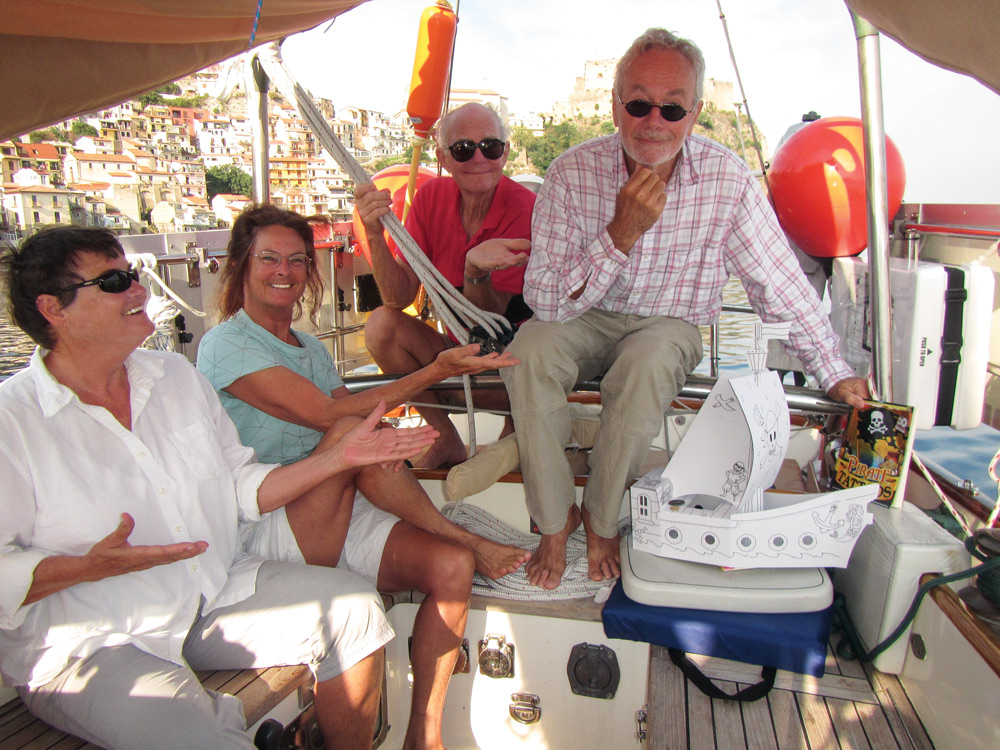 Ida Little photo
Tomorrow, after our morning caffè, pastry and gelato in the town square, we planned to explore Taormina and its third century B.C. Greek theater by car or just wander the streets of Riposto. After all, we seemed to have the city to ourselves, no crowds elbowing their way into the market or the cathedrals, or standing in lines at the gelato carts. Being just down coast from the tourist draw of Taormina, we had the advantage of enjoying a town of Italians who work in jobs not exclusively dedicated to tourists. And not one of us was going to take a selfie to announce this place to the world.
We were where we wanted to be. And everything was molto bene. Very all right.