Racer

This new Reichel/Pugh design is being built in China in a town called Foo Yang at a yard called Sino Eagle Leopard. One boat has been produced so far and they are targeting the racing market. I find this a very good-looking boat, and no doubt with that Reichel/Pugh pedigree it will be a very fast boat and a lot of fun to race.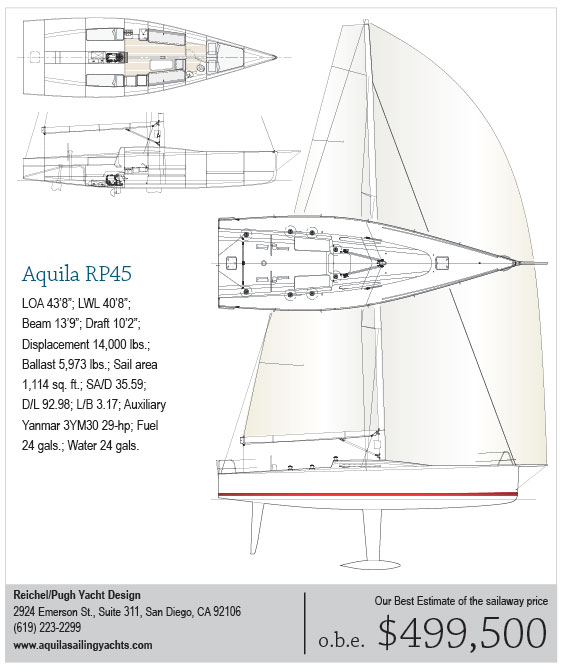 The hull has been designed to rate well under a variety of rules including IRC. The D/L is 92.98 and the L/B is 3.17. There is a lot of beam aft as you will find in almost all modern high-performance boats. The sheer is not a dead straight line but it is very close to straight. I see about 3 inches of spring total. Maybe less. Overhang is minimal and I don't have a waterline length but I estimate it at 40 feet 8 inches. Draft is 10 feet 2 inches with a long bulb on a short-chord, high-tensile steel fin with about a 13% thickness ratio. The rudder is a tapered blade with a squared off tip set well under the hull. There are no hollows in the entry and contrary to popular trends there is no chine aft. The section at the stern is arclike with a just a bit of flatness at the centerline.

Despite its target as a race boat the 45 has an interior that would be comfortable. You can have single quarterberths aft or twin double berths. The galley is minimal and the nav station is adequate. There is a head forward and a double V-berth. When I look at the interior plan it jumps out at me just how far aft the mast is. Headroom will not be generous but I'm sure it conforms to various rule requirements and nothing more. The entire interior is made of E-glass, laid up wet and vacuum bagged in female molds.

The rig is big. The SA/D is 35.59. The carbon fiber spar is by Southern Spars and all the winches are from Harken. The spreaders are swept 21 degrees. A fixed sprit will carry the big asymmetrical masthead chute. Twin running backstays take the place of a single backstay and make it easier to tack the big, square-topped mainsail.

The deck layout is very clean with the German-style mainsheet system apparently disappearing into the deck just aft of the jib tracks, then emerging just forward of the winches directly forward of the wheel. Tiller steering is standard and twin carbon fiber wheels are an option. Chainplates are outboard and the inboard jib tracks allow for a 10-degree sheeting angle. That angle has not changed in years.

The hull is epoxy with a foam core. Structural reinforcements are all carbon. The rudder is pre-preg carbon fiber on a carbon stock. Rudder bearings are JP3. All efforts have been made to keep the boat light, and the ballast-to-displacement ratio of 43% is testimony to that.

This would undoubtedly be an exciting boat to race. You'd have your hands full with that big rig, but if you are bored with 1.34 times the square root of the DWL this just might be the ride for you.