Sport Boat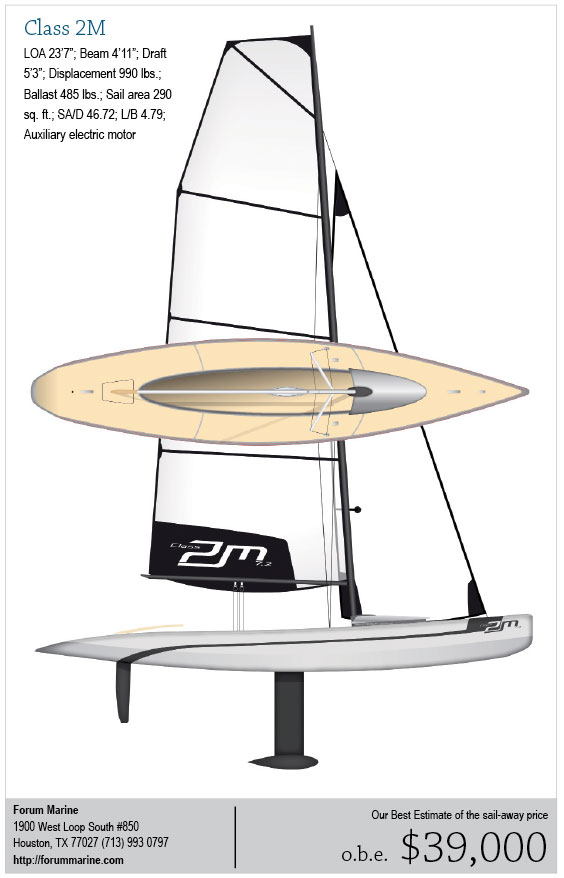 The promotional material calls this boat "a sleek, contemporary keelboat." Well, it certainly is different, and to my eye, it looks like a great boat for older guys to enjoy. It's not a dinghy. It has a deep bulb keel so hiking will not be required.

The design is by Antoine Fritsch and the builder is Naval Force 3 in La Rochelle, France.

This is an unusual hull shape. Beam on this 23-foot 7-inch sloop is only 4-feet 11-inches. This gives a L/B of 4.79. I call any boat with a L/B over 4.00 narrow so the 2M is very narrow. There is a chine starting right at the stem and extending to the stern. There is quite a bit of rocker to the chine. There really is no transom. The deck just rolls off to meet the hull bottom. The topsides above the chine are sliced off and almost but not quite vertical. It's a sexy-looking shape but I think a little more beam on deck might have made for a more comfortable boat.

The bow is unusual in that the near-vertical stem rolls off to a soft knuckle that in most photos is clear of the water. My inclination would have been to harden that knuckle up and lose some of that overhang forward. But while that would have added sailing length, I'm not sure you would see much boat speed difference. The draft is 5-feet 3-inches with 484-pounds of lead in the bulb on the retractable keel. The rudder is a cassette type that is removable so you can slide an outboard down on it's own cassette and steer with the outboard. With keel and rudder retracted you could easily trailer and launch this boat.

You sit on this boat. The deck is the seat. The decks are bamboo covered. In the photos the 2M looks great under sail but I think I might be more comfortable with a little more beam so I could stretch out more. The cockpit well is very narrow. You are going to have to wear some rubber pants when you sail this boat in any waves because your fanny is going to be wet.

The rig features a square-top mainsail and a blade jib. If I am reading the specs correctly, the displacement of the boat is 990 pounds, and total sail area is 290 square feet for a SA/D of 46.72. That number is so high it makes me think my displacement figure is wrong. If the SA/D truly is 46.72 then this is a very high-powered boat. The photos show it smoking along in moderately light air so maybe that number is correct. I'm not sure how the boat would behave in 15 knots of true wind besides being very wet.

So, this is a strange boat. Do I like it? Yep. I do. I like it because it's novel and interesting.