Classic cruising catamaran

This is a big cruising cat. Sailing this boat would be a bit like sailing a small hotel. The design is by VPLP with the interior design by Nauta Design. Don't be put off by the profile drawing. With 31 feet of beam to work with, a two-dimensional drawing of this boat is just not going to do it justice. In the real world that two-dimensional image doesn't exist. So, dust off your bikini and your snake-skin topsiders and imagine you are heading out for two weeks of island hopping with three other couples and one paid hand.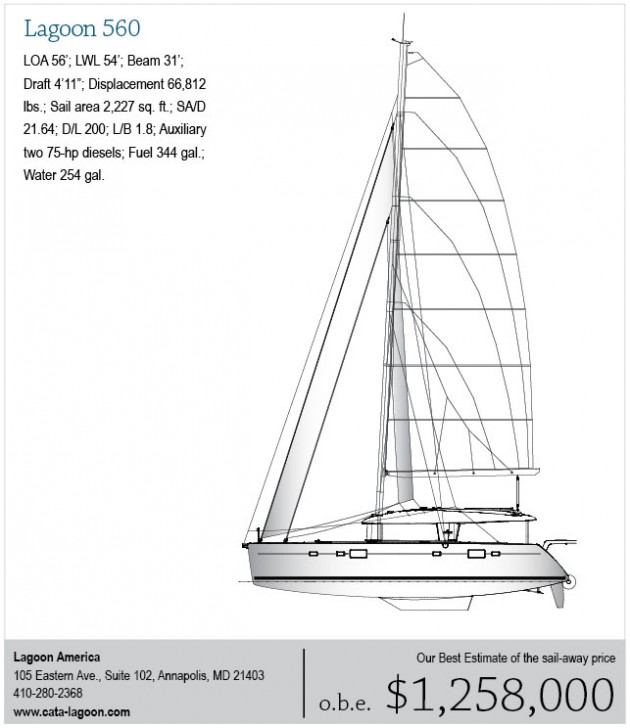 They list the displacement as 66,812 pounds in the specs. And considering that the DWL is about 36 inches short of LOA this would give the big cat a D/L of 200. That is about twice that of the Neel 45. But it doesn't really matter. This is not a performance-oriented design. This is a comfort-oriented design. I suspect it will sail just fine for most cruisers. Draft is 4 feet 11 inches and once again while very convenient this is not going to give you sparkling performance to weather. But looking at this design I think snuggling up to the beach was more important than clawing your way to weather.

The layout is pretty spectacular. It comes in two configurations. You can have a four-stateroom layout with each stateroom having its own head and shower and large double berth. Or, you can get a five-stateroom layout. The fifth "stateroom" is a snug spot with either a single berth or stacked singles, I can't quite tell from the drawings. With either layout comfort will not be in question. In the four-cabin layout there is one stateroom, aft and to port that is a little more spacious than the others.

The promo materials calls this layout the "owner's version." Access to this owner's cabin is from the deck only so it will feel very private. The saloon is huge with an extensive galley to starboard with an island counter. I hesitate to even call it a galley. It's really a big kitchen with lots of counter space. Forward of the kitchen is the control center with broad navigation table and communication and navigational instruments. To port there is a large U-shaped dinette presumably big enough to seat eight diners. But I think that this boat is designed for warm climates so most dining will be on deck.

Finding room to dine on deck won't be a problem. Of course you will have to decide which deck you want to dine on. There are two. On the upper deck there is a centerline control station housing all the instruments you could need flanked by banks of sail control winches. Aft on the upper deck are large settees with the one to port the size of queen birth.

On the lower deck there is direct access to the owner's cabin to port and access to the starboard aft stateroom. There is a U-shaped dinette to starboard and a long settee aft. The biggest challenge at meal time is going to be remembering where you set your drink.

Both decks have lots of sun protection. I'm trying to get a feel for what cruising on this boat would be like compared to the mighty 26-foot Perrywinkle. I eat on deck, with my plate in my lap. I can always find my drink if I haven't knocked it over first or sat on it.

The SA/D of this rig is 21.64 and that should be more than sufficient to move the cat along nicely. There are provisions for three headsails with the asymmetrical chute or screecher tacked to a short bump on the bow. The mainsheet traveler is aft on the upper deck along with the other sail controls. So, if you want to enjoy sailing but would like to leave the work part of it to others you can just stay off the upper deck and you'll never even see a sheet. You can stay busy looking for your sunglasses.
The Lagoon 560 will provide cruising comfort that should please anybody.