Pilot cutter

When I hear 25 feet LOD and pilothouse in the same sentence I shudder. I think to myself, "Oh, that's going to look pretty bad." But in this case I'd be wrong, again. Eastsail's new pilothouse model, 30 feet LOA and 25 feet LOD is a sweet looking little boat. It's very traditional and very nicely proportioned.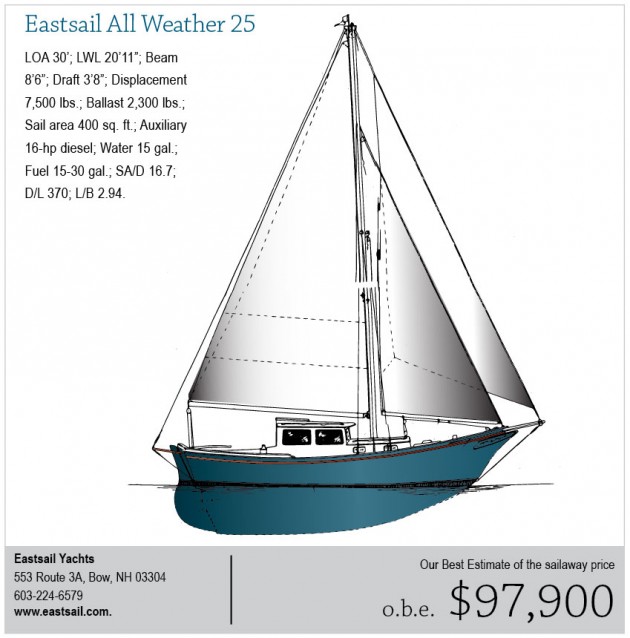 According to the notes I was given, the intended market is sailors looking to downsize or those sailors who gave up sailing for a trawler yacht and then decided that they really were sailors. I'm not sure about that. I can see just about any sailor interested in cruising a small, traditional boat having an interest in this boat. Here in the Pacific Northwest when you say "pilothouse" ears prick up. "You mean I don't have to sit out in the rain anymore? Hot damn."

The hull is the same used for the Eastsail Offshore 25 designed by Eliot Spalding. I don't know Mr. Spalding, but I have been aware of his work for years. He has "the eye." This full-keel boat is no lightweight. It has a D/L of 370. I call it a full keel because it's hard to tell where the forefoot ends and the keel begins. The draft is only 3 feet 8 inches. The hull sections show a beamy boat with an L/B of 2.94, 20 degrees of deadrise and a slight hollow to the garboards. This garboard hollow becomes more pronounced as you go aft terminating in a very shapely transom with its tip at the DWL.

There is hint of hollow in the DWL both forward and aft. There is that clipper bow thingy protruding from the stem. I have studied boat design for the past 52 years and I still don't know what that clipper projection is called. I call it the "biliken." Not sure why I do. Maybe I made it up.

This boat has a sweeping and strong sheerline. I like to see a designer who is not afraid to bend that batten, clamp it in place with a few lead ducks, stand back and say, "Aye, that looks just right."
No, there are not two heads on this boat. There is no shower stall, and there is no U-shaped galley. What you get below is a V-berth for two forward, with port and starboard chairs just aft of the V-berth. You can sit at these chairs for dining. The table doubles as the insert to convert the V-berth into a double.

There is a mini galley to port and inside steering station to starboard. Aft of the galley is an enclosed head. To starboard there is a quarterberth. Unfortunately there is no hanging locker so you had best leave those wool slacks at home.

Of course, when it rains you will be steering from the inside station so maybe foul weather gear will not be needed. Maybe. But the good news is that Eastsail is willing to do custom interiors and already has a variety of interior options available. There is 6 feet 5 inches of headroom in the pilothouse. You still can't have two heads.

The All Weather 25 is rigged as a cutter with an 85-square-foot staysail inside a high-clewed yankee. I'd be inclined to rig mine as a sloop with a low-clewed genny of modest LP. The SA/D is 16.7, and that's pretty good for a motorsailer. This boat is not going to be a light-air rocket but it will move nicely in anything but the lightest conditions. It's not going to be a pointer. But you wouldn't expect that with a keel configuration like this. If you want light-air boat speed, you can fire up the 16-horsepower Beta diesel and a three-blade prop will push you along in a stately manner.

When you look at a boat like this it's easy to lose yourself in the dream of a more simple, self-contained life.