Cruiser/daysailer

I associate the name Alerion with the beginning of the current trend in daysailers. The Alerion 33 and 38 models have been very successful. According to the designer's comments, the new 41 was designed by the in-house design group at Pearson Marine Group, but at the bottom of the sailplan it says "Matthew Smith/Naval Architect." The target market for this design is the sailor looking for the Alerion type with the added benefits of headroom and accommodations for two couples.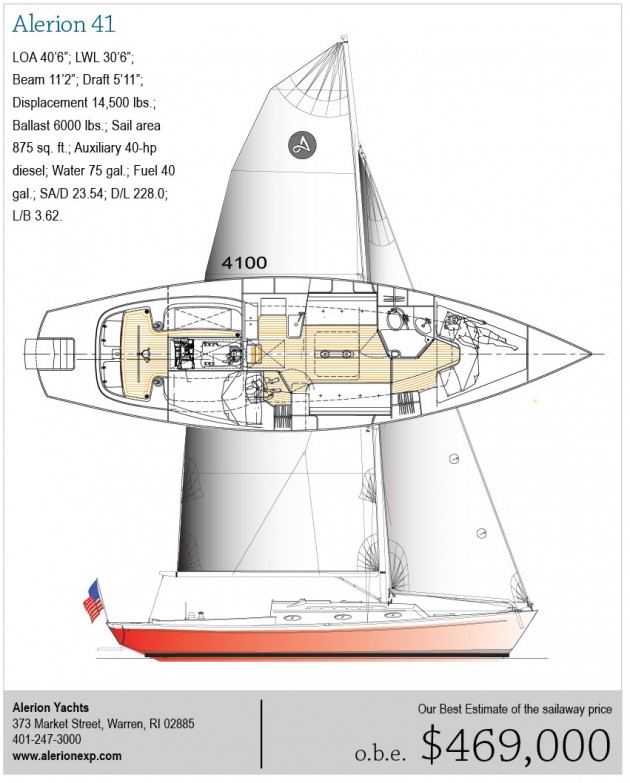 The hull has a moderate D/L of 228 and a relatively low L/B of 3.62. So you could call this boat a narrow boat and considering the extremes we see in light displacement today you could even call this boat "heavy." We have to be careful and define our benchmarks for these labels. Today I would say 228 would be textbook "moderate."

In plan view the bow is on the full side but the stern is tucked in to provide an attractive transom. I see a hint of tumblehome to the topsides through station 6.5. There is a total of 10 feet of overhang to this design.

It just looks right to see some overhangs and given this boat is not going to be a grand prix contender you might as well look right as you slide along. When you tie up next to that stubby, plumb-ended racer you can enjoy one of those "neener neener" moments. Draft is 5 feet 11 inches. I would think this boat would be well mannered with a nicely balanced feel to the helm.

The interior layout is pretty conventional. Consider when you look at this layout that this design devotes a lot of the LOA to the cockpit so the balance of cockpit to interior is not the same as you would see on many production cruising boats. One head works for me.

The galley is small but adequate. There is an enclosed, double quarterberth to starboard. This double berth is only 48 feet 6 inches wide at the head and for me that is right on the edge of minimal for a double. I'd prefer to see 60 inches, but that won't work in a boat with an 11-foot 2-inch beam.

The port settee is short for a berth but it pulls out to make an athwartships double. The starboard settee has an extension that can be a flip-up, mini nav table or a berth extension. The head looks more than adequate. There is a hanging locker in both sleeping cabins. The V-berth looks big and comfy with plenty of room for big feet. Note the wet locker outboard of the water closet.

This is a superb cockpit. It's really long to start with. I don't think cockpits can ever be too big, within reason. The forward cockpit seats are almost 6 feet long. Too bad they aren't a bit over 6 feet long then they would have "nap time" written all over them.

The helmsman has a nice seat that spans the cockpit and puts the Harken Rewind electric winches within easy reach. These two winches will work for all sail-handling functions. I see no halyard winches. Mainsheet, single self-tacking jib sheet, jib outhaul and furling lines all lead aft to these winches.

There are line bins below the winches. There is a drop-down section to the transom for easy boarding. The profile shows a gentle sweep to the sheer. The promotional material says the cabintrunk is "low," but it looks a bit high to me. But that's what happens when you need headroom. You could fix this by adding two and a half inches to the freeboard. But then the freeboard would look high. Keep in mind that the height of the cabintrunk always appears a bit higher on a 2D drawing than it will in person. Overall this is a very nicely proportioned yacht.

There is nothing unusual about the rig. The SA/D is 23.54 and that should shoot you along quite nicely in all conditions. The high-roach main will depower itself in the puffs. The jib is on a Hoyt boom and is self-tacking. No standing backstay is needed. For light air the 40-horsepower Yanmar diesel should be more than adequate.

I'd be quite content on this boat for two weeks. Even more content for three weeks.