Daysailer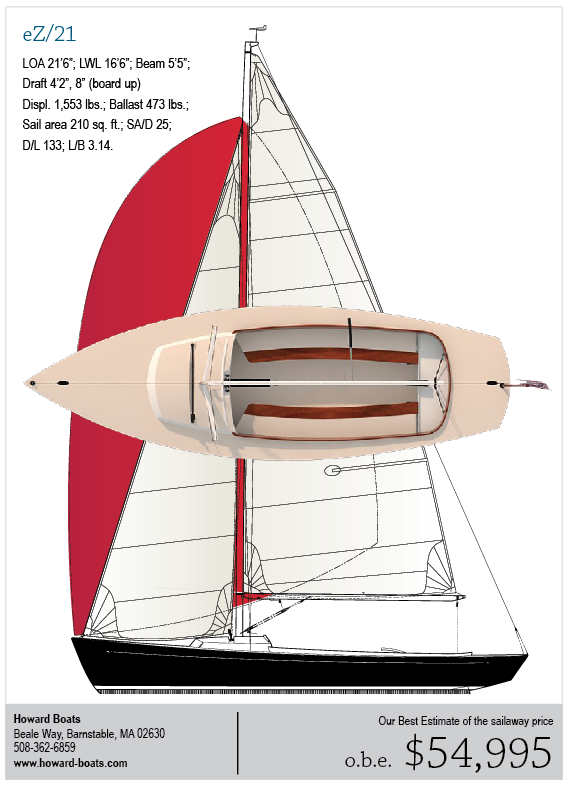 Now that I have a granddaughter I have to start thinking about how I will introduce her to sailing. I'm pretty sure I don't want to put her into an El Toro and head off across the bay the way I did when my boys were young. I'm quite a bit older now, and I'd prefer to sail with some degree of dignity and comfort. I'd like a boat that you sit "in" and not "on." I'd like a boat with some stability and self-righting capabilities. I'd like a forgiving boat so my little Violet could snake wake her way across the bay while she gets the hang of steering with a tiller. And, I'd like a good looking boat that introduced Violet to the beauty of sail with pleasant traditional proportions.
I suppose what I am describing is the ultimate old man's boat. Howard Boats call the eZ/21 a "gentleman's daysailer." That's OK. I may not be a gentleman, but I am now an old man. This new daysailer, the eZ/21, built by Howard Boats on Cape Cod appears to fit the bill perfectly.
Doug Zurn designed the eZ/21, and Doug has a great eye for lines. I only wish he would draw the boat with the bow to the right like the rest of us. I have always thought that drawing the boat to the left distorts the balance of the sheer and freeboard. To my eye the bow always looks higher when it is on the left. Most people find this to be true. I don't know why. Maybe it has something with the direction your eye reads a drawing. It doesn't really matter. Right or left this is a darn good-looking boat with a nice, generous spring to the sheerline, and a proud and perky bow profile.
The D/L is 133 so this boat is on the light side of today's "medium." The L/B is 3.14 so it's on the beamy side without being fat. There is 475 pounds of lead in the beavertailed bulb on the lifting keel. The rudder also retracts to make the boat easy to trailer. I like the overhangs on this boat. There is just enough overhang bow and stern to give the boat a classic look.
Violet and I will be comfortable in this cockpit. The backrest is of more than adequate height and the seats are long. I think the cuddy cabin is big enough for a portable toilet, just barely. But it's big enough for some gear and an icebox. I could throw a guitar down there so I could sing sea chanties to Violet while she steered. "Hey Violet, have you heard 'I've been to New York and I've been to LA?'" That was Uncle Bump's favorite sea chanty. It's all about advertising agencies.
This nice big rig with an SA/D of 25 would be perfect for the fluky conditions at my place. The boom is high so we won't have to duck tacking and jibing. The jib is self tacking. I don't need a self-tacking jib but I'm sure there would be times when I would appreciate it. I would like the option of some short length of jib track on the deck so I could sail with conventional dual jib sheets at some point.
The mast is tabernacle stepped for easy lowering and stepping. The spreaders are swept 13 degrees. That's not much but this boat does have a standing backstay. You could sweep the spreaders more and do away with the backstay, but I think I prefer it this way so I can let the boom out without impaling the mainsail on the spreaders. You will need to keep a weather eye on the roach though. With about 8 inches of roach overlap on the backstay, I think the roach will hang up on the backstay when you tack in light air.
The eZ/21 will be built in a female mold with a cored e-glass hull and Vinylester resin. That's how Howard Boats builds its impressive line of traditional boats. I can see me owning this boat. As I look over the Howard Boats website I can see me owning just about any of the company's fine vessels.