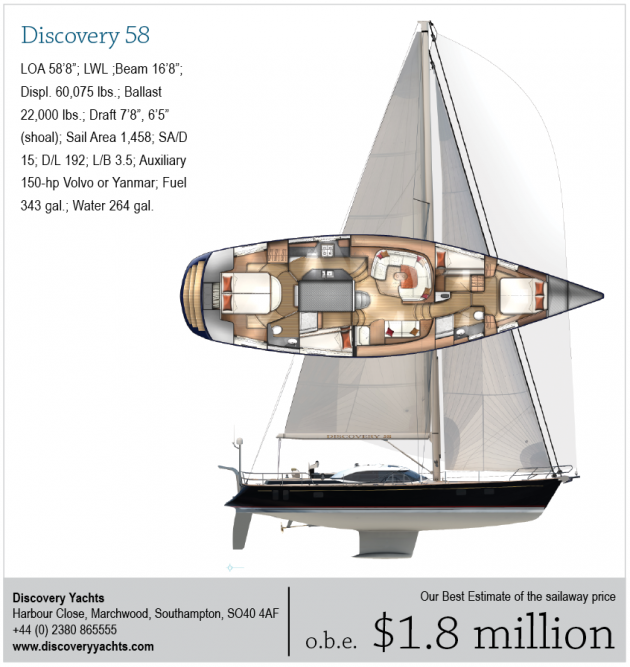 Discovery has a nice line of cruising yachts, all built in Southampton, England, and all designed by Ron Holland. Ron has been at it for some time now. I think we are contemporaries. After my son Spike died, the phone rang one morning and it was Ron calling from Ireland. He called to console me and it was very much appreciated. Ron's a dad too.
He's also a skilled designer with a very good eye. When I say "eye," I mean the ability to blend shapes and contours into a harmonious whole while preserving the performance goals of the design. It's nice to see a handsome yacht, but it's even better to see a handsome yacht that sails very well. This new Discovery model is a perfect example.
This is a very conventional hull with a D/L of 192, so it's far from heavy. I'd call it moderate by today's standards. Its beam-to-length ratio is 3.5 which is smack in the middle of moderate. Ron resisted the trend to give this boat the "mother of all transoms" and kept the transom proportions broad while not exaggerated. In plan view it's a moderate looking distribution of beam. The run aft is totally without any sort of skeg except there is a delicate fillet just above the rudder that pushes the root of the rudder blade down just below the DWL. I'm not sure why Ron did this, but it looks nice in profile.
You can chose from a deep-keel version drawing 7 feet 8 inches, or a shoal-keel version drawing 6 feet 5 inches. The keel is a medium-aspect-ratio fin with a near vertical leading edge and a bulb faired into the tip. There is 22,000 pounds of ballast for a ballast-to-displacement ratio of 37%. That should make for a boat with good stability characteristics. I don't often mention B/D because on its own it tells you almost nothing about a boat's stability.
The interior design for the Discovery 58 was done by Ken Freivokh. There is a standard layout with three staterooms and an optional four-stateroom layout. In short, if you go for the fourth stateroom you lose part of the walk-in engine room and the large owner's shower stall aft. I'll talk about the three stateroom layout. It's nice, really nice.
There are big double berths in the aft cabin and the forward cabin. There are stacked single berths in the other forward cabin. The galley runs down the passageway on the port side. There may be better places for the galley, but with this galley tucked in there the saloon is wide open. There is a large wraparound counter and raised dinette top big enough to seat "six to eight" the brochure says.
On the starboard side is the nav station with a large chart table and forward of that is a deep settee. You can see out the big windows from the chart table seat. This will be a super place to relax and it looks to me like you will have visibility out of the big saloon windows when seated in the raised dinette. The two forward staterooms share the head and shower, to starboard. The walk-in engine room is impressive. We all need a walk-in engine room.
This is a great looking boat. The styling is subdued Euro. Deck structures are skillfully contoured and well proportioned. The low wedge of the cabintrunk forward is so subtle it gives the look and feel of a flush deck forward of the house. There are twin wheels and independent helm seats big enough for two. You will comfortably see over the house from this helm position. In a blow you may feel a little exposed though. There is nowhere to hunker down when you are at the wheel. Maybe you don't hunker down when you are sailing in the Mediterranean. I suspect Ron has set the boat up for a couple to handle. I like the look of the hull windows and especially the two vertical windows aft. There are broad steps across a wide swim step carved into the transom.
The rig is not huge with a SA/D of 15. But, with all this comfort I am sure that Ron was not after a light-air screamer that would turn the wife into a heavy-air screamer. There are two headsails tacked on the bow. The outer headsail is a reaching type genoa and the inner headsail is a 95% self-tacking jib. With the self tacker up you can beat up the bay all day long without touching anything but your iPod.
If the wind dies, a 150-horsepower Volvo or Yanmar diesel will get you home quickly. There is tankage for 343 gallons of fuel and 264 gallons of water.
With teak decks and dark blue hull this looks like a real yacht. Nice job, Ron.