An impressive rig will move this nice-looking weekender easily under sail
I have been a big fan of the Van De Stadt Design office since I was a kid and saw the first drawings of the mighty ocean-racing ketch Stormvogel. I think "Stormy" caught everyone's eye. This is one of the design offices that just can't produce an ugly boat. The new 25 is an entry level sportboat designed for a small family crew.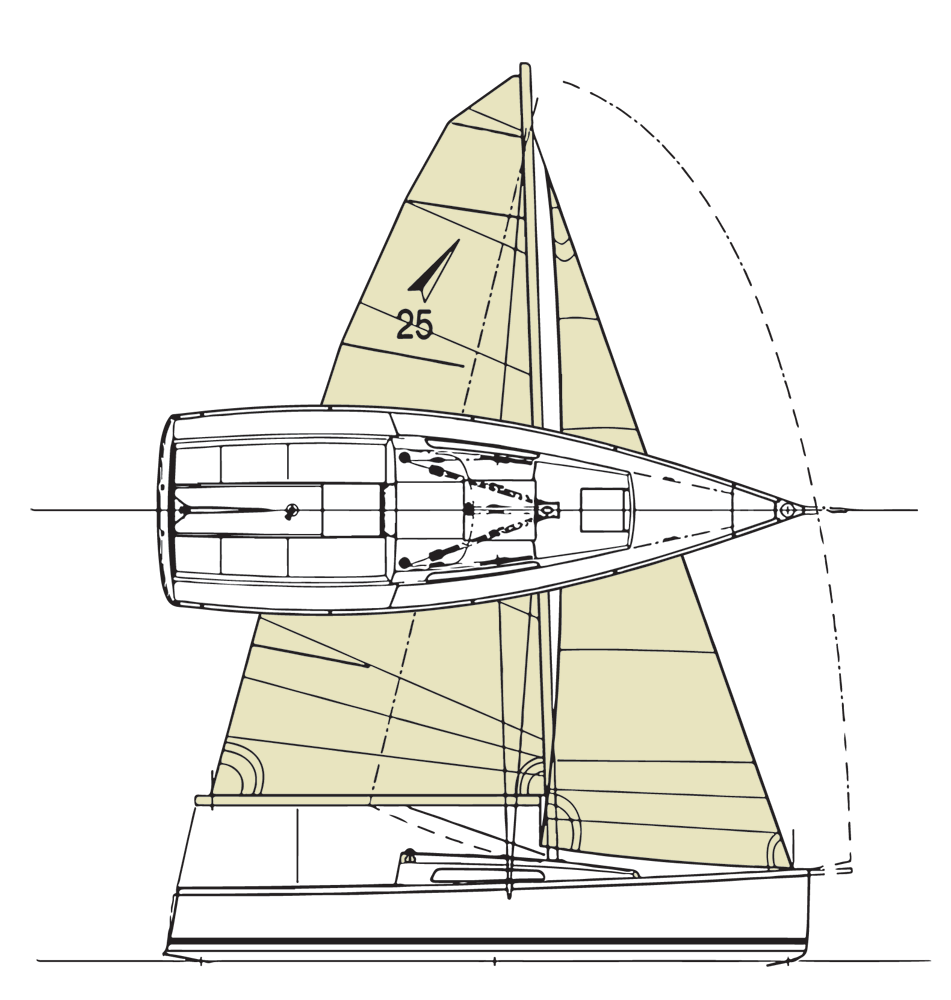 The hull form is moderate with no chines and a D/L of 121. The draft is minimal at 3 feet 7 inches. The keel is a shoal fin with a ballast bulb. With 1,550 pounds ballast, the ballast-to-displacement ratio is high at 46%. This should provide the stability needed in a shoal-draft boat. The L/B is 3.07. This is a simple and very normal looking hull form.
The interior has a V-berth forward. Aft of the V-berth, there is a space for a head to starboard and a mini galley to port. Twin settee berths extend aft under the cockpit. The headroom looks to be about 5 feet, but I'd rather have a nice looking boat without full headroom than an ugly beast with full headroom.
There is a standard sailplan and two performance sailplans. The basic rig has a triangular main, while the two performance sailplans have square-topped mainsails. The SA/D is 28.73. That's an impressive SA/D. There is a short bowsprit for the asymmetrical chute.
This boat is similar in size to my old Perrywinkle. The Pointer is much lighter than Perrywinkle, and it has a lot more sail area. I can see myself enjoying this little boat.
---
LOA 25'3"; LWL 23'; Beam 8'2"; Draft 3'7"; Displ. 3,310 lbs.; Ballast 1,550 lbs.; Sail area 400 sq. ft.; SA/D 28.73; L/B 3.07; D/L 121; Auxiliary Yanmar 1GM10 10-hp saildrive with electric option; Fuel 11 gal.; Water 13 gal.
Jachtwerf Heeg
It Bûtlân 14, 8621 DV Heeg The Netherlands
+31(0)515442237
Our best estimate of the sailaway price $80,000