A unique scow bow makes the Revolution 29 spacious and fast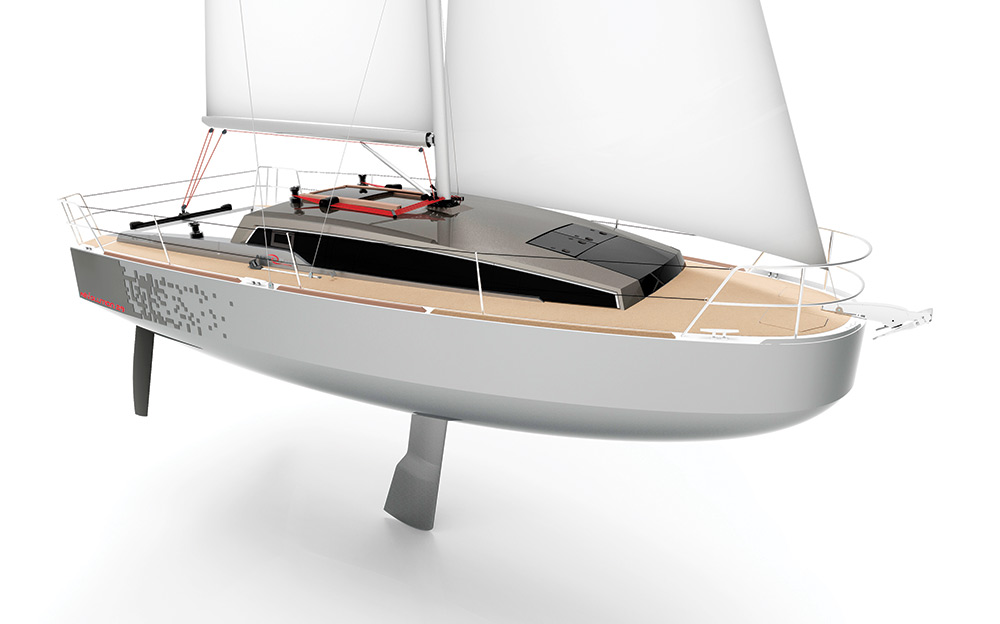 We are going to have some fun this month—there is an interesting trio of boats to review. I don't know if you have been following the MiniTransat class ocean racers but you should. These little pocket rockets are amazing boats, very extreme and capable of high speeds in the hands of skilled crew. The class is growing rapidly, especially in Europe. Minis use a box-type rule that limits LOA to 21 feet 4 inches, so designers have to look for innovative ways to gain sailing length and power.
Enter the scow bow Minis. At first look I was inclined to think, "Oh God, please don't make this fast." But I knew that scow bows have a long and successful history so the chances were strong that this bow would work. It works on the many scow one-design classes and even the old, sedate, CCA rule had Hoot Mon, a scowlike yawl with a successful race record.
It was inevitable that a builder would jump on the scow bow for a family cruising boat. Look at that beam and volume forward. Along came Afep Marine with designer David Raison. Together they have produced the aluminum Revolution 29, along with its 21-foot little sister. It's funny looking; there's just no way around that. The ends are snubbed off, there is zero spring to the sheer and the only attractive line I can find on the entire hull is the chine that runs around the bow.
I suspect that the heeled waterlines for this hull would look fairly normal with that chine making a somewhat V-shaped entry. Using 27 feet 2 inches for DWL gives a D/L of 232. This is not a light boat. L/B is 2.53 indicating plenty of beam, as if your eye had not already told you that. Draft with the board down is 5 feet 7 inches and the board-up draft is 2 feet 4 inches. There are twin rudders.
The accommodation plan is pretty amazing considering it is a 29-foot boat. The expansive capital-U-shaped berth has replaced the dreaded V-berth. The bad news is that the U-double berth is an extension of the main cabin settee, so there is no privacy forward. The good news is that it will be very convenient to have breakfast in bed. There is a double quarterberth aft, but it's pretty tight with just enough standing room to pull on your pants.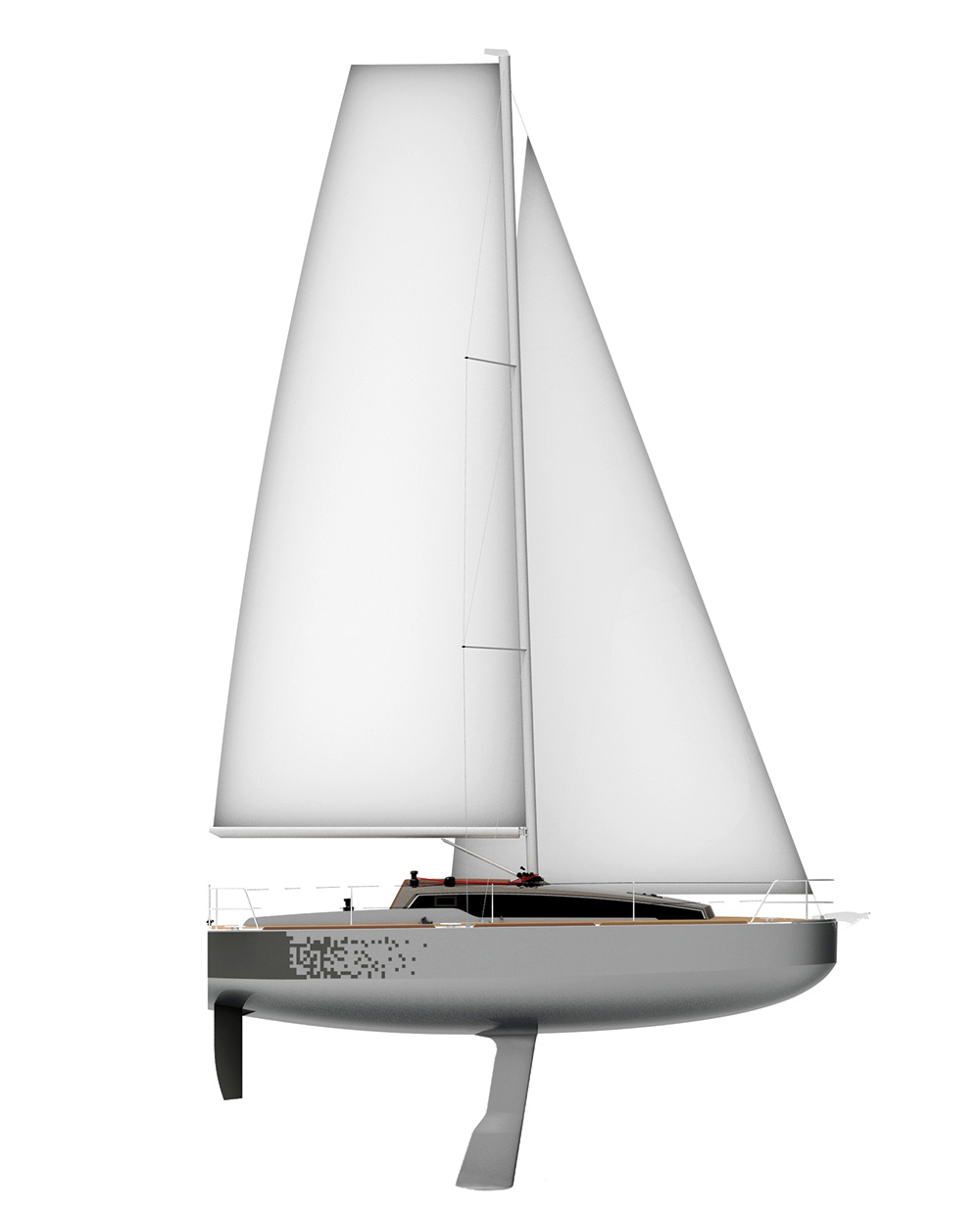 The galley is big for this size boat. I don't like stoves up against a bulkhead so I would move that stove forward to line up with the forward counter then put counter aft of the stove. I like to be able to put pots either side of the stove. But there is quite a bit of counter space as drawn. There is a forward-facing nav station to starboard and a small but adequate head aft.
I was out racing last weekend and studying the square-topped mainsails in the fleet. The more I looked, the more the shape made sense and the pointy-headed triangular mains began to look silly. Square-topped mainsails mean you can't have a standing backstay but with enough spreader sweep that's not a problem. Spreader sweep angle on the Revolution looks to be 28 degrees. The SA/D of the Revolution is 23.37 and that's plenty of power for some exciting sailing.
One thing for sure is that working on the foredeck will be easy. The headstay is about 20 inches aft of the stem so there is lots of room to work around it. On deck, a retractable sprit can be mounted for the asymmetrical chute. Interestingly, the cap shrouds go to chainplates on the rail. The lower diagonals go to chainplates inboard near the edge of the cabintrunk. This will make it easy to get past the shrouds when you go forward.
I would hope this look provides the owner with blistering speed and sumptuous comfort.
---
LOA 22'8"; Beam 11'6"; Draft 3'7" (board up), 8'6" (board down); Displ. 8,818 lbs.; Ballast 2,425 lbs.; Sail area 743 sq. ft.; Auxiliary 18-hp diesel; Fuel 11 gal.; Water 66 gal.
Sailaway price: $145,000
Afep Marine
Plateau Nautique
50 Rue Senac de Meilhan
17000 La Rochelle, France
+33 (0) 54 644 81 51