Sailing for Good and Sailing, for Good, are what keeps us coming back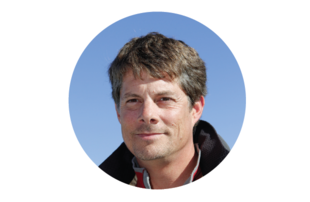 I'll admit to obsessing about why we sail. What drives us to be cold, wet and often bored, and yet still go sailing? Is it the camaraderie? The challenge? The adventure? The competition? Promoters and advocates will often boil it down to the premise that sailors sail because it is fun, and, by inference, don't sail when it's not. Logic would suggest that as long as sailing is fun, more people will do it, but the numbers don't support it. We all know that sailing can be a blast, but search Google trends for the word "sailing" and you'll see that sailing struggles for relevance in the online world. Offline, I would suggest, sailing is far more than just fun; many are Sailing for Good.
It's one of the most significant trends in sailing. What is Sailing for Good? I see at least four adaptations on the theme.
The most apparent: the merging of cause-fundraising with a sailing race, regatta or rally. These events are everywhere boats and crews gather. For example, sailors have raised more than $50 million dollars to help find a cure for Leukemia while sailing in regattas held all over the country. In my town, thoughtful sailors got together a decade ago to create a fun fall race called Louie's Last Regatta to raise money for a local pediatric hospital. Louie's has since grown into a year-round spectacle of sailor parties that raises more money for the hospital than any other independently organized event. At clubs all over the country, sailors pass the hat at parties for good local causes like youth fleets, sailing schools and school trips. After a hurricane slammed Haiti, sailing clubs rallied to send donated sails to the Red Cross to be used as roofs for temporary shelters. It's widely assumed that the more free rum available at one of these events, the more money will be raised. Call this "Sailing for Feel-Good."
Another adaptation: The idea that teaching sailing is, in fact, the teaching of many other vital life skills, and can therefore be good in ways more meaningful than fun. It's an old idea that is catching on in modern, substantive ways. What was once a path on which a mentor might set a crooked kid straight is now a widespread movement. Youth sailing schools will often say that they're in the business of leadership or resilience training. Sailing organizations teach from lesson plans integrated with subjects like physics, climatology, and biology. Colleges are expanding their extracurricular sailing teams owing to the life-skills taught by travel and teamwork. Some call it "expeditionary learning," but we might also call it "Sailing for Social Good."
A third, less obvious, example is actually a play on words. Instead of "Good" as in the opposite of bad, consider that "for good" can also mean "Forever," as in, "I'm going Sailing, for Good."
These are empty-nester sailors, just turned 59-and-a-half, who cash in a 401(k), buy a boat out of charter, replace the lazy jacks, add solar panels and make their way down the intracoastal waterway to somewhere in the Bahamas.
In just two seasons, I've seen at least two dozen Facebook friends announce plans to go Sailing, for Good, and point the bow south. Some are en route, meeting hometown friends at coastal marinas and posting party pictures on their Facebook group pages. Others are already in paradise, sipping rum drinks at anchor and sharing selfies of tan feet. One friend was making plans with his partner, found a boat and was winding down his career when he had a massive heart attack and missed the window. His death nudged fence-sitters to accelerate their own plans. Global events also seem to fuel the movement: climate and economic uncertainty have sailors favoring the small mobile platform of a sailboat over a house with a mortgage. The easing of Cuban-American relations has some nostalgic souls charting a course to a place where they might hitch a cab ride in a '57 Chevy.
Gosh, Sailing, for Good, looks fun. I envy all who do it, but also worry about the sandy coves they seek. Most are targeting the same magnetic places: destinations known for natural beauty, but also fragility.
Imagine thousands of anchors a day digging into the reefs that fish need or gallons of waste and detergents discharged from heads into water that locals once relied on for food. Sailors, for Good, will need to be Sensitive, for Good, too. I'm happy to report that one couple took boxes of kids' books to give away when they arrived.
Sailing for Good in its purest, overarching sense, I think, is a personal, even spiritual adventure. It's the idea that by sailing, one might answer a few of the important questions: What am I afraid of, and how will I respond when faced with it? What can I do alone? What are my weaknesses? When do I need to ask for help from others around me? How will I respond when someone asks me to help them? What are the limits of our time on this earth? What can we do in that time to make it better?
Let's call this adaptation "Sailing for the Soul."