A modern Danish design that offers a powerful sailplan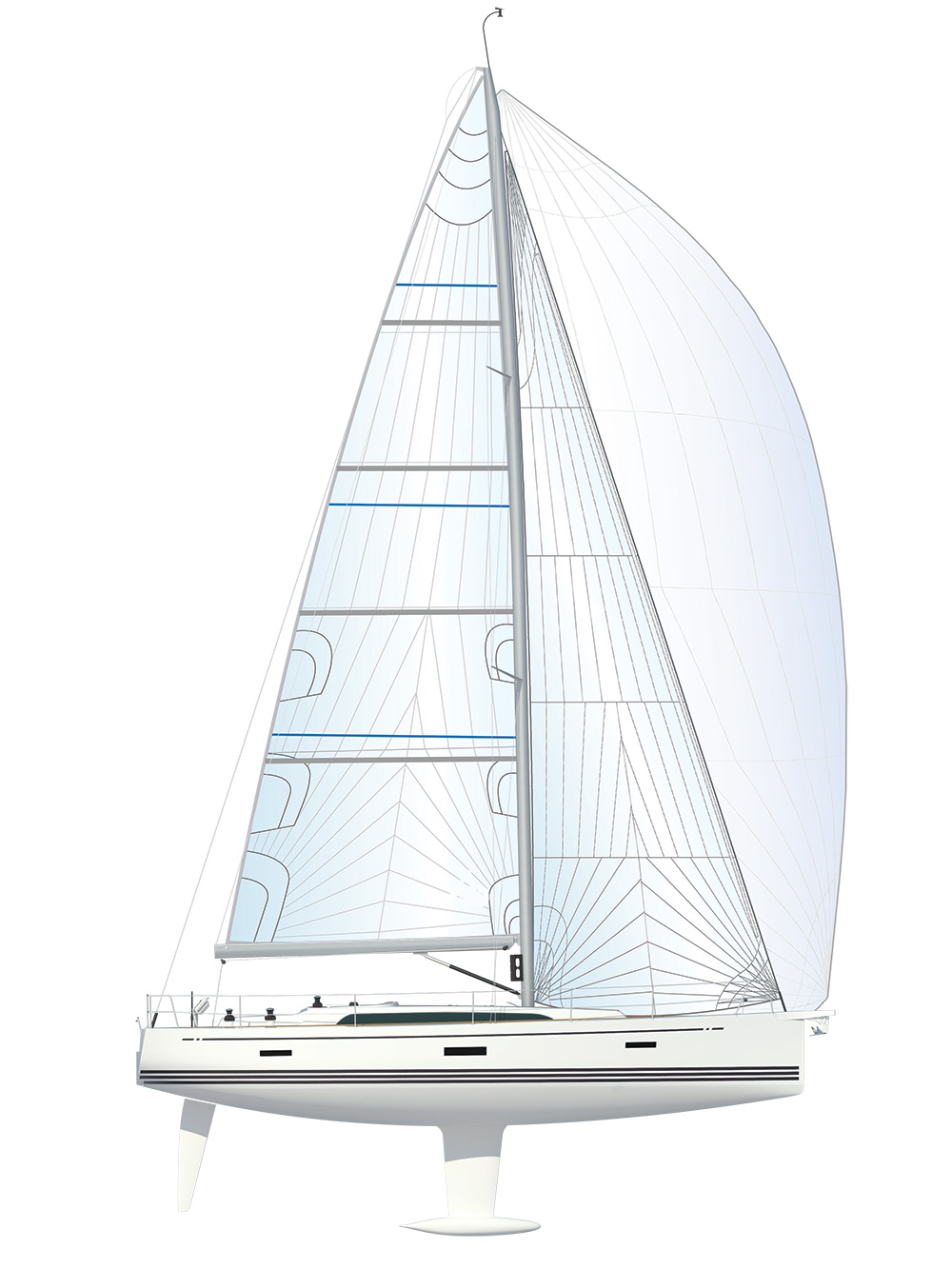 X-Yachts is introducing a third line of boats to complement its Xp (performance) models and Xc (cruising) models. The range will be the X series and the first one will be the X6 followed by this X4 model at 41 feet LOA. I have been a fan of the X-Yachts models for many years. Its in-house design team does a great job with both styling and performance. The new X series will combine comfort and speed with the latest build technologies and exceptionally high-quality materials.
The hull features plumb ends and a total overhang of less than 4 feet, all aft. There is a chine but it fairs out around station 3.5. Max beam is not carried to the transom but darn close. The keel has a deep T-bulb with 8,378 pounds of lead. The standard draft is 7 feet 2 inches. A shoal-keel option of 6 feet 1 inch or deep draft of 8 feet 2 inches are available. The D/L is 170.6. The L/B is 3.15. A few years back, moderate beam would have been an L/B of 3.5 but now boats are getting wider and 3 is more likely to be defined as moderate. Freeboard is on the high side but we have come to expect that. Lowering the freeboard would impact the interior volume and feel of spaciousness.
There are four layouts offered. You can have three staterooms and one head, three staterooms and two heads, two staterooms and one head or two staterooms and two heads. I like the three-stateroom/two-head version. If you reserved the port aft stateroom for stowage you would have two staterooms each with their own head and shower stall. There is simply no comparison between these layouts and what you would have seen in a 41-footer 35 years ago.
The saloon features an aft-facing nav station and a U-shaped dinette to port. For my money I would have liked to see a bigger galley. There is very little counter space in this galley. But there is counter space on both sides of the sink and both sides of the range. That's good. I don't like ranges that butt up against the bulkhead or sinks on the very end of the countertop.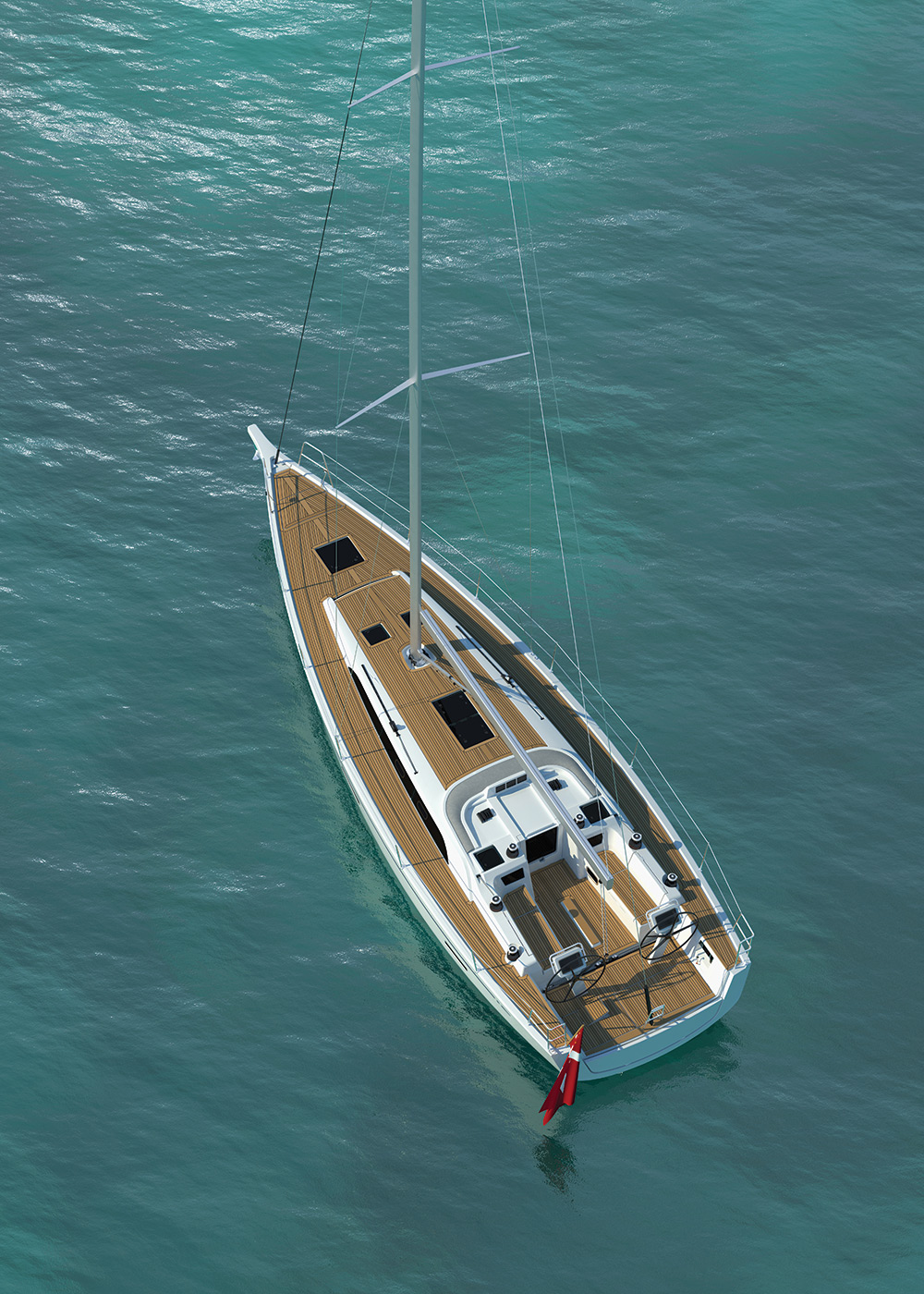 Forward there is an on-center double berth. We don't see much innovation in interiors anymore. Maybe we have reached a point where we have explored all the reasonable options and our choices have been distilled down to a few basic layouts. One day some smarty pants will come along and change everything. They always do.
The decks are partially teak covered and there is a low bulwark tooled into the deck edge. Deck hatches are flush style. Stanchions come out of the bulwark and side decks are clean except for a short length of inboard jib track adjacent to the mast. The cockpit is broad with a mainsheet traveler recessed into the sole just forward of the twin wheels. Pretty much the entire transom hinges down and opens up to form a large swim platform.
This is a big rig and lets you know that performance was high on the list of design priorities. SA/D is 23.05 based on a lightship displacement. I do not have a loaded displacement and I'm not inclined to guess. Given the size of the rig I think the deeper 8 foot 2 inch draft would be the way to go if your local conditions would allow it. It's a double-spreader rig with the spreaders swept. The headstay is pulled off the stem about 18 inches and a short sprit/anchor roller fitting serves as a tack point for the asymmetrical spinnaker. It is a good looking boat but all the X-Yachts are good looking. We can rely on that.
Clever design, an understanding of performance design features and a great eye for aesthetics will make the X4 a winner.
---
LOA 41'; LWL 37'2"; Beam 13'; Draft 7'2" (standard), 8'2" (optional), 6'1" (shoal); Displ. 19,511 lbs.; Ballast 8,378 lbs.; Sail area 1,044 sq. ft.; SA/D 23.05; D/L 170.6; L/B 3.15; Auxiliary 45-hp; Fuel 53 gal.; Water 90 gal.
Our best estimate of the sailaway price: $378,000
X-Yachts US
70 Essex St.
Mystic, CT 06355
860-536-7776