A fresh new look from a leading builder of offshore cruising yachts
Over the years the Amel series of boats have achieved cultlike status as offshore cruising boats. I respect the attention to detail and unique approaches to various areas of design but I have never been much of a fan. It came down to styling. I thought they were bland and uninteresting boats to look at. The new Amel 50 changes that. While there is no mention of a designer in the material I have, it's clear that this Amel was designed by someone with a good eye for aesthetics and a good understanding for what the cruising market is after today.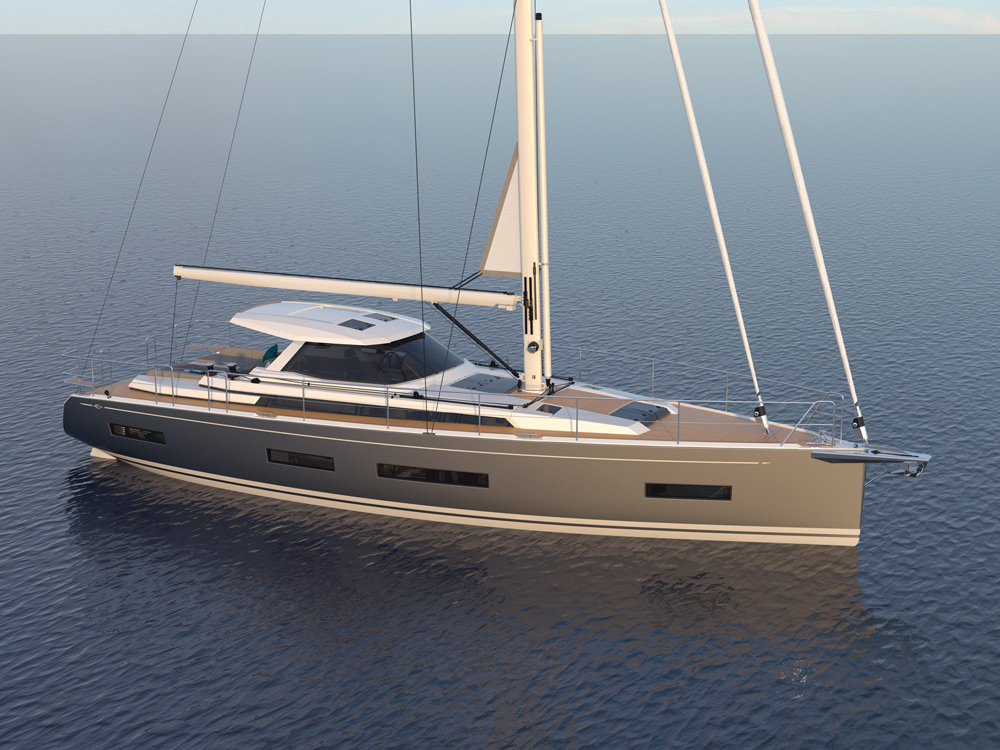 The hull form follows the type we see in just about every European production cruising boat today—short overhangs and lots of beam aft. You could call it "the box the boat came in" look. It's blocky but makes good use of volume for a given LOA to optimize accommodations and deck plan. The D/L of the 50 is on the low side using the loaded displacement at 203. The L/B is moderate at 3.24. There are twin rudders to help with control when the transom is immersed. The draft is 7 feet with an iron keel bolted on to a short keel sump stub. There is a lot of wetted surface in that wide stern so I would not expect this boat to be a light air flyer. But what cruising boat is?
The accommodations are arranged for two couples with an additional mini-stateroom forward with upper and lower berths. I have grown used to getting design packages with multiple interior plan options available but in this case there is only one layout. This certainly makes it easier for the builder. Although I would not be surprised if that forward mini-stateroom could not be left out with that volume added to the forward double stateroom. Amel has a reputation of providing minimal options, preferring to give you their best idea of what the perfect boat is.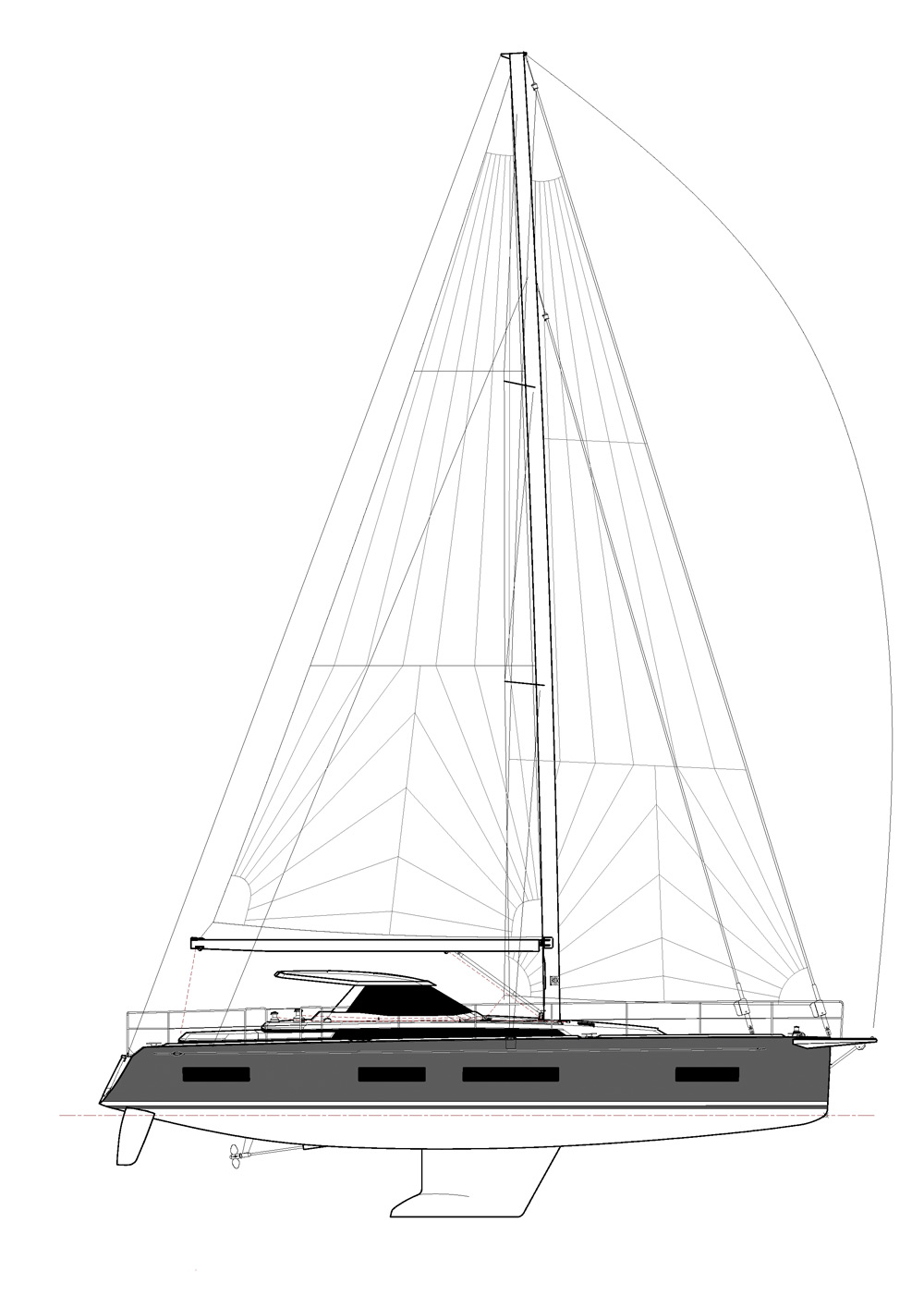 The aft stateroom is huge and includes a settee to starboard and some practical cabinetry to port. The head includes a generously sized shower stall. The engine room looks big. I figure the engine space can never be too big. This engine room is a watertight area. There is a hatch, assisted by a gas strut, in the cockpit sole to give even better access to the engine space.
The galley features Corian counters, a double sink, microwave, refrigerator and freezer, in a nice layout. The saloon shows the nav station to port facing aft. Forward of this there is a U-shaped dinette. You can add two chairs inboard for additional dining seating. There is a deep settee to starboard. I like deep settees. Some people like to sit with their legs curled up under them when relaxing and you need at least 24 inches of seat depth to do that comfortably. The forward head is accessed through either the saloon or the forward stateroom. There is another watertight bulkhead forward. The fo'c'sle is generous in size. All in all, this is an exceptionally well-thought-out interior. Note the big fixed windows in the hull sides.
The rig is interesting in that it bucks the trend of fractional rigs. This rig is masthead. The disadvantage with a masthead rig is that there is no room for the head of the asymmetrical cruising chute. This does not mean you can't fly one, but it may not be easy. The company does show a cruising chute on the sailplan. There is a short fixed bowsprit that will help with flying the chute and also getting the anchor away from the stem. The SA/D is modest at 14.83 using the loaded displacement. There is an inner forestay so that a staysail can be carried. Running backs support the staysail loads. Spreaders are swept 20 degrees. The mainsail is an electric, in-mast furling type by Amel.
The deck plan shows a big cockpit with a hard dodger for weather protection. The wheel is forward and off to port under the dodger. There is lot of lounging room in this cockpit and you can walk through to the transom swim step. It's a very nicely sculpted deck and I find the overall look of the boat to be quite good looking.
Given the company's reputation for capable and durable cruising yachts I think Amel will find an eager audience for this new model.
---
LOA 50'10"; LWL 47'7"; Beam 15'8"; Draft 7'; Displ. 41,000 lbs.; Ballast 11,800 lbs.; Sail area 1,360 sq. ft.; SA/D 14.83; D/L 203; L/B 3.24; Auxiliary 110-hp; Fuel 180 gal.; Water 160 gal.
Our best estimate of the sailaway price:
$890,000
---
McMichael Yacht Brokers
447 East Boston Post Rd.
Mamaroneck, NY 10543
914-381-5900
---