Performance cruiserr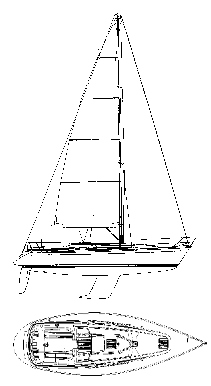 Here is another European-built performance cruiser that is an interesting contrast to the Bowman Starlight 35. This boat is designed by a firm that I am not familiar with, J&J Design. The Grand Soleil 37 is built in Italy and joins a fleet of six other similarly styled models.
Let's jump right in and look at the interior layout. There are two basic layouts available. The three-cabin layout has mirror-image port and starboard quarter-berth-type staterooms. The two-cabin layout eliminates the port stateroom and expands the starboard athwartships stateroom, allowing for a big double berth and creating room for a big lazarette locker to port and a shower stall in the single head.
On a whim, I E-mailed Graham Kerr (the Galloping Gourmet). He called me and suggested dinner. Graham is an avid sailor with many sea miles under him in his previous boat, an Ocean 71. He now owns a Nonsuch 36. I thought we divided the conversation up pretty evenly between sailing and cooking, but my wife tells me we talked more about cooking.
It was a most enjoyable evening and I have a new recipe. Baste your leg of lamb with a mixture of canned apple juice and canned orange/pineapple juice. I added my usual mixture of herbs. I tried it last night and it was superb. Cook your lamb to an internal temperature of between 150 and 160 degrees.
If you concede that you do not need an offshore-styled galley in the classic U-shape configuration, you have more options in galley layout. One that proves effective is spreading the galley out longitudinally adjacent to the dinette. There is plenty of working space with counter space on both sides of the sinks and stove. For harbor-hopping this would be a great galley. The down side of this layout is the lack of an opposing settee. I think four adults would find it too tight to relax in that dinette for extended periods.
The hull form is moderate with a flattened bottom through the midsection and a small skeglet aft. The D/L is 220. This is a beamy boat but you can see that the boat needed the beam to accomplish its interior. Cruising boats are often designed from the inside out, and I find no fault in that. The rudder is a raked spade with about 15 percent balance area. Two keels are available with drafts of 5 feet, 1 inch and 6 feet, 9 inches.
The double-spreader rig has swept back spreaders and in-line and forward lowers. There are two rigs available. The shorter rig, with a SA/D of 15.6, has a 42.65-foot I. The tall rig, with an I of 48.23 feet, has an SA/D of 17.81. I think American owners outside of windy San Francisco should go with the taller rig.
This is a very handsome design, once again leaning toward the basic deck styling established by the early Swans. The Grand Soleil line has always had a very Swanlike look to it. There is tankage for 33.7 gallons of fuel and 72.7 gallons of water.