Straight from Finland, the latest elegant family cruiser is teeming with comfort and high style
I think anything that comes out of the Nautor's yard in Finland is interesting. But this new Frers designed Swan 54 is truly beautiful. If you go back to the early 1970s you'll find what I consider the origins of today's contemporary European styling. In the early 1970s, Swan introduced the wedgedeck. The foredeck swept up to morph into a low and sleek cabintrunk. Today that is rather commonplace. But nobody does it as elegantly as Frers and Nautor.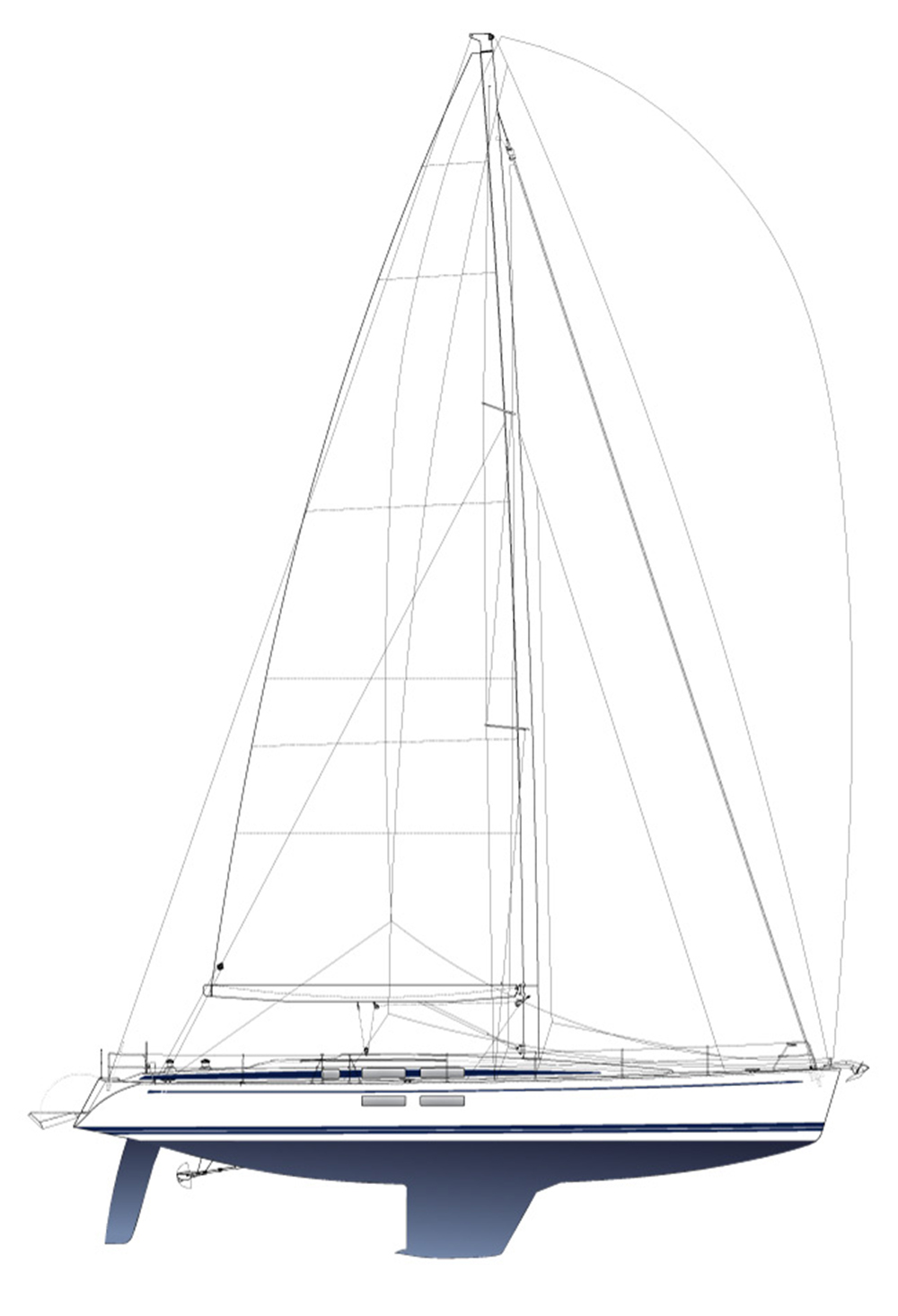 To begin with, this is not a light boat. The specs list a light displacement of 47,500 pounds and a loaded displacement of 57,300 pounds. I am suspect of light displacement figures and I'm inclined to use the loaded displacement for the ratios. The D/L for the loaded boat is 242. If I use the optimistic light displacement the D/L is reduced to 205. That's a big difference.
The L/B is on the narrow side of medium at 3.47. The standard keel has a draft of 8 feet. There is an option for a daggerboard drop keel. With that keel you get twin rudders. Given these numbers I think Swan has in mind a family cruising boat with great performance rather than a racer-cruiser type. Note the huge rudder with the very slight hook to the leading edge right up at the root. There is very little taper to this rudder.
In plan view the shape looks very normal and beam is not carried aft as we see it in so many models today. Note the signature Frers rolled off corners on the transom. Freeboard is moderate and there is a subtle spring to the sheer. I like the slight rake to the stem. It adds delicacy to the look.
The 54 is laid out for three couples with the option of having a crew quarter berth or a pipe berth to starboard. The standard layout has two heads. The forward head has an adjoining shower stall. If you like you can divide this area into two separate heads but you'll lose the shower stall. Most readers will know I don't like small dinettes. This dinette to port is big. Two chairs inboard should provide comfortable seating for six at dinner. The nav station to starboard looks like a great area. I'm not sure what that counter covers just aft of the nav seat. The aft head is accessible from the quarter cabin or the main cabin. If I had to pick a nit, I'd point to that narrow galley counter running fore and aft. My rule of thumb is that galley counters have to be as wide as your widest dinner plate so I use 12 inches as a minimum counter width. Pretty small nit. The fo'c'lse is watertight.
I love the contours of this cabintrunk. It gets wider all the way aft to make room for a big cockpit. That takes away from side deck aft, but I think the priority is correct. You will spend more time in the cockpit than you will on the aft side deck. Hatches are all flush and lines coming aft are all hidden to emerge at the cockpit. There is a drop-leaf dining table in the cockpit. Twin wheels give good access to the fold down swim step and the huge "toy locker" aft.
The fractional rig has double, swept spreaders. There is an option for an inner forestay so you can carry a staysail in heavy weather. Midboom sheeting on the mainsail surprises me a bit on a boat this size, but I suspect the winch will be electric so it's just a matter of having a beefy boom. This arrangement keeps the cockpit free of clutter. The SA/D with light displacement is 18.56 and 16.61 using the loaded displacement. I'd consider this a conservative rig.
Tankage is 130 gallons of fuel and 189 gallons of water. The holding tank capacity is only 31.7 gals and I think that's a bit skimpy for a 54-foot boat.
This is a dream boat for most of us. It is a very nice dream.
---
LOA 54'1"; LWL 47'3"; Draft 8'' Displ. light 48,500 lb., loaded 57,300 lb.; Ballast 18,100 lb.; Sail area 1,543 sq. ft.; SA/D 16.61; D/L 242; L/B 3.47; Auxiliary 110-hp; Fuel 130 gal.; Water 186 gal.
Nautor's Swan
670 Americana Drive
Annapolis, MD 21403
954-997-0549
email: giulio.bertani @ nautorswan.com