With America's Cup trickledown technology, this daysailing-buoy racing catamaran can fly
There are lots of ways we can enjoy sailing. I think there is a boat for just about everybody. My neighbor bought a John Welsford Scamp this summer. It's a 12-foot pram with a lug rig. This is his first sailboat and he loves it. Sometimes I chuckle watching him try to sail it but he's having fun and learning quickly. Who knows, maybe in a year or two he'll be ready for something with a little more performance like the Eagle Class 53, a foiling catamaran with a hybrid mainsail—half rigid wing and half soft sail—designed by Paul Bieker and his team. But I sincerely doubt it.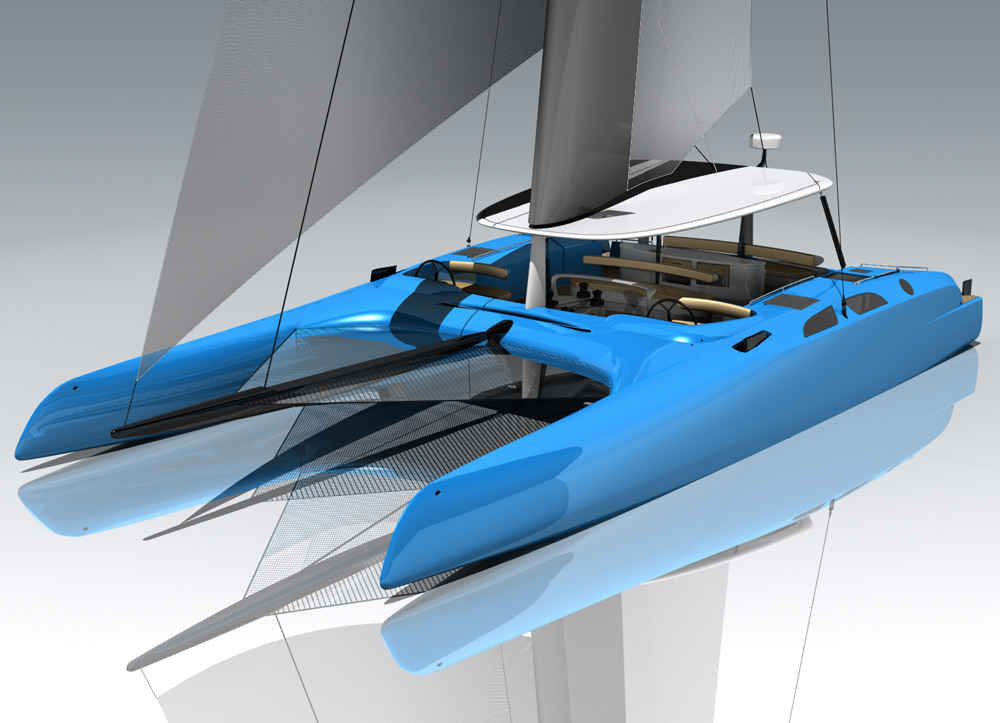 This new cat will appeal to a narrow slice of sailors who want speed at all costs and are not phased by the chance of being upside down. It could happen. For some, the fun you get from sailing is proportional to the number of strings you have to pull. For some it's all about how fast you can go. Two of the design team members, Bieker and Eric Goffrier, were both interns in my office years ago before moving on to America's Cup foiling cats and other high-tech designs.
These are very slender hulls with an L/B of 13.33. I think that is the highest I have ever measured. Using the loaded displacement figure of 16,424 pounds, and the "heeled" DWL from the specs, it gives a D/L of 49.88. Sectional shape of the hulls is very arclike with max beam carried to the transom. Note how far aft max hull depth is. The hulls and deck are beautifully integrated for low windage. That hump in the profile doesn't do much for me but it's there to provide headroom down in the hulls and at the same time reduce freeboard and windage forward.
The rudders are foiled and there are C-shaped foils almost adjacent to the mast. Draft with the foils up is 16 inches and 10 feet 5 inches with the foils down. The styling touches are subtle and give the look of an exotic sports car. Just for fun, I calculated the price per knot of the Scamp and the Eagle 53. It's $3,428 for the Scamp using 3.5 knots and $280,000 for the Eagle using 25 knots.
This cat has accommodations for two couples in narrow, almost double-sized berths. I consider 54 inches width minimal for a double berth. There are mirror image sleeping areas with heads in each hull. Each sleeping area has an escape hatch that would allow you to climb out onto the capsized hull. "Wake up honey."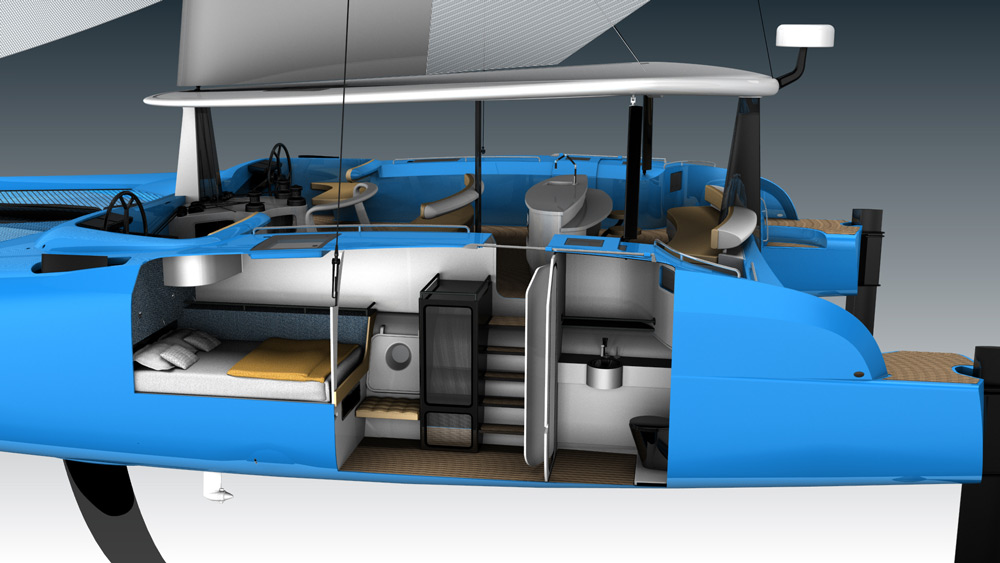 The galley is in the open air saloon or what we would usually think of as the cockpit. You could do the mazurka in this cockpit. It's huge. The steering station is forward to port. On centerline there is a large console for winches and controls. Aft of this there is a curved settee and aft of that a galley work counter with a counter on the aft side for dining. Aft of this is another curved settee. There is a lot of open area. The hard top over the cockpit area is unusual in that is had reverse camber to it. Most hardtops or cabintops are convex, i.e. higher in the middle than on the sides. This one is lower in the middle. I think this provides an advantage to the rig geometry. It looked awkward to me at first but it doesn't bother me now. It's an interesting look. Clearly this is a boat designed for sunny weather sailing.
With a SA/D of 46.3, to say this rig is impressive is an understatement. The mast rotates. There is no boom. The mainsail is a hybrid that sheets jib-style to a full-width traveler on the house top. Look closely and you can see how the foot of both the main and the jib are cut away aft. This allows the luff of the sail to come down to the deck of the housetop while leaving room for the multiple purchase sheets. Pretty darn clever. I've never sailed with a wing mast. I'd imagine it has control lines I've never heard of. "Ease the Furtwangler!" There is a long sprit for the off-the-wind sails.
Built by Fast Forward Composites, the Eagle 53 cat is all pre-preg, oven-cured carbon fiber. The boat is available in three versions: EC 53 with C foils and T rudders, the EC 53 Sport with T foils, T rudders, Autonomous Foiling Control and the EC 53 Turbo with T Foils, T rudders, Autonomous Foiling Control and a stripped down racing interior.
Hard to say whether the 12-foot Scamp or this big cat would provide the most fun for an afternoon sail. You could collect five of your hardy friends and go for a blast around the bay at 25-plus knots on the cat or you could grab your dog and ply the bay at 3.5 knots on your Scamp. I'm pretty sure which I'd prefer.
---
LOA 54'2"; LWL 52'10:; Beam 27'10"; Draft foils up 1'4", foils down 10'5"; Displ. 16,424 lb.; Sail area 1,873 sq. ft.; SA/D 46.3; L/B 13.33; D/L 49.88; Fuel 79 gal.; Water 66 gal.; Auxiliary twin 30-hp
Fast Forward Composites
91 Broadcommon Ave.
Bristol, RI 02809
401-396-9501