Bluewater performance cruiserr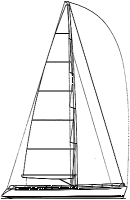 The new Frers-designed Swan 80 is a good case in point. Here is a boat that is intended to be both a racing and a cruising boat. This has been Swan's approach as long as I can remember. The 80's character is heavily dependent on the IMS rule. It's available in three models: a Swan-type wedge deck in a midcockpit aft or centered configuration, and a raised-saloon deck. The racing-oriented owner would probably choose the midcockpit-aft type to keep sail-handling chores nearby. Due to space limitations, I'm going to restrict my review comments to the centered-midcockpit version, a good layout for racing or cruising.
This is a light 80-footer. The D/L is 120. Beam is on the narrow side for an L/B of 4.14. Normal L/Bs are usually around 3.5. The canoe body shows minimal fore and aft rocker and a distinct flattening in the area of the keel fin. The sheer is not flat, but it appears in the drawings to have almost no spring aft. It almost looks like the stern is higher than the bow, but it is not by about 16 inches. I don't find this an attractive sheer on paper, but I respect Frers' eye and I look forward to seeing a photo of this boat. The leading edge of the keel fin is dead vertical.
This is not a mom-and-pop cruiser. The accommodations plan of this yacht is divided into paid-crew and owner's-party areas. The paid crew; comprised of skipper, cook and two deckhands; live in the bow and have their own forward dinette and two heads. The forward double stateroom means that the skipper will be good friends with the cook. This stateroom has its own head.
Aft of the mast the accommodations are laid out for an owner's party of three couples. Only the aft stateroom has a double berth, but each stateroom has its own head. The two port heads have bathtubs. These accommodations are palatial compared to my 26-foot Perrywinkle. The main saloon is divided into two areas and features a huge dinette that I guess will seat eight very comfortably. Look at the galley. There is counter space on each side of the sinks and the range. This is essential for efficient cooking.
The Swan 80 comes standard with a carbon fiber mast. The SA/D is a whopping 24.67 with the boat fully loaded. This is fine with a paid crew but might be a little on the intimidating side for a crew of amateurs. Consider a mast towering 106 feet off the deck. You will need binoculars to see the Windex. There are no runners or babystay. Powered winches are standard.
Interestingly, this deck layout shows genoa tracks placed well forward, indicating that no overlapping jibs will be carried. Furling jibs will have to be high-clewed to continue sheeting to this short track. Spreaders are swept 17 degrees. There is a fold-down swim platform that stows flush in the transom. Deck construction features a carbon fiber honeycomb sandwich with a vacuum-bagged teak overlay.
Hull construction features a single-skin laminate with vinylester resin, glass and aramid hybrid fiber. Water tanks will be integral; a feature used by many custom builders, but being introduced by Nautor to the Swan line with this model. Chainplates, floors and bulkheads will all be of composite construction.