This is our very first review of a Brian Jones design. Brian is a 45-year-old Annapolis sailor who has dreamed of being a yacht designer since junior high. He is self-taught and has no college degree. Sounds like someone I know. Brian pays the bills by working in the marine electronics business, while designing and building boats on the side and looking forward to the time when designing and building are his primary activities. Brian's last boat was a MORC boat, also called the BC 27, which was extremely successful in the MORC fleet. But Brian was itching to do something new in the sport boat category, so here is his new BC 27 sport boat.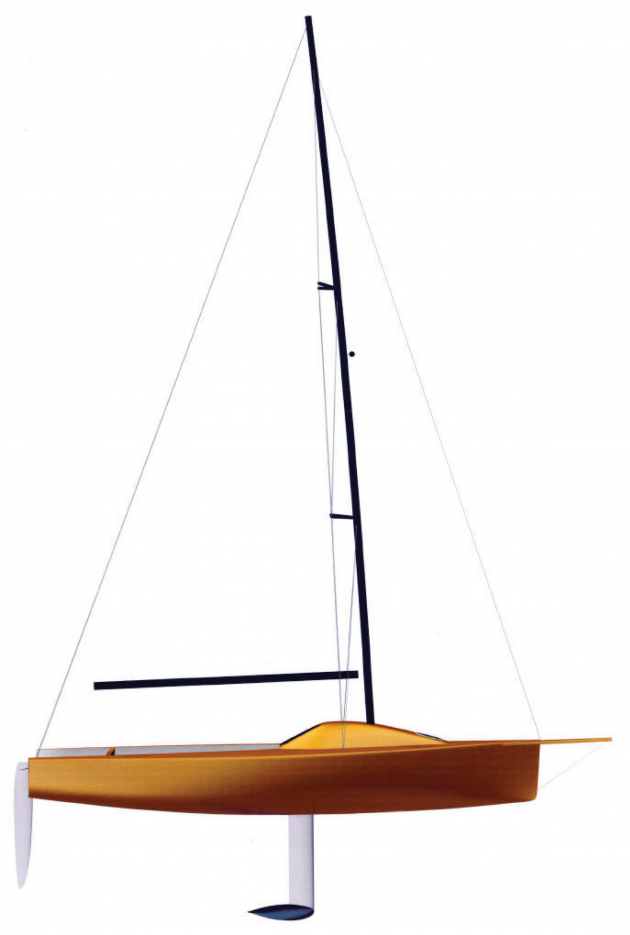 To date this boat has done very well racing. It took five firsts and one second in the Annapolis Race Week regatta, and that was in a fairly potent fleet of other sport boats. It was first to finish in all the races but was beat on corrected time in one race. It was first overall in the Baltimore Leukemia Cup. So we know we are looking at a fast boat.

Brian is a self-admitted "seat of the pants" designer. I asked him what the prismatic coefficient was for the BC 27 and he said, "I don't know." I recently asked a world-famous rowing shell designer what prismatic I should use on my new 116-foot fautasi. He said, "I don't know. I never calculate it." So much for the validity of the prismatic coefficient; a measurement of the hull's overall fineness.

Brian draws what his gut tells him is fast, and it seems to be working. The hull shape is interesting in that the sections show a hint of deadrise through amidships that gradually fairs out to an almost flat run. Even at the transom there is some gentle arc shape to the sections. The turn of the bilge is on the soft side. The L/B is 3.18, indicating a beamy boat, and the D/L is 64.62, indicating an ultralight boat. The waterlines forward show a distinct hollow at the entry. Photos of the boat sailing show it cleanly cleaving the water at the stem. Draft is 6 feet, 6 inches with the keel in the down position and 1 foot, 9 inches with the keel retracted. The bulb is a beavertail type with a flattened bottom to get the VCG as low as possible. Note that the plan form of the rudder blade is approximately 75 percent that of the keel fin in area. That means either the keel is small or the rudder is big. I think this rudder is very big.

There is really no "interior accommodations" in this design. There is a berth-like structure that you can sleep on but it is primarily to add hull stiffness and keel support. Clearly this is a daysailer.

I find the most interesting feature of the deck design to be the highly radiused sides of the cockpit. When I spoke to Brian on the phone I asked him how that highly shaped cockpit worked. He said he had used it on his previous boat that he had raced for 10 years and would continue to use it. It does have several advantages: it eliminates any hard spots from the tooling where stress cracks can develop; it reduces the weight of the deck by reducing the square footage of the cockpit well; and it provides secure footing regardless of heel angle. There is always some section of the cockpit sole that is level. I like the look of it.

The rig is big. The SA/D is 35.26 and that's enough sail area to give you blistering speeds in 10 knots of wind and blisters in 20 knots. High-powered boats like this require careful handling in a breeze. But that's where the excitement is in the sport boat class. You hang on upwind in a blow and you plane off downwind. The sprit on this design is a 3-foot, 9-inch fixed prodder.

The hull and deck are built as a monocoque structure with Kevlar and S-glass skins over a Corecell core with West System epoxy. So there is no hull-to-deck joint. Keel fin, rudder, tiller and spars are all carbon fiber.

You can launch this boat off a ramp if you need a boat you can trailer. I look forward to seeing more designs from Mr. Jones.


---
LOA 27', 30'9" with sprit; LWL 25'6"; Beam 8'6"; Draft 6'6" (keel down), 1'9" (keel up); Displacement 2,400 lbs.; Ballast 1,360 lbs.; Sail area 500 sq. ft.; SA/D 35.26; D/L 64.62; L/B 3.18
BC Boatworks, 1019 Lake Claire Dr., Annapolis, MD 21409, (410) 757-3499,
www.bcboatworks.com
.
---
OBE: $87,000
Our Best Estimate of the sailaway price