Daysailer
I don't know about you but I'm ready for some dessert. A big bowl of rum-raisin ice cream is my favorite and this design updated from the Sparkman & Stephens design archives will work for me. According to the promotional material I have, the genesis of this design goes back to 2003 when Olin Stephens, then retired, was asked if he had a favorite design. After what I'm certain was a lot of thought, Olin said Babe, a boat he had drawn in 1935. I know this boat. I have a copy of Olin's book Lines, and I'm happy to say out of all the boats in the book Babe is the one that jumped out at me. Terry McClinch, owner of Boothbay Harbor Shipyards, agreed to fund a building project based upon an updated version of Babe. Olin thought the new boat should be called Nymph.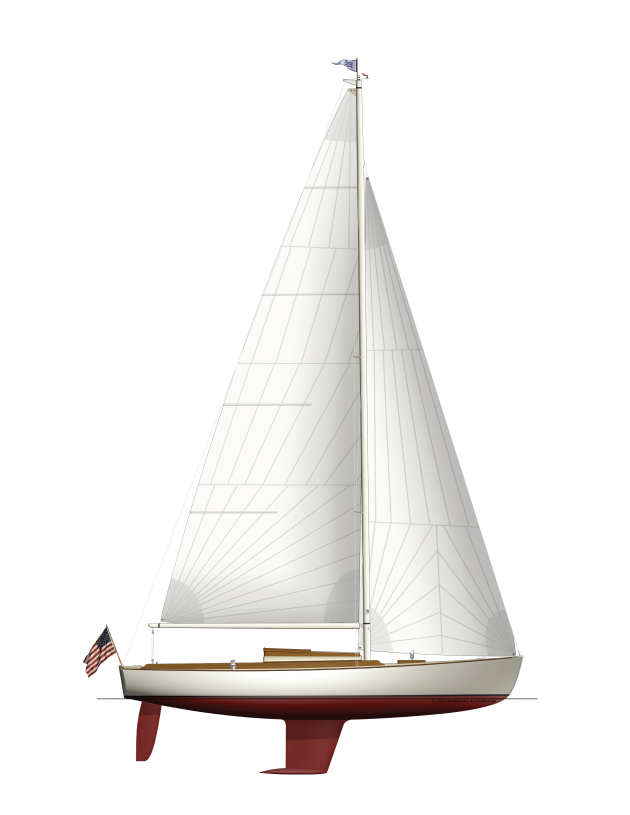 The new boat is 2 feet, 3 inches longer than the original. The hull sections have been changed to accommodate a more modern shape and a fin keel has replaced the old modified full keel. A generously proportioned spade rudder replaces the old keel-attached rudder. The D/L is 141.6 using the "half load" displacement. The L/B is 4.18 indicating a narrow boat. With its new fin and bulb keel drawing 6 feet, 2 inches, Nymph is really a modern design that enjoys traditional aesthetics. Now, I'm probably going to get my usual S&S hand slapping for saying this, but my only concern with the new design is the sheer. I look at the original hull lines and I don't see the same sheer spring. I am willing to admit it may be a simple function of the artist's sailplan rendering, but to my eye it looks like the original sheer had a more perky character aft. Either way this sheer is very close to perfection. It's fun to contemplate, but the original Babe was designed as a purpose-built race boat for the Miami-Nassau and the St. Petersburg-Havana races in which it was very successful. Yes, dear reader, race boats have changed. The new Nymph is a ton lighter than Babe.

If you would be happy doing short cruises the way the old guys did it, with a change of clothes and a ditty bag, you would like this layout. It is Spartan and straightforward but two people could be very comfortable on this boat, if your needs were modest. I don't see a head on the boat but I would assume you could install a head in the fo'c'sle. It may have to go under the foredeck hatch so you can have some headroom but that is a traditional detail and it works.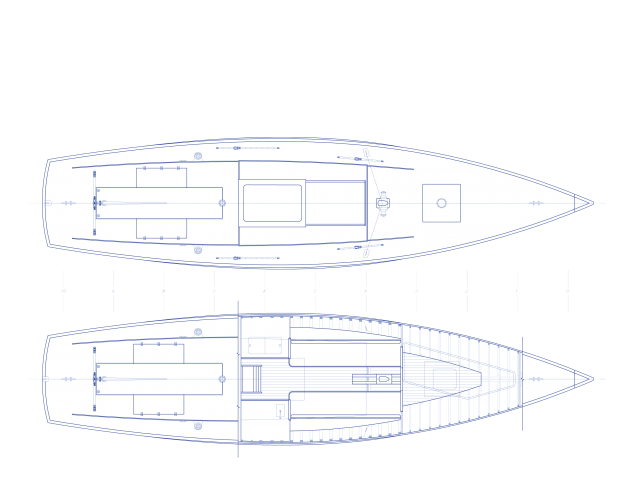 Nymph has 50 square feet more sail area than Babe and the SA/D is a healthy 21.3. The spreaders are swept 18 degrees and there are no runners shown. The modern, tall masthead rig looks right at home on this design. I like the low tack and clew of the 100-percent headsail. I suppose someone will want roller furling on the jib but it would be a shame to get that tack off the deck.

Today we see this design as a "daysailer." To me this means the priorities have been tipped toward cockpit size and the interior has been given what's left. Big cockpits are great. The mainsheet traveler is aft of the cockpit well. The tiller comes out of the cockpit sole and no, a wheel would not be a good idea on this boat. Boats like this are about tillers. Note how the cockpit coaming butts into the boxy cabintrunk, almost extending the cabintrunk sides. Then note how there are extensions to the house sides that go forward of the mast. This is a detail you see on a lot of traditional Scandinavian boats. I love it. It's pure eye candy.

Boothbay Harbor Shipyard will build the Nymph in traditional plank-on-frame style with double planking consisting of a layer of 3/8-inch white cedar over a layer of silverballi, a South American hardwood. Frames will be steam bent white oak, just like Babe had.
This design is a wonderful tribute to the work of Olin Stephens.


---
LOA 32'9"; LWL 30'6"; Beam 7'10"; Draft 6'2"; Displacement 9,000 lbs.; Ballast 3,650 lbs.; Sail area 576 sq. ft.; SA/D 21.3; D/L 141.6; L/B 4.18; Auxiliary Yanmar 14-hp; Fuel 12 gals.; Water 12 gals.
Designer: Sparkman & Stephens, 529 Fifth Ave., New York, NY 10017, (212) 661-1240,
www.sparkmanandstephens.com
.
Builder: Boothbay Harbor Shipyard, 120 Commercial St., Boothbay Harbor, ME 04538, (207) 633-3171,
www.boothbayharborshipyard.com
.
---
OBE: $180,000
Our Best Estimate of the sailaway price