Daysailer

Danish boatbuilder Jorgen Jensen built DayDream as a boat for his kids to enjoy while he did the occasional race. If there is one thing almost all of these small boats have in common it is the idea that the boat will be suitable as a trainer and at the same time it will satisfy the experts. They pretty much all say that in their promo material. In this particular case the promo material, obviously written by Mr. Jensen in English as a second language, is most probably correct. I can see DayDream working well on a number of levels. I certainly meant no disrespect by the "English as a second language" comment. In fact, if anything, the builder's often cryptic description of the boat and its performance cut through the normal meaningless advertising drivel and deliver an honest while subjective appraisal of the vessel.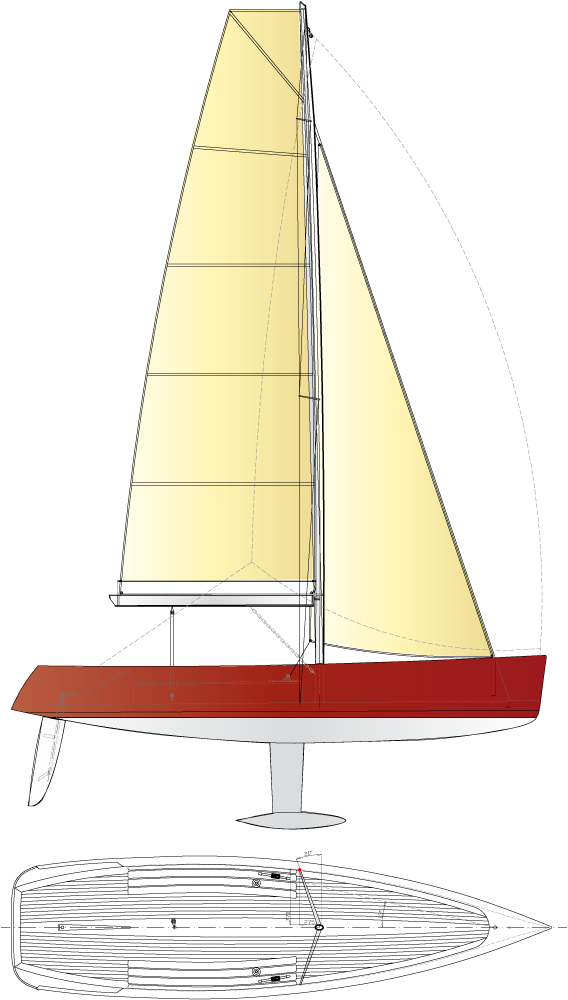 DayDream has one major distinguishing feature. It has a "walk around cockpit." The boat is all open cockpit. There is virtually no foredeck, just a minimal breasthook. There are no bulkheads breaking the cockpit sole and essentially you can do any and all sail-handling chores without ever leaving the cockpit. This will help keep the kids safe and in the boat but it also has specific advantages for disabled sailors who can use a slide system and a chair to freely move around the boat. There are seats port and starboard, but I would think that most of the time you would just sit on the cockpit sole. It's a very interesting concept. The transom is wide open, so in case you were knocked down and you filled the cockpit area it would drain very quickly out the stern. The cockpit sole is well above the DWL, so it will always be self-draining. I'd have to sail this boat in some breeze and chop to see if there were areas that puddle up, but the only place I can see that happening is right under the seats. Note that the jib sheets to short tracks right on the cockpit seats and there are small winches also on the seat tops.
The hull form is relatively narrow with an L/B of 3.75. The D/L is 102.6 and an 812-pound ballast bulb provides stability with 6 feet, 7 inches of draft. The hull sections show some hollow to the entry, a U-shaped midsection with generous BWL fairing to an elliptical section with soft bilges at the stern. It's a moderate and sweet looking hull.

The rig is odd in that the mast comes out of the cockpit dinghy style. There is just no reason to go "on deck," as there is no deck. The SA/D is 26.76 and that's not huge by today's standards but it is by no measure a low number. This is plenty of sail area and ensures this design of very good light-air performance. The mainsheet goes to a pad eye in the cockpit sole. With no deck at the mast the vang attachment point can be very low, offering excellent mechanical advantage for the vang. The jib tack is as low as possible and, with the jib sheeting to the cockpit seat, the jib clew is also very low. This is a very effective rig. The fat-head main will work to de-power the main in a breeze. With the jib tack pulled well aft there is plenty of room forward for the tack of an asymmetrical chute without resorting to a sprit.

The DayDream is built with strip-planked Abaci and two layers of epoxy and diagonal fabric. The inner layers are finished in mahogany with 10 coats of varnish. It all sounds very nice to me. The keel is easily removable for trailering. DayDream will be transported around Denmark and Sweden for a summer of racing.
I can see the kid-friendly aspects of this design. I can also see where this boat would be fun to race. But what strikes me, and is not in the promo material, is that DayDream would make an ultimate "old man's boat." I'm 62 now and I don't make those eight-foot leaps to the dock anymore. My knees have developed a mind of their own and I don't like it one bit. In DayDream, I could just reach over from the helm and grab the dock. I would never, ever have to go "on deck" and I could sail hard and fast while remaining in the security of the deep cockpit.

This design makes me rethink some things.


---
LOA 24'7"; LWL 21'4"; Beam 6'7"; Draft 4'11"; Displacement 2,200 lbs.; Ballast 812; Sail area 283 sq. ft.; SA/D 26.76; D/L 102.6; L/B 3.75
The New Boatbuilder, Hjelmsgade 1, 2100 Copenhagen, Denmark, 45 4043-4741,
www.boatbuilder.dk
.
---
OBE: $81,500
Our Best Estimate of the sailaway price