Here is J Boats' answer to shoal-draft sailing. Having worked with cruising sailors for years I can say with certainty that draft is always a prime consideration of a new cruising boat design. While we all want shoal draft for the convenience of it, I for one do not want to give up performance in order to cut down my draft. We know now that stubby, bulby, wingy, thingies on the bottom of the boat don't work very well. J Boats' answer is a fixed shoal keel with a 200-pound bronze centerboard, for a board down draft of 5 feet, 6 inches and a board up draft of 3 feet.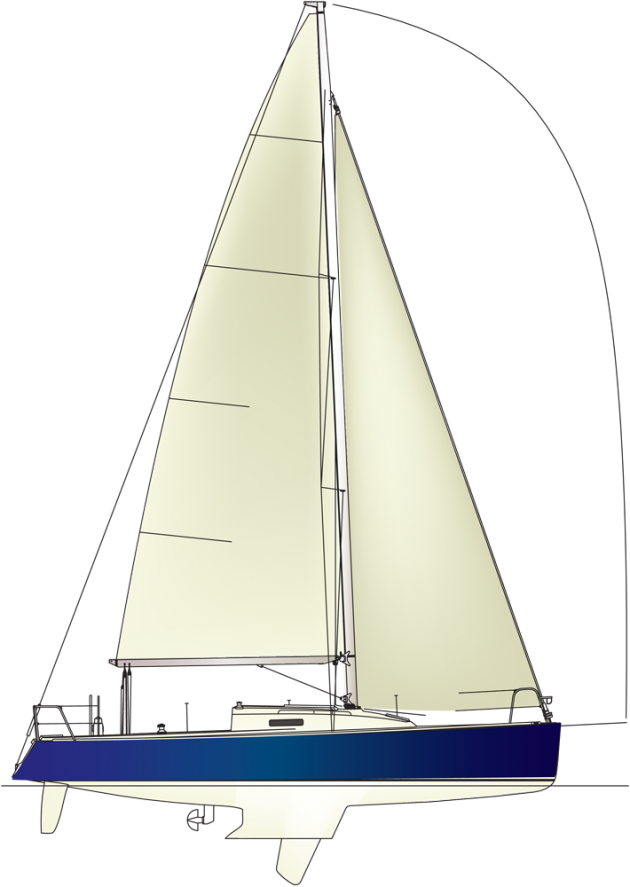 This is a very pretty hull. I like the sheer spring, the near plumb bow and the modest stern overhang. Having the freeboard quite low also makes for a good-looking boat. The L/B is 3.12, so we can call this boat beamy. The D/L is 117 and in my books that makes this a light boat. The midsection shows 10 degrees of deadrise and a relatively narrow BWL. The specs list a limit of positive stability of 120 degrees. The centerboard weight is only a small part of the total ballast amount; there is 2,250 pounds of lead in the keel, so you can sail the J/95 with the board up or down. Twin rudders provide efficient steering without extending the draft. The centerboard is raised by a line that is led aft on the cabintop, port side. Having the centerboard fully housed in the keel means that there is no centerboard trunk intruding into the accommodations area.
The interior of the J/95 features settee berths, a nice head forward and optional V-berths. This is all you need for short cruises-unless you want to eat. There is no provision for any kind of galley. The galley has been sacrificed to gain more cockpit space. I love big cockpits. I suppose I could work on a camp stove in the cockpit. But that's probably not fair to the concept of this design. The 95 is a daysailer and it does come with an Igloo cooler, so what kind of sandwich would you like?
The SA/D of this design is 21.8. That's not a lot in these days of towering rigs but it's a lot more than you would have found on the shoal draft boats of 20 years ago. I'm sure given the pedigree of this design it will be a fine sailer and I suspect it would be a fun boat to race in PHRF. The bowsprit retracts into a flush tube, so the bow aesthetics are not marred. You can fly a masthead asymmetrical chute if you want off-the-wind speed. The mainsail laps over the backstay by about four inches, but that's not enough to make it hang up in a tack. The standing rigging is all rod. The standard mast is a Hall Spars aluminum stick but there is the option for a Hall carbon fiber stick. The backstay adjuster is a Sailtec integral type and the vang is a Hall Quickvang. The chainplates are well inboard to make it easy to climb around them. The spreaders are swept 21 degrees. I find this boat very good looking.
This will be a fun boat to sail and should appeal to sailors who need a shoal draft.
---
LOA 31'2"; LWL 28'5"; Beam 10'; Draft 3' (board up), 5'6" (board down); Displacement 6,000 lbs.; Ballast 2,450 lbs.; Sail area 450 sq. ft.; SA/D 21.8; D/L 117; L/B 3.12; Auxiliary Yanmar 14-hp; Fuel 15 gals.
J Boats, P.O. Box 90, Newport, RI 02840, (401) 846-8410,
www.jboats.com
.
---
OBE: $179,000
Our Best Estimate of the sailaway price