Here is a stunning new yacht from Simon Rogers in the United Kingdom. The boat is being built by Goetz Custom Technologies in all pre-preg carbon and is scheduled for launch in spring of 2010. The designer calls this design a "Performance Cruiser Racer." We have to distinguish this from a "performance cruiser" in that the boat has been designed to race in the IRC rating class of cruiser-racer. Clearly this boat has been designed for optimal comfort combined with optimal performance.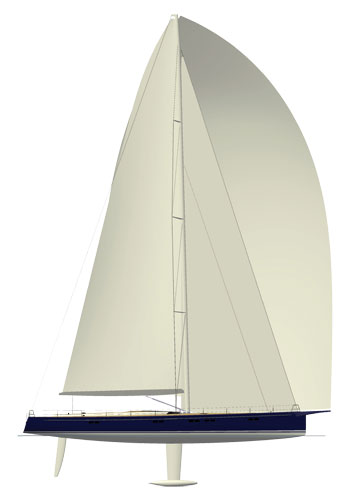 This design is intended to operate in two modes. One mode is for IRC racing with a displacement of 66,096 pounds and a D/L of 69.94. The second mode is the cruising mode, and in this mode the displacement jumps to 88,160 pounds for a D/L of 93.29. I'm not sure how they accomplish this but it certainly is a dramatic change. Draft is 14 feet, 9 inches with a T-type bulb, and the L/B is 4.35, indicating a very narrow boat. For my calculations I estimated the DWL at 75 feet, as I can't find it listed anywhere on the specs or drawings. I also don't have any indication of the hull shape other than some small 3-D renderings and a profile but it looks pretty much as you would expect. That stem face looks dead plumb to my eye.
The interior is palatially laid out for two couples forward with the crew quarters being aft of the companionway. Crew quarters include two heads and two single berths in each cabin. The port crew cabin would make a nice extra guest cabin but there is no provision in the drawings for a double berth in this cabin. The main cabin includes a large galley to starboard and a huge dinette relaxing area to port. The large nav station is just forward of the galley. Forward of the main cabin is the owner's stateroom. This stateroom can expand to occupy the full beam of the boat or it can be closed down with folding panels to allow privacy and access to another double berth stateroom forward. Both staterooms have heads with large shower stalls. Flat-screen televisions abound in this layout. I think they have the comfort part of the equation well covered.
This is a big rig towering over a big deck area. If I use the IRC displacement I get an SA/D of 35.3, and if I add the extra 22,064 pounds to get the displacement up to the cruising displacement I get an SA/D of 29.15. The triple spreaders are swept 21 degrees with the chainplates right at the rail. The athwartships jib tracks offer sheeting angles ranging from seven to 15 degrees. Needless to say this boat will be very fast and a handful at times. The boom is a V-shaped Park Avenue type that will cradle the big main as it falls.
This deck is a great example of why yacht design is often called an "art and science." The boat is essentially flush decked but the low and svelte cabintrunk allows the designers to bury the many lines leading aft to the cockpit winches from the mast base. As big as this boat is there are still only four winches on deck. Spinlock jammers will be used for the halyards. The height of the low trunk also allows for a much more comfortable companionway. Note the huge hatch aft that gives access to the "toy locker," or lazarette. The bowsprit is fixed and houses the anchor roller.
This is a very impressive design, Mr. Rogers.
---
LOA 82'; LWL 75'; Beam 18'8"; Draft 15'1"; Displacement 88,160 lbs.; Ballast 48,502 lbs.; Sail area 3,611 sq. ft.; SA/D 29.15; D/L 93.29; L/B 4.35; Auxiliary Yanmar BY2180; Fuel 312 gals.; Water 260 gals.
Rogers Yacht Design, 68 High Street, Lymington, Hampshire, SO41 9AL, England, 44 (0)1590-672000,
www.rogersyachtdesign.com
.
OBE: $8 million
Our Best Estimate of the sailaway price