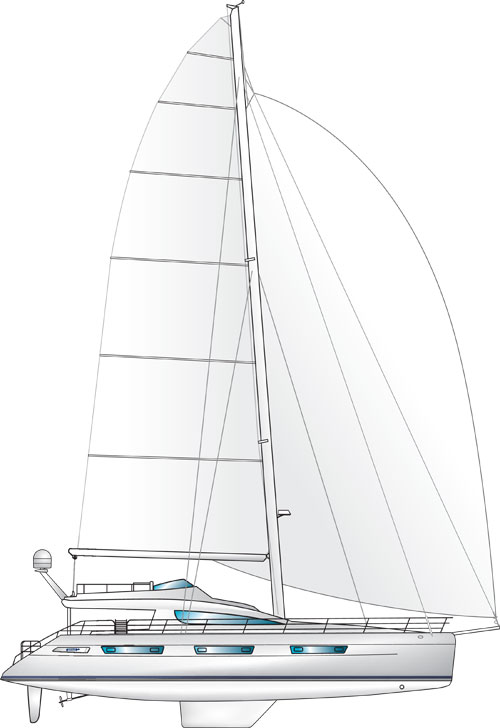 The Privilege line of production catamarans is one of the best established and to my eye its designs have always shown exciting styling. The new 745 is no exception. This big cat is beautifully designed by Marc Lombard along with Diedre Design.
At 85,000 pounds "light displacement," and with 35 feet, 7 inches of beam spread out over 74 feet, 5 inches of LOA, this is a very big cat. If I use that displacement I get a D/L of 93.64, but I am always suspect of "light displacement" figures. I want to know what the boat weighs sitting at the dock ready to go out sailing for at least a weekend. The L/B is 2.09. For those of us accustomed to only one hull the thought of 35 feet, 7 inches of beam is a bit amazing. The keels are fixed low-aspect-ratio fins and draft is 7 feet, 2 inches. I don't have anything that really illustrates the hull shape but you can see in the profile that the canoe body depth is distended aft, presumably to push volume into the stern so the big cat will not squat when loaded. There is a lot of rocker aft in this design. Freeboard is high but it looks proportional and typical to what we see in cruising cats. That freeboard is used to get volume in the hulls.
There are two layouts available for the 745. The "propriétaire" layout has four staterooms plus crew quarters. The "5 cabines" version has, as you might guess, five staterooms plus crew quarters. If you go with the propriétaire layout you gain a luxurious head in the port hull that is part of the centerline stateroom suite. This head features a large bathtub. The five-cabin version replaces that huge head with an additional stateroom and minimal but adequate head. Everyone in the owner's party is going to be very comfortable. The crew area includes stacked single berths and a double berth forward along with one head and what looks like a small dinette. The main cabin of the 745 is truly huge, with a nav station aft, multiple lounging areas and a bar with bar stools. The galley is down in the starboard hull adjacent to the crew area. I don't think anyone in the owner's party is going to be doing any cooking on this boat. "Pierre, my vichyssoise is cold!" But the real piece de resistance of this layout is the flybridge. The drawings don't show what is going on in the lower level aft of the main cabin but I suspect it is space for outside dining. But, if you climb a narrow winding stairway to port you will find yourself on the spacious flying bridge. The controls, including winches for sail control, are on this bridge as are a couple of lounging settees and a big dining table. This would be a great place to hang out. If the sun got to be too much you could go to the lower area that is entirely covered by the flybridge. Visibility from the flybridge will be excellent.
When you look at the sailplan remember that profiles of big cruising cats are deceptive. With a 2D drawing you lose the effect of the massive beam. In pictures of this cat the house is well tucked in from the sheer and the overall look is far sleeker than what you would guess from the profile drawing. This is a very good-looking boat if your aesthetics run to Euro-type styling. The "nose" of the 745 runs forward on centerline, eliminating a lot of the forward trampoline area. This makes it easier to arrange ground tackle systems and provide a solid deck when you are handling sails forward. The SA/D, if I use the mainsail and genoa areas listed in the promo material, is 23.5. That's probably a bit inflated but designs like this are not about blistering light-air speed. There is a fixed sprit for the reaching headsail, then there is a genoa and staysail on roller furling. The genoa and staysail sheet to tracks on the sloping top of the main house and sheets are led to winches at the flybridge control station. Halyard winches are down at the base of the mast on deck. Note the full-length hard rail instead of wire lifelines and pulpits.
I imagine this cat has been designed for the charter service where paying guests will be waited on hand and foot. Sounds good to me.
---
LOA 74'6"; LOD 72'; LWL 70'10"; Beam 35'8"; Draft 7'2"; Displacement 85,000 lbs.; Sail area 2,839 sq. ft.; SA/D 23.5; D/L 93.64; L/B 2.09; Auxiliary Yanmar 200-hp; Fuel 792 gals.; Water 343 gals.
Alliaura Marine, 851016 Les Sables D'Olonne Cedex, France, www.alliaura.com. In the U.S., contact Aqua Marine USA, 368 NE Alice Ave., Stuart, FL 34994, (772) 692-7444, www.aquamarineyachtsusa.com.
OBE: $4.5 million
Our Best Estimate of the sailaway price