Here's an unusual looking in-house design from Alliaura Marine in France. You either like boats with this overstated Euro styling approach or you don't. I like some of them but I can't seem to warm up to this one. Let's look at the features and see if there is something that can make the aesthetic approach make sense.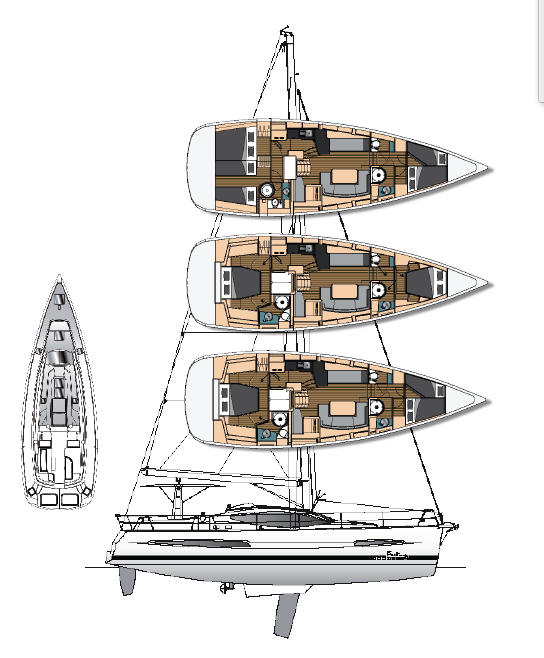 This 48-footer has a lot of freeboard, but on the other hand it has a board-up draft of 4 feet, 2 inches. I'm not insinuating that freeboard and draft are interconnected, but while copious freeboard is not good, modest draft is good for cruising boats. Max beam is well aft and the L/B is 3.11, indicating a beamy boat. It's a very wedgelike plan form. The D/L is 156 and there are stubby twin rudders. There is a very distinct chine aft and I'm sure it's there to increase interior volume in the aft cabins.

You can choose from three accommodation plans. The two-stateroom layout is well laid out with double berths in the forward and aft cabins. Fore and aft heads both have circular shower stalls. I don't see any hanging lockers in the forward stateroom. That's a shame. You do need them. You can split the forward area up into two small staterooms, with stacked berths in the stateroom to port, but it really is cramped. Then you can keep the two-stateroom forward layout and divide the aft area into two staterooms for a four-stateroom layout, using the term "stateroom" very liberally. The two aft staterooms are pretty good and helped by that immense beam in the stern. In the saloon there is a spacious navigation area to starboard and a large galley to port with a front-opening reefer aft and plenty of locker space.

The cockpit of the Feeling 48 is big with twin wheels forward, settees aft and an opening to the broad and deep swim platform. The decks are clean with a self-tacking jib track on the front face of the raised house and the mainsheet on the bimini structure over the cockpit. The primary and halyard winches are located right next to the steering stations. This is a very interesting deck layout with eight deck hatches. There is a very short bowsprit to get the anchor away from that plumb stem.

The rig is a typical swept double-spreader fractional type with outboard chainplates. The jib is self-tacking but the track is on the short side and under some conditions it would be nice to have an outboard sheeting option to open up the slot. The SA/D, using the brochure numbers for mainsail and jib area, is 19.23.

I think this design has a lot going for it in terms of accommodations and deck layout. With the indentation in the topsides and the unusual windows along the hull, the look is very distinctive.
---
LOA 48'; LWL 44'6"; Beam 15'5"; Draft 4'2" (board up), 10'1" (board down); Displacement 30,864 lbs.; Sail area 1,183 sq. ft.; SA/D 19.23; D/L 156; L/B 3.11; Auxiliary Volvo 55-hp; Fuel 132 gals.; Water 114 gals.
Group Alliaura Marine
Z.A. du Champ Fleuri 2, 72190 Saint Pavace, France
33 (0)2 4328-1888, info@alliaura.com,
www.alliaura.com