H ere is a very interesting looking custom design from the Stephens Waring Yacht Design office in Belfast, Maine. Construction is in cold-molded wood by the Brooklin Boat Yard across the bay. This design uses traditional features but it is a thoroughly modern design. The design was prepared for repeat clients Richard and Mary Jane Schotte.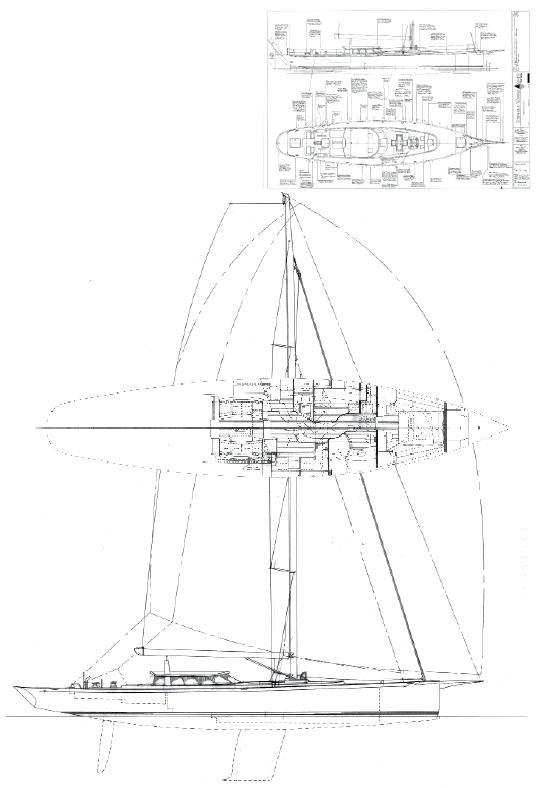 The hull sections are quite rounded with deadrise appearing only after about Station 7 and increasing to terminate in a nice, heart-shaped transom. The D/L is low at 88.4, so there is very little fore and aft rocker to this shallow canoe body. This is a narrow boat with an L/B of 4.57. There is some hollow in the waterlines forward. Draft is 10 feet with a keel in which the top 65% is a mild steel fuel tank, and with 13,500 pounds of lead in a bulbed tip. I like the combination of the plumb stem with the long overhang counter.

The accommodation plan is quite unusual. There has been no effort made to cram in accommodations and much of the boat is given over to the big cockpit. The pilothouse is the saloon, with opposing settees and a small table to starboard. Down two steps you have a large galley to starboard and a small stateroom to port. Forward of this there is a small head, another stateroom to port with stacked berths and opposite that a large head with a big shower stall. The owner's stateroom forward features a queen-size berth, vanity and hanging lockers.

The deck plan shows a two-level cockpit with a portion of the forward section covered by the overhang of the pilothouse. There are twin wheels aft along with the winches. Jib sheets run inside the edge of the pilothouse to keep the side decks clear. The mainsheet has no traveler and is dead-ended on the arch. I don't have a detail drawing for the mainsheet system but I'm pretty certain it goes forward inside the boom to disappear into the deck at the partners and then exit aft to lead to a Harken 80.2 winch on centerline just ahead of the wheels. A unique array of five flush Lewmar hatches will let a lot of light and air into the accommodations. There is a deep well in the bow and a large fo'c'sle. Obviously there will be a lot of stowage volume aft.

The fractional rig uses a square-head main and triple swept spreaders but no standing backstay. The spreader sweep is 28 degrees. A Code zero and asymmetrical chute will tack to the long bowsprit. No bobstay is shown. The SA/D is 29.5, and that's enough to scoot this boat along just fine and make it a threat in local races.

The hull is cold-molded Western red cedar in four layers over laminated Douglas fir frames. The deck is cored with Corecell foam with Okume plywood skins. There is a layer of 3/8-inch teak on top. Every effort has been made to keep the structure light.
---
Stephens Waring Yacht Design
92 Main St., Belfast, ME 04915
(207) 338-6636
www.stephenswaring.com
LOA 75'8"; LOD 68'8";
LWL 57'2"; Beam 15';
Draft 10';
Displacement 37,000 lbs.; Ballast 13,500 lbs.;
Sail area 1,588 sq. ft.;
SA/D 29.5; D/L 88.4;
L/B 4.57;
Auxiliary Steyr 110-hp;
Fuel 140 gals.;
Water 170 gals.
Our Best Estimate of the sailaway price
o.b.e. $2.7 million