I like this boat. It satisfies my well-honed aesthetic requirements. No surprise considering the design is by German Frers. Frers has always been the master of the sheerline. He never exaggerates it and he never ignores it. He always gets it right.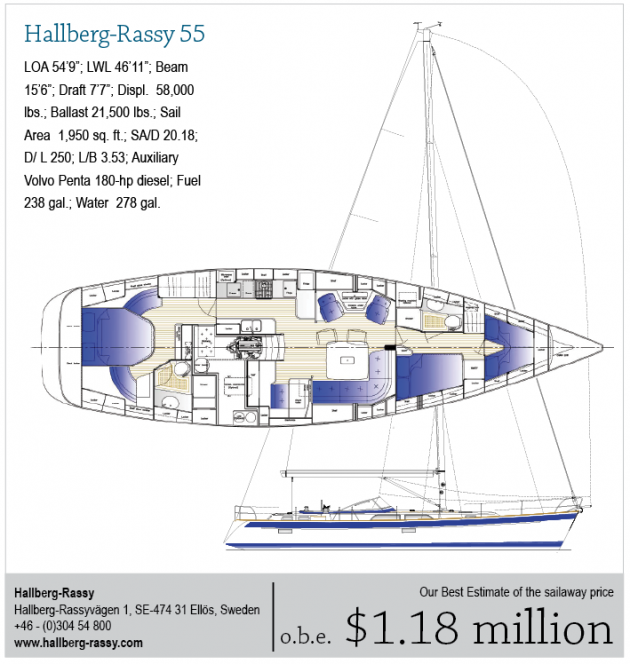 If that sheer spring were eliminated, keeping the freeboard at the bow and stern as drawn you could gain about 6 inches of depth amidships adding considerably to interior volume. Phooey! I'll take the sheer spring. Frers has also introduced the radical concept of overhangs into this new design. The bow actually extends out beyond the DWL to create room for the ground tackle without having to do a boogerlike bow sprit. With some bow overhang you gain deck space. You get more flare to the sections for a dryer bow and you can pull up your anchor without banging it on the stem. This could catch on. You heard it here first.
The D/L is 250. Some of you might think this is heavy. But you need displacement for a real cruising boat. The typical owner of this boat will pile gear on it so you had better have the displacement there from the design stage to deal with the weight of the gear. Displacement buys you volume for tankage also. It's also important to recognize that by having more displacement you can have more ballast. This H-R 55 has 21,500 pounds of lead ballast compared to the 15,500 pounds of ballast in the Moody DS54 and 8,830 pounds carried by the Hanse 505.
Stability is a function of displacement and righting arm. If you increase the displacement of the boat and lower the VCG with more ballast, you will increase both displacement and righting arm resulting in a higher righting moment. Everyone likes a stiff boat. Carve that in stone.
The H-R also has a spade rudder. I know this drives you full-keel crab-crushers crazy, but it's really the best rudder for the job. There is enough overhang aft to clean up your wake at low speeds and you don't drag your transom corner and suck up a big eddy causing drag. L/B is 3.53, right at textbook "moderate."
Three interior layouts are available. They all have three staterooms but the changes are in the berthing arrangements. You can have V-berth singles forward or just one crew berth to starboard forward. You can have a double-berth stateroom aft of the V-berths with some standing room. Or, you can have a double berth there. If you go that route you have the choice of walking through this double stateroom to access the V-berth fo'c'sle or closing that stateroom off and accessing the fo'c'sle only from the deck.
Aft in the owner's stateroom you can choose from a centerline double berth or a single to port and a double to starboard. My choice would be the two berths aft and the walk-through double stateroom forward.
The saloon features a big galley laid out perfectly, nav station to port and a dinette big enough to seat six. Both heads have showers. If you go with the single berth in the fo'c'sle you can squeeze a head in there, but it is exposed. This will work fine for a paid hand or a teenager who wants their own space. There is a large engine space under the center cockpit. There is an option that shows the galley moved aft to the passageway by the aft cabin. This will gain you a much bigger nav station.
This rig at one time would have been "normal." It's basically a straight masthead rig with the headstay dropped down a smidge to leave room for the asymmetrical chute. But the triple spreaders are not swept more than a couple of degrees, and there are fore and aft lowers. It's been a while since I saw a new boat rigged like this. It's conservative and it works. The chainplates are smack in the middle of the side deck but there is room to get by them outboard.
The working genoa looks like it's about 125% LP. I don't have any rig dimensions but using H-R's number for sail area with the 100% jib I get a SA/D of 20.18. That indicates to me that this boat will be a fun cruising boat to sail.
The deck is well laid out and shows Hallberg-Rassy's signature windshield around the cockpit. Halyards are kept on the mast. There is a swim step carved into the transom.
Hallberg-Rassy is one of the only production builders left who I think build a true offshore cruising boat. This new model combines performance with adequate displacement to keep you very comfortable on a long cruise.