Generous accommodations make this a great trailerable family cruiser
The RTC-22 comes to us from Buckley Design in Southampton, England. It's a good fit to review this month because it's aimed at the same market as the Bente 24. The RTC-22 is even shorter than the Bente, with an LOA of 22 feet 4 inches. That's not much LOA to work with for a small cruising boat. The extra 2 feet 5 inches of LOA the Bente has makes a big difference. Let's see how Mr. Buckley dealt with the challenges.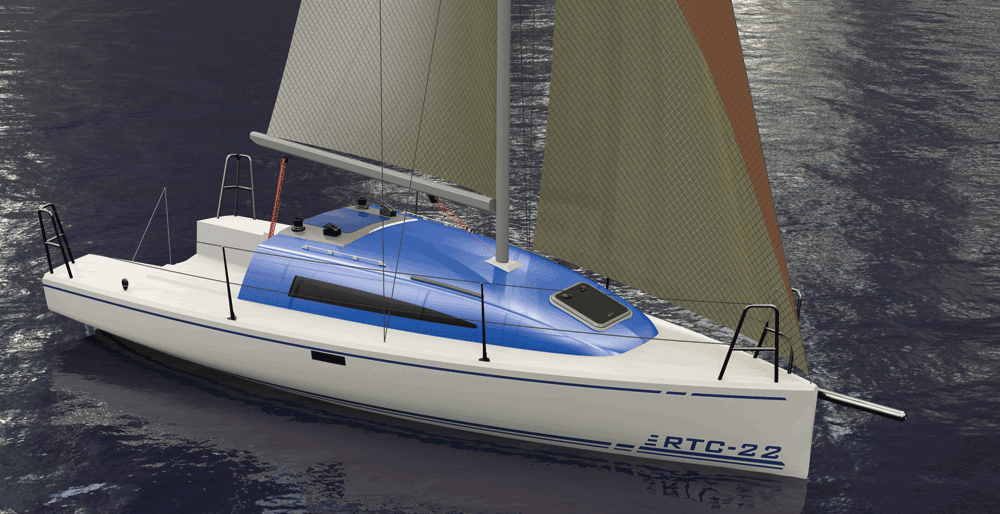 The hull shows a chine aft that fairs out toward the bow. Chines can do several things, but in these small boats I think the chief benefit is added form stability. Chines also flatten buttocks to help with planing. They add a little eye candy too.
The D/L is 102 and the L/B is 2.59. Once again max beam is carried pretty much all the way to the transom. Crew weight on the rail will be very effective with all that beam aft. The keel retracts and the max draft is 4 feet 7 inches. Twin rudders insure that one rudder stays in the water when that fat stern heels.
It's a slick looking hull, but I have one complaint. The freeboard is low. That's good for speed but when you are trying to design a boat with cruising accommodations, especially at this short LOA, an additional 4 inches of freeboard might make a big difference. I would really like to see 4 inches of height taken out of that cabintrunk. The first thing I see when I look at this sailplan is the cabintrunk. Small cruising boats are a challenge.
I do like the interior layout. There are four berths, although the V-berth looks like it would be tight for me. It would work well for two kids. The settee berths are generous but here again an additional 4 inches of clearance over those berths could make a big difference in feel. I like the mini galley forward. I also like the head being tucked under the V-berth. It's not convenient and it's certainly not private but with 22 feet 4 inches of LOA to work with there really are no other reasonable options.
"When you are done looking at the fish may I please have the bucket?"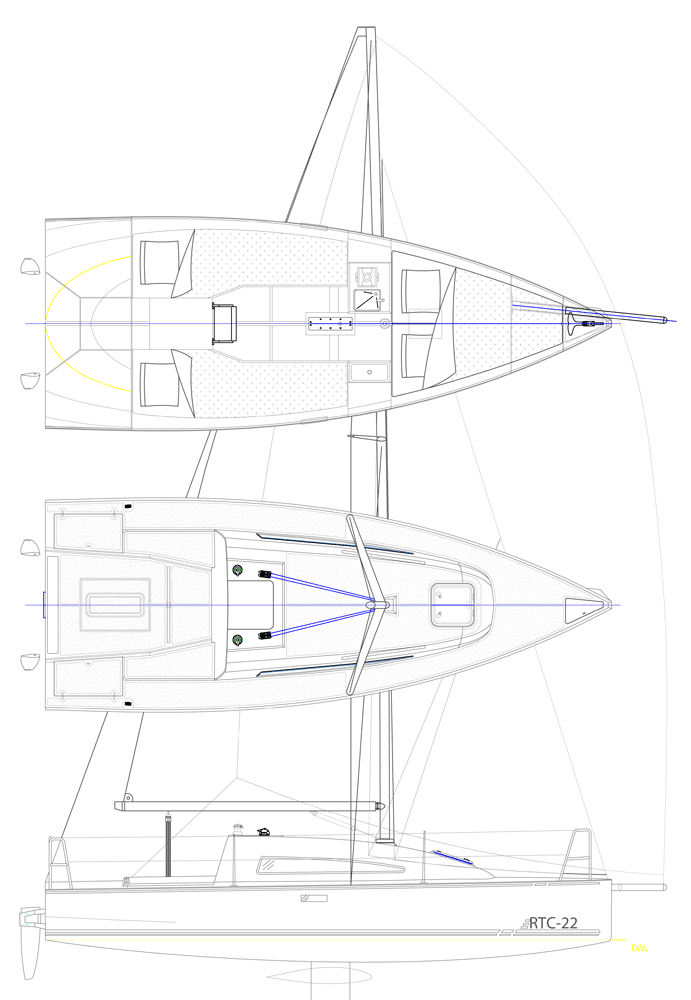 The rig is tall and the SA/D is 28.47. Note that the cap shrouds do not go to the hounds but to the masthead. That's a bit unusual. You can easily see how the standing backstay would interfere with the roach. You can have the main roach overlap the backstay for some extra sail area. I did this on my Perrywinkle but every once and a while, in light air, the main would catch on the backstay when I tacked. I'd usually notice it a few minutes later and wonder how long I'd been sailing, looking stupid, like that. I'm not sure I'd do it again on a small cruising boat. I'd add spreader sweep and try to go without the backstay.
I was drawn to yacht design because I saw many beautiful designs and I thought to myself, "I'd like to create beautiful things like that." So I don't apologize for having aesthetics right near the top of my list of things I admire in yachts. To my eye this design is a bit awkward in the balance between freeboard and cabintrunk bulk. This has zero to do with the sailing qualities and the overall capabilities of this boat. It's just my eye. Maybe this little trailerable yacht will suit your eye. I hope so.
---
LOA 22'4"; LWL 21'6"; Beam 8"2" Draft 1'8" (keel up), 4'7" (keel down) Displ. 2425 lbs.; Sail area 281 sq. ft.; SA/D 28.47; D/L 102; L/B 2.59; Auxiliary 5-hp outboard
Buckley Yacht Design
Unit 5a, East Road, Marchwood Industrial Park
Southampton, England SO40 4BX
+44 2380 660770
Our best estimate of the sailaway price $45,000