This large cruiser has a plan to fit all types
Now we will flip the design focus 180 degrees and see what designers Berrett-Racoupeau do when the focus is on volume for an LOA limit as opposed to the SwanClub 28's focus on boat speed for a given LOA. Obviously these are two very different design challenges aimed at two very different markets.
The 460 has an interesting hull design. The freeboard is high to help gain volume. The L/B is 2.9 indicating a beamy boat as you would expect. We have become accustomed to seeing chines on modern cruising boats, usually aft. On this hull the chine is forward, starting right at that aft raked stem and fading out just aft of the mast. Why is the chine forward? I suspect for the same reason we see chines aft so often, to increase usable volume.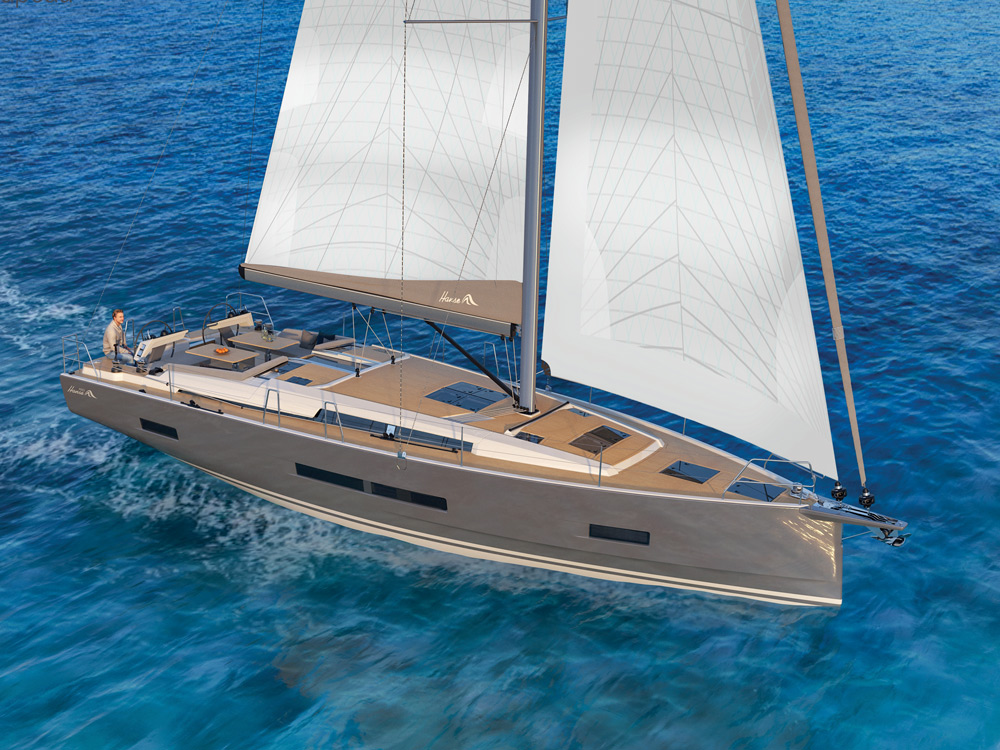 This forward chine works to keep the half angle of entry at the DWL down while "bumping out" the topsides to gain interior volume. There is no chine aft. But there is a very tight turn to the bilge aft that might as well be a chine. The overall target is adding volume without paying a huge performance price.
Look at the plan view. The bow at deck level is really full. Look how much cabin sole area there is forward. It's amazing. I'd like to see how that forward chine lines up with the cabin sole height. If there is any taper to the deck plan view aft it's not enough that I can see without checking with a straight edge. That beam aft works to gain volume and at the same time increase the acreage aft for a huge cockpit layout.
You can choose from draft options of 5 feet 9 inches and 7 feet 5 inches. There is a single rudder. You can use all the design tricks you like but this is a very full ended hull. I'd like to see the prismatic coefficient. Prismatic coefficient (also called CP) tells you how much volume there is in the ends compared to volume amidships. Geeky stuff.
Let's see how the designers use all that volume. I have drawings for four interior layouts and the specs say you can further customize your layout. The standard layout features three sleeping cabins and two heads. You can do three heads if you like cleaning heads. If you do mirror image sleeping cabins forward you can have four heads but the forward heads have no shower stalls. I prefer the standard layout.
The forward cabin is very spacious and takes good advantage of all that cabin sole area I was talking about. There is very good access to both sides of the centerline double berth. Aft the head is to port and eats into the volume of the port aft cabin a bit. The starboard aft cabin is much nicer using French doors to allow it to be opened up to the main cabin.
If you don't mind losing some of your galley counter you can fit in a nice nav station aft of the galley and forward of the starboard head. That looks like a good option to me. The galley is still more than adequate.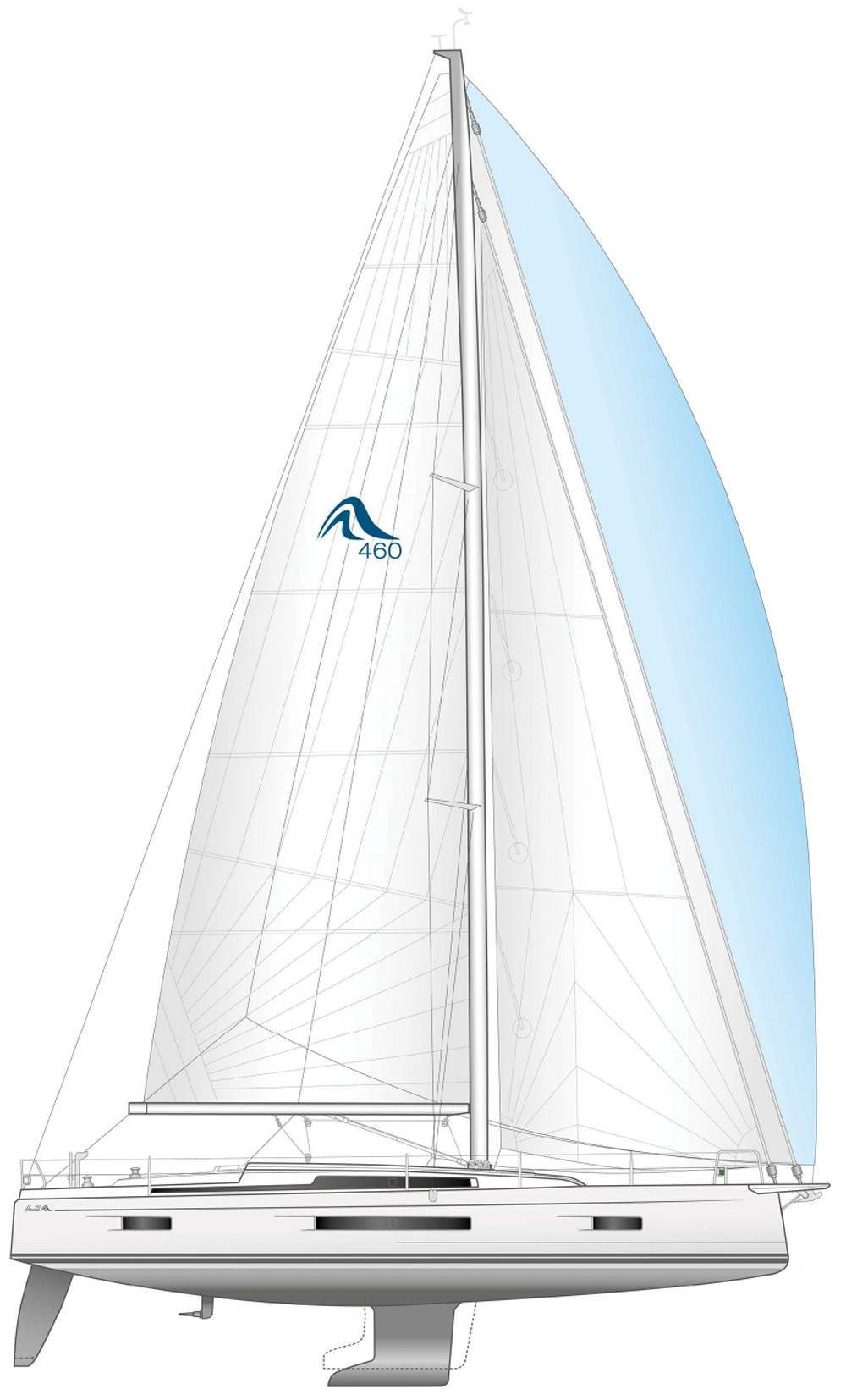 To port is a U-shaped dinette that I scale off to be about 7 feet 6 inches long. There is a centerline bench seat that looks like it would almost seat a couple. An interesting option is to have two mirror image cabins forward with upper and lower berths with adjoining heads. Bottom line is if you don't see the layout you want in these four examples I'm sure the in house design crew at Hanse could accommodate your changes. I'm not wild about the finish style of these interiors. It's a bit on the stark side for me. Very contemporary looking. I'm certain some will love it.
Things get interesting when you look at the deck. The side decks are generous by today's standards. The cabintrunk side is carved out in way of inboard genoa tracks. There is also an athwartships track in front of the mast for a self-tacking jib. The cockpit is expansive with twin wheels all the way aft but not outboard enough to eliminate the side deck entirely aft.
The helm seats hinge up to provide unobstructed access to the optional, hydraulic-operated swim platform. This gives access to the large lazarette or toy garage. The cockpit settees are long and deep, perfect for napping or sun bathing. You can have port and starboard dining tables if you plan on eating outside often. All lines are lead aft to the steering stations where port and starboard banks of clutches lead lines to winches that can be electric. This is a clever deck that takes full advantage of the acreage I was talking about without imposing compromises.
The rig is a fractional type with a split backstay and double swept spreaders. It is a very typical rig today. The mainsheet is a bridal type that spans the companionway keeping the mainsheet entirely out of the cockpit. The SA/D is 21.8. That's a bit on the low side for me but I suspect perfect for your typical charter clients.
This is a very interesting boat. The freeboard is disguised by those big windows in the topsides. The cabintrunk is nicely sculpted and low enough to almost create the feel of a flush deck boat. All hatches are the flush type so there is plenty of space to stretch out and work on your skin cancer. Overall I'd say this is a handsome boat.
---
LOA 47'11"; LWL 42'10"; Beam 15'9"; Draft 7'5"; Displ. 28,660 lb.; Sail area 1,216 sq. ft.; Auxiliary 57 hp; fuel 53 gal; water 119 gal.; D/L ; L/B 2.9; SA/D 21.8; www.hanseyachtsag.com
---