This powerful one-design racer has a superyacht pedigree
I'm not sure when I first became aware of Wally yachts. They are built in Milan, Italy. The company concentrates on maxi types with very sophisticated design work from a number of top designers. The different designs share a common target in very high performance and spectacular good looks using innovative design features. Let's just say the clients for the Wally boats do not have to ask about the cost.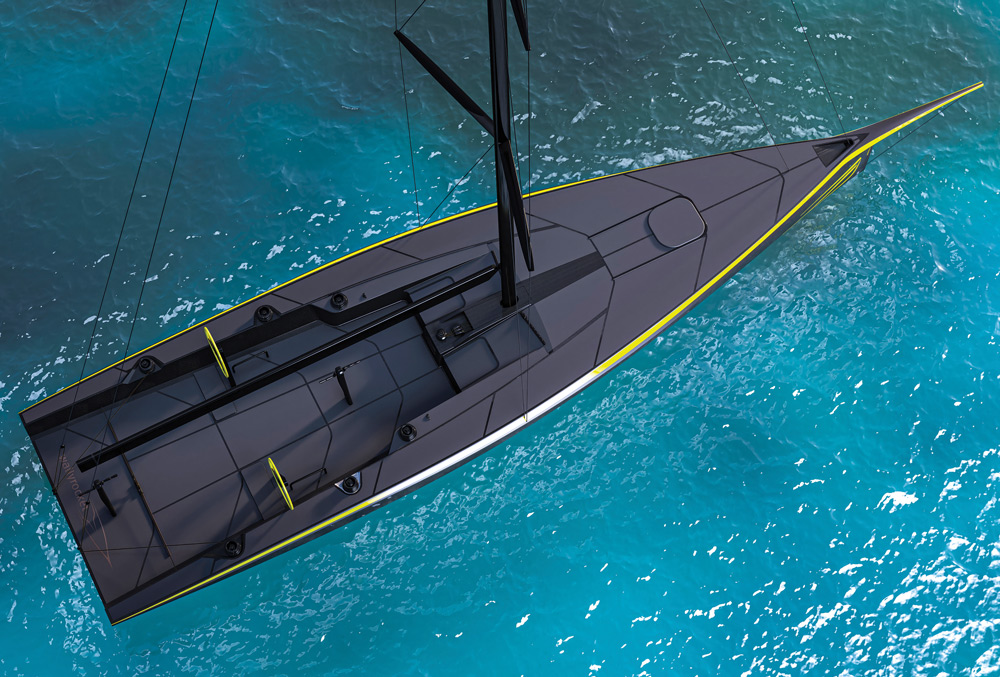 The new Wallyrocket 51 is designed to compete under any rating system but a lot of thought was put into making the 51 very competitive with the TP52 yachts. Without a box rule to limit what they could do, designers Botin Partners, which are very successful in the TP52 class, have been freed up to employ design features that would be penalized under the TP52 rule to produce a 51-foot boat that can beat, theoretically, the 52-footers that are confined to the box rule. Unfortunately some of this must be so secret that Wally has not provided me with any drawings of the underbody or appendages. But no worries, I have enough 3D renderings to be able to imagine what's going on below the water.
To start with, the D/L for this boat with an all prepreg carbon hull and a Nomex-cored deck is 55.2. Stability is augmented by aft water ballast tanks for 1,250 pounds per side. These tanks can be filled in 80 seconds and dumped in 60 seconds. The specs are a bit ambiguous. It may be 625 pounds of water ballast per side. The L/B is 3.58 with max beam carried all the way aft and no chine. Note that it has a dead vertical stem rather than the reverse style "hatchet stem" seen so often today. The sheer is reversed to reduce windage and aid in fore and aft structural stiffness. It's a very plain looking boat in a very sexy way. The draft is 11 feet 6 inches and the fin has an adjustable trailing edge trim tab. The idea is to give the Rocket better upwind performance over boats designed to a rule that prohibits trim tabs. The trim tab also lets you reduce wetted surface in the planform of the fin. There is a single rudder.
I have no idea what is below the deck in terms of any kind of layout. I suspect pipe berths and a head at best. Not even sure the head would be enclosed.
"You want privacy? Here Geno, put this paper bag over your head." I doubt there is 6 feet of headroom. But this boat is not about cruising comfort.
On deck the cockpit length is about 45% of the LOD. There are two pedestal grinders. Twin wheels are right between the primary and secondary winches and well outboard. The mainsheet traveler is just forward of the aft grinder. Maximum crew for one-design racing is 11. I assume jib sheeting will be the "flying" type as I see no provision for jib tracks on deck. There is one large, flush deck hatch forward.
I don't have a sailplan but I have some rig numbers. The SA/D is 48.9. That is a very big rig. But if you hoist the gennaker, the sail area almost doubles. This boat will spend much of its time close reaching and in planing mode. The mast is from Southern Spars and built in high-modulus carbon fiber. Winches are from Harken and jammers are from Spinlock.
Stefano De Vivo, Wally's marketing manager, put it this way. "We have cracked it at last and we anticipate strong demand for the Wallyrocket51 once the world sees it perform. This is a boat that will appeal to all those owners who love to race at the highest level but want to do so in a new and entertaining way."
That about sums it up. Sorry I didn't have more drawings for you.
---
LOA 50'10"; LWL 48'3"; 14'2"; Beam 14'2"; Draft 11'6"; Displ. 13,777 lb.; Sail area 1,764 sq. ft. L/B 3.58; D/L 55.2; SA/D 48.9
---
Our best estimate of the sailaway price: $3.5 million
Wally
Via Manzoni, 41
Milan, Italy
39-02-83-99-40-46