A compromise-free top-notch yacht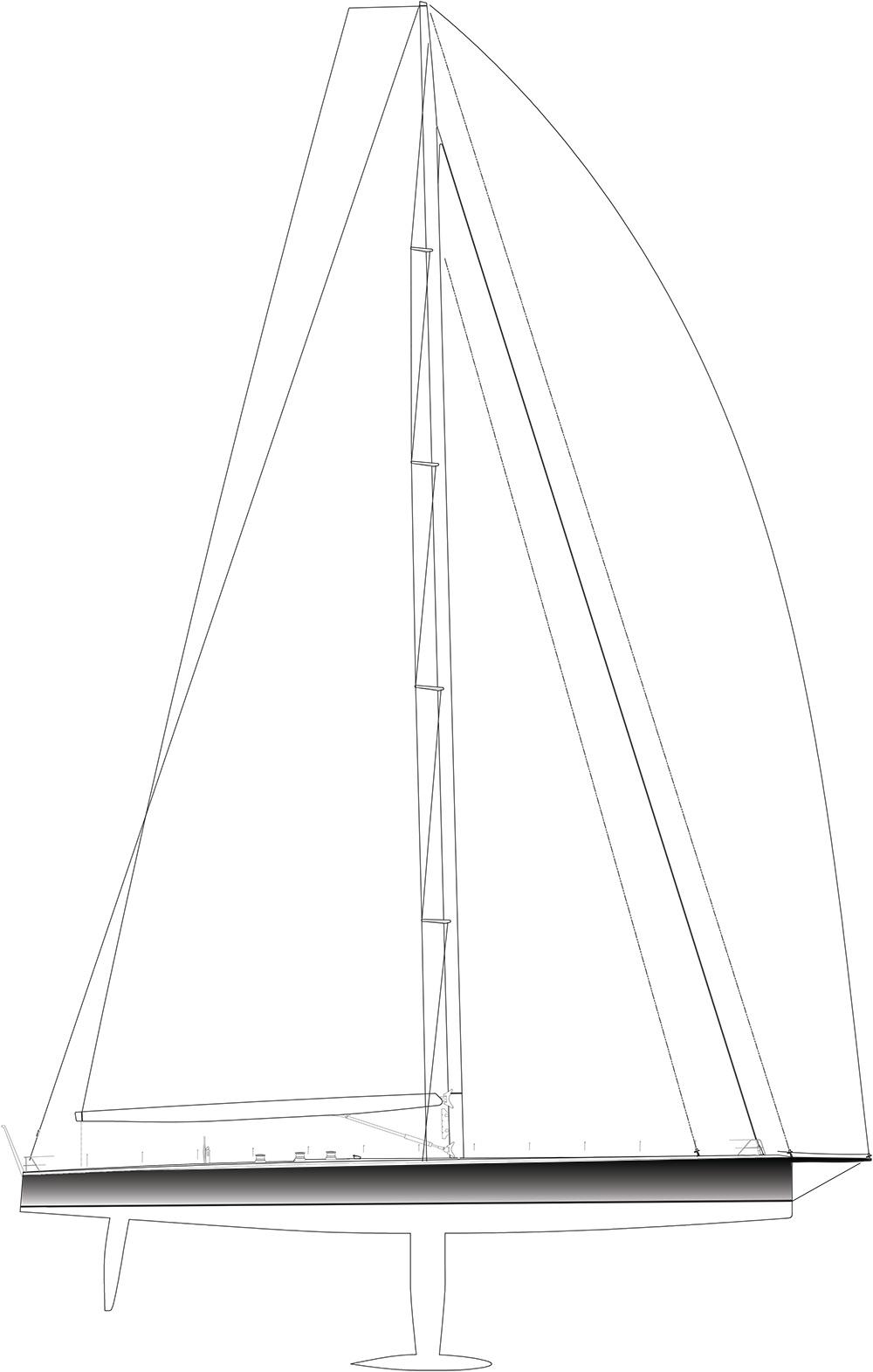 N
ow we can relax and have some fun with this beautiful Mark Mills designed, Persico Marine-built and Wally promoted 100-footer, the wallycento#4. I have some great drawings from Mark along with some very nice three-dimensional images of the interior layout. On a project like this, Mark would be responsible for the design of the hull, rig, appendages and deck layout. Pininfarina, a very famous name in the world of Italian design, is responsible for the design of the interior. Mark provided me with a sailplan, deck plan and a profile including the underbody. His hull lines are certainly proprietary but all I would have to do is email him and ask for them and I'd have them in a heartbeat.
This hull is all business with only 3 feet 2 inches of total overhang and that is all aft. The hull form came from extensive CFD testing done by Mark's R&D Partners KND/Sailing Performance. The hull was optimized for performance in Wally events in the Mediterranean, focusing on speed in light air and stability in a breeze. A single rudder was chosen over twin rudders due to the targeted conditions and predominantly windward/leeward race courses. Draft is a whopping 20 feet 4 inches. Draft on just the bladelike spade rudder looks like 14 feet! Max beam is close enough to the transom to say so. There may be 2 inches of taper to the deck plan, maybe. L/B is 4.23. Note the very subtle reversed sheer spring. This gives the boat a very contemporary look.
The boat is pretty much all cockpit on deck. Mark calls it a ramp deck. The cockpit sole is sunk perhaps 8 inches from what actual "deck" there is with very skimpy side decks, if you can call them that. It's more like a really fat bulwark. Rising up from the cockpit sole about 15 feet aft of the mast is a low, fork-shaped structure to provide a raised winch base. This is very hard to see in two-dimensions, but the entire deck slowly and seamlessly ramps up to become the foredeck. In a word it's sleek. Windage is minimal and it is compliant with the Wally Cento rule for racing. I didn't know there was one.
I don't have an interior layout drawing. I have a series of Pininfarina three-dimensional images showing a very contemporary interior style, frugal, simple and very spacious. It's unlike any yacht decor I have ever seen. I'm more of a beach shack kind of guy. The companionway stairs are amazing.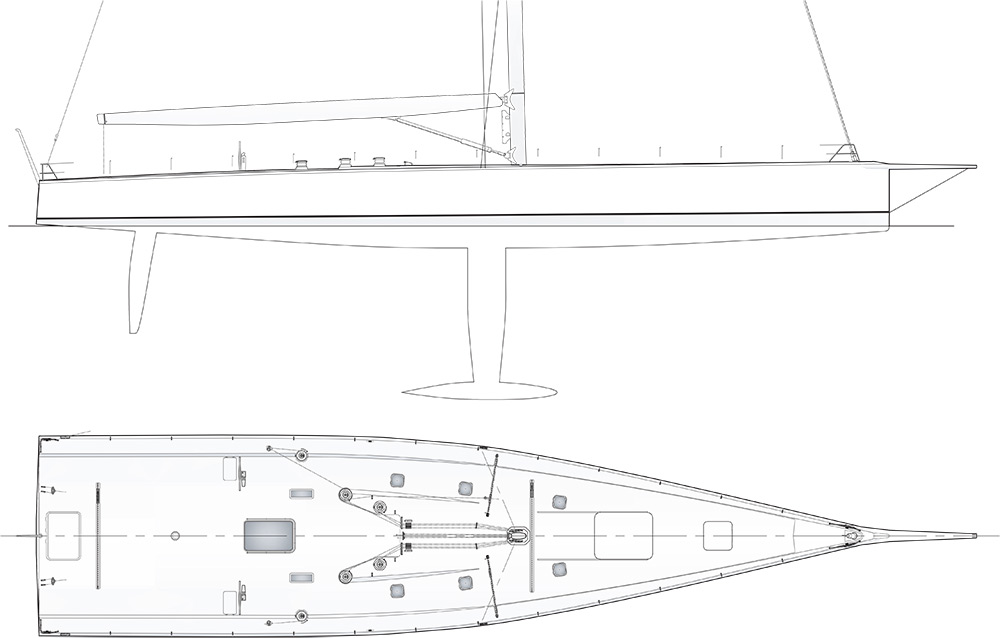 This rig is huge with a SA/D of 51.49. I had to calculate that a couple of times to make sure my math was correct. This boat will scream in light air. With its oven-baked carbon hull the ballast to displacement ratio is 53%.
Big congrats to Mark on landing this job. No luck was involved. Mark's designs have been dominating the European racing scene for several years. And yes, I do have to say it. Mark was once an intern in my office. I could not be more proud.
---
LOA 100'; LWL 96'10"; Beam 23'8; Draft 20'4"; Ballast 55,000 lbs.; Displ. 104,500 lbs.; S/A 6,992 sq. ft.; SA/D 51.49; L/B 4.23
Our best estimate of the sailaway price: $18 million
Wally
6 av Albert II
MC98000 Monaco
+37793100093