A dual-purpose design that doesn't sacrifice good looks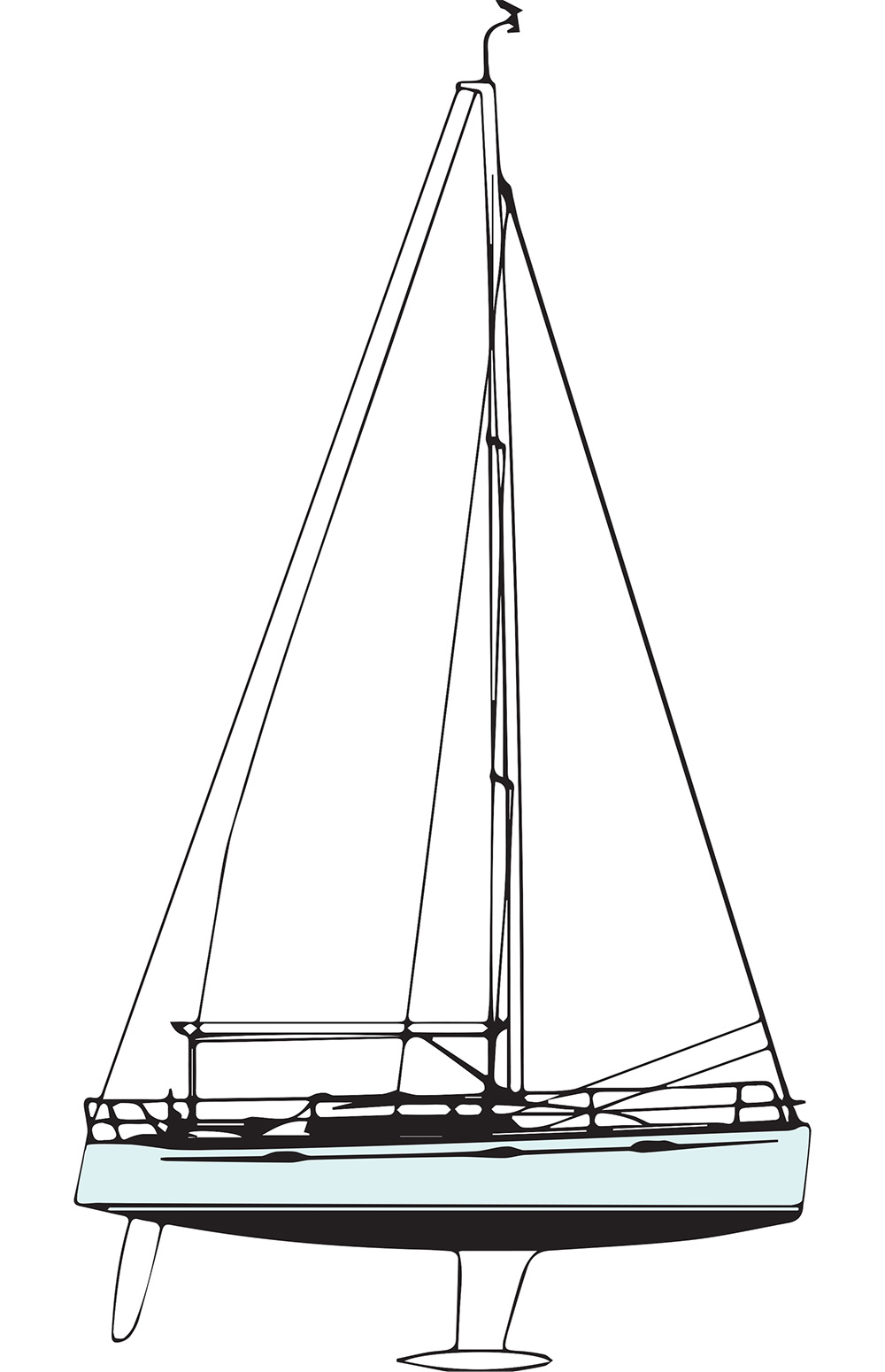 The Salona 35 is built in Croatia and was designed by the Slovenian design team J&J. This is a very nice looking boat in the genre of the true dual-purpose boat. You can race this boat or you can cruise this boat. It is designed to be well suited to both uses. Kind of the way Islanders, Pearsons and Ericsons were back in the 1970s. Makes a lot of sense, doesn't it?
The first thing I notice when I look at this hull is, "Hey look! There is taper to the stern." The stern is broad but not overly so and has a look in plan view that I associate more with the J-Boats hull shapes. The D/L is 181 putting it pretty much smack dab in the "middle" of D/Ls today. This means it will have some stability and volume but it's not going to go tearing off on a plane in 12 knots of true wind. They seem to have the full range of draft options covered, with three options available. I am convinced there is no substitute for draft. But of course you have to pick a draft that works where you sail. If you do go with the deep T-bulb you had better be ready to deal with kelp. It is amazing what a few long strands of kelp will do to your boat speed.
The layout is simple and straightforward. In other words, it works. There is a head aft to starboard that includes a wet locker. To port there is a quarter cabin that is quite tight but has a very wide double berth. Crawling in and out of that berth may prove a challenge for me. I'm sure I'd wake my dog up.
Forward of this is the galley. It's minimal with a small icebox outboard of the sink. But it can be fun to challenge yourself to produce good meals when the conditions are not ideal. I like the nice double sink. Sinks are valued places when you are heeled over. To starboard is a comfy looking nav station. There are settee berths long enough to sleep two more adults. The forward cabin features a centerline double that can be removed for racing. It's a good layout.
Let's take a look at the sailplan. This is where you get a real feel for the aesthetics of the boat. In this case the freeboard looks proportionate and not as high as many boats have. The bow has a little shape to it and there is a subtle spring to the sheerline. I like the contours of the cabintrunk. The cockpit coaming is low and that looks good but does not provide for a comfortable back rest in the cockpit. I think overall it's a great looking boat. The SA/D is 23.24 and that is in keeping with the moderate D/L. It would not make sense to put a rig with a SA/D of 28.5 on this hull. You would be overpowered too soon.
I like the big cockpit on this boat. If you do any racing you will really appreciate it. There are two wheels aft with the mainsheet traveler right in front of them on the cockpit sole. All lines lead aft from the mast. I can't even count them on the drawing I have but it looks like nothing is left on the mast. The good news is that means the builder only has to buy four winches. The not-so-good news is that things may get a little clustered aft. There is a flush anchor well in the foredeck. Inboard genoa tracks are carved into the sides of the cabintrunk. Chainplates are inboard.
I like the balance of proportions of this boat. I think this boat would make a great family all-rounder. Well done J&J.

---
LOA 34'1"; LWL 30'8"; Beam 11'; Draft 7' (standard) 4'11" (shoal); Displ. 11,685 lbs; Ballast 3,300 lbs.; D/L 181; Sail area 748 sq. ft.; SA/D 23.24; L/B 2.78; Auxiliary 21 hp.; Fuel 24 gal.; Water 54 gal.
Our best estimate of the sailaway price: $161,000
Salona America
2550 S. Bayshore Dr. Suite 212
Coconut Grove, FL 33133
305-504-8714