Small family fun from Chuck Paine
For some odd reason these days I seem to be attracted to "grandpa boats." This new Chuck Paine designed 18-footer looks like just the ticket for me to have some fun with my grandkids, Violet and Drake. In fact it's perfect in every way.
It is good-looking and that is no surprise, considering Chuck drew the boat. Chuck doesn't have an ugly line in him. The sheer shows a strong spring but the boat is quite full on deck forward and you need that spring in profile to be where the curvature is in plan view. Chuck usually uses what is called a "planar sheer." This means that the sheerline is cut from one plane that theoretically intersects the topsides. This results in a sheer that will look fair from any angle. Next time you are walking through the boatyard look up at the boats on their stands. Some will have sheers that wander all over the place. Those are non-planar sheers. Chuck taught me about planar sheers 44 years ago.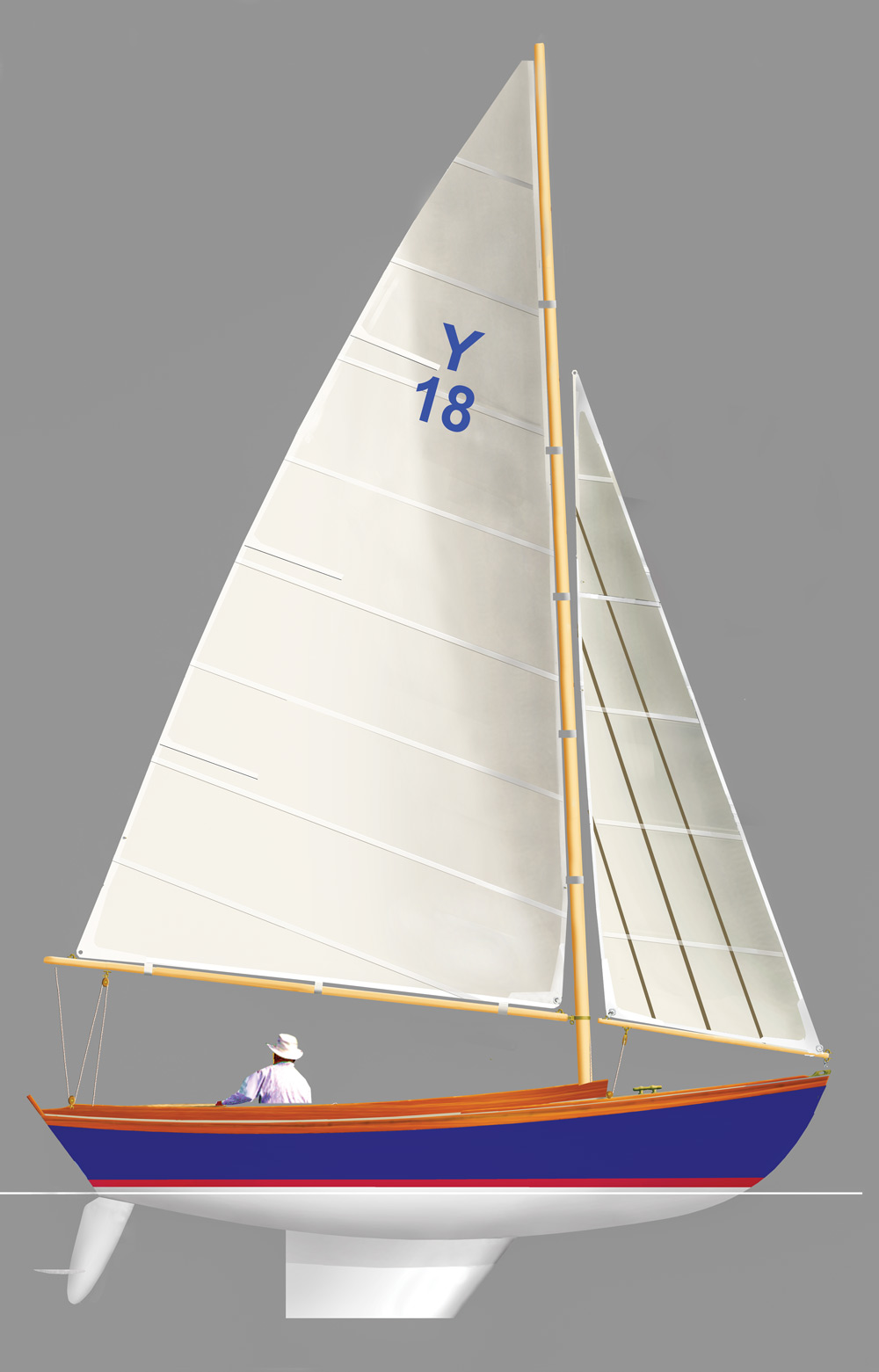 Despite the very traditional-looking topsides Chuck has given the York 18 a more modern hull form with moderate deadrise and a hint of hollow in the waterlines aft. This hollow aft can help to make the transom shape pretty and not "blocky." Giving the transom just a bit of hollow near centerline adds delicate finesse to the look. Waterlines forward are quite full as you would expect with that strong, spoon-shaped stem profile. Draft is only 2 feet 9 inches, making the boat suitable for trailering. The D/L is 221 and the L/B is 2.89. There is 695 pounds of ballast in the fin keel. A finely shaped, semibalanced spade rudder should give this boat a very nice feel in all conditions.
The rig has a couple of Chuck innovations. To make it easy to trailer, the mainsail comes off by releasing Velcro bands that wrap around the mast. The mast is carbon fiber. The jib has the "Paine DVT" roller reefing, a self-vanging system that helps prevent the club from rising when the sheets are eased. The SA/D is 19.23 and that's plenty to keep a performance-oriented sailor happy while not worrying about the grandkids.
The builder of the York 18 is York Custom Yachts of Rockland, Maine. Tooling is being built right now. The builder would like to find a few more buyers to push the project along faster. This is an expensive 18-footer and falls into the "legacy boat" category meaning you pass this one down through the family. It will have enduring value. All materials are top notch. The fiberglass hull is generously trimmed out with a lot of varnished teak. Cleats, blocks and bow chocks are antique bronze models. In short, this is what they used to call a "gold plater."
I can imagine spending a most enjoyable afternoon with my grandkids, sailing around the bay comfortably and safely on the York 18.
---
LOA 18'1"; LWL 14'7"; Beam 6'3"; Draft 2'9"; Displ. 1,535 lbs.; Ballast 695 lbs.; Sail area 150 sq. ft.; SA/D 19.23; D/L 221; L/B 2.89
Our best estimate of the sailaway price: $58,500
York Custom Yachts
11 Gordon St.
Rockland, ME 04841
207-596-7400