A long-range cruiser that comes with an American esthetic for classic appeal
I like this new Island Packet designed by Bob Johnson. I particularly like the profile of the cabintrunk. It reminds me of the Aldens and Albergs of the early 1960s. While there is a well-established Euro (call it modern) look to many of today's production boats, I still think there are a lot of sailors in the United States who appreciate the classic American aesthetic to yacht styling and proportions. I like to think that.
One vivid difference in the style of this design compared to the European models is the use of overhangs. The DWL gives you speed but overhangs give you an elegant look. Combined with the deck treatment these overhangs contribute to that 1960s style look. Draft is only 5 feet 4 inches. That will compromise sailing ability but while I live where the water is deep, I recognize the appeal and practicality of shoal draft.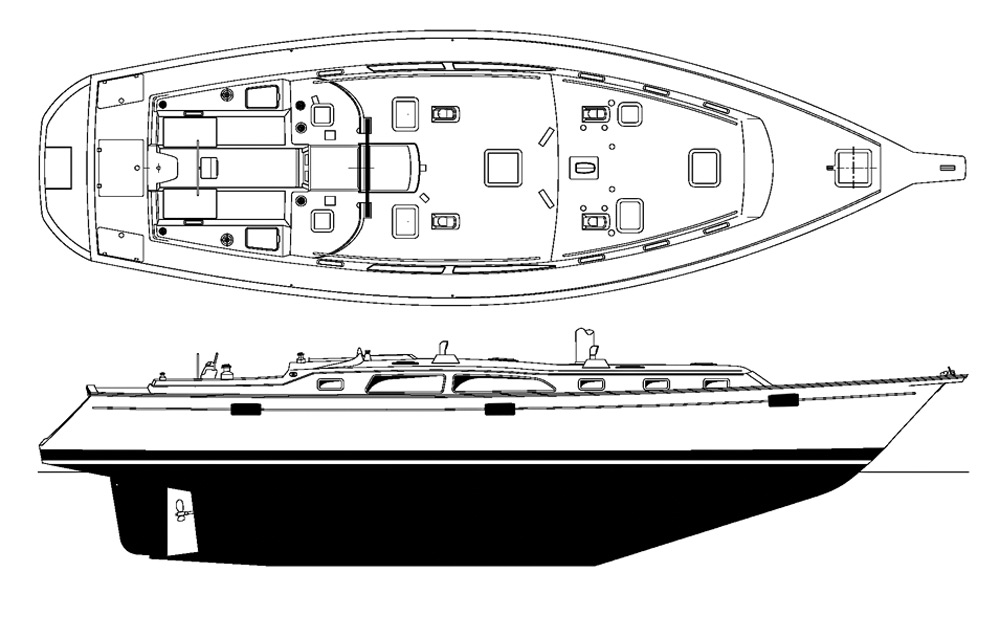 This is an interesting interior layout. The fo'c'sle and lazarette are big. This is perfect for long-range cruising. The galley is tucked aft to starboard. It is a nice big galley. To port there is a stateroom with an adjoining head and shower stall. Looking at the way the aft berth is drawn I get the idea you could use it as a double if you slept athwartships or two singles if you slept fore and aft. This is a good feature. The nav station is to starboard and settee berths are port and starboard in the main cabin. Forward of this there is a small stateroom to starboard with an L-shaped berth that with its cushion removed could be a workbench. To port there is another head with shower stall. A centerline double berth is in the forward cabin. This is a practical layout.
The 520 is rigged as a cutter with the staysail on a Hoyt boom, the advantage being self-vanging and self-tacking, eliminating the need for a track on the cabintop.
I like the way the cockpit does not extend all the way to the transom as it does on pretty much all European models. This gives you a nice deck area aft of the cockpit for lounging, and it optimizes lazarette access. It also has an aesthetic value as the bulk of the cockpit coaming does not go all the way aft.
I like this design. I find it refreshing.
---
LOA 52'2"; LWL 43'2"; Beam 15'4"; Draft 5'3"; Displ. 42,500 lbs.; Ballast 16,000 lbs.; Sail area 1,274 sq. ft.; SA/D 16.8; D/L 235; L/B 3.4; Auxiliary Volvo 110-hp; Fuel 200 gal.; Water 300 gal.
Our best estimate of the sailaway price: $659,000
Hake Marine
2080 Wild Acres Road
Largo, FL 33771
727-535-6431