Lots of features in this smaller cat from the design table of Morelli and Melvin
Here's a slick looking new cat from HH Catamarans for those of you who like to sail flat. HH cats are built in Xiamen, China, by Hudson Marine. I've been to Xiamen a few times. There are some very good boatbuilders there. This design is from Morelli and Melvin and I don't need to say anything about their credentials in multihull design. As I said in a review a couple of month ago, once and awhile a design office becomes dominant in a field. You could certainly say this about M&M. This cruising cat is an all carbon fiber build with an eye on combining the comfort of a cat with the performance we expect from M&M designs.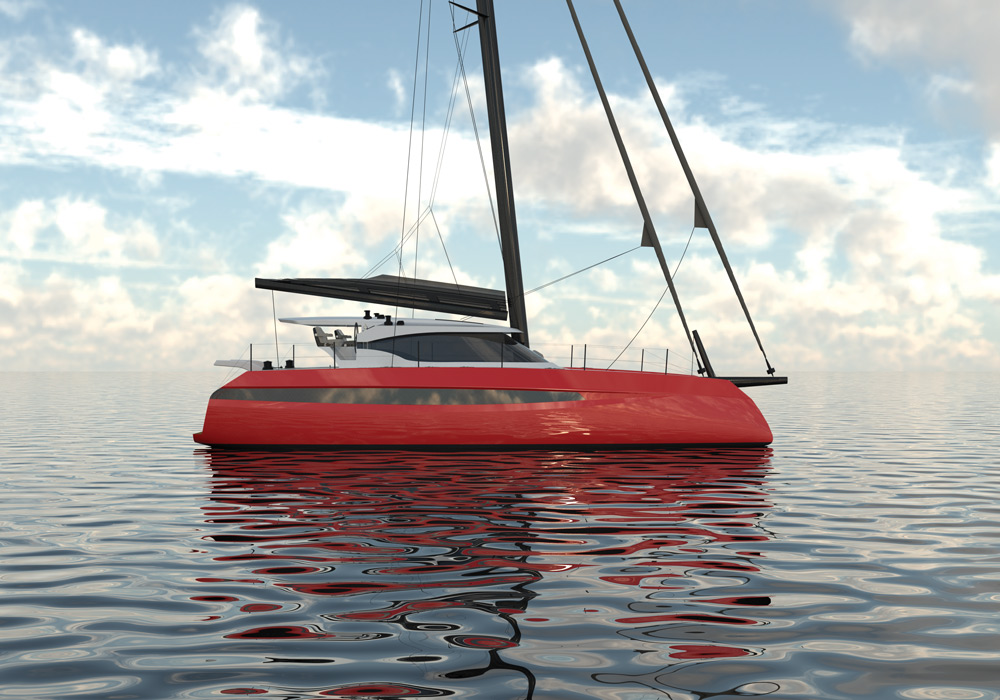 The specs list a light displacement of 23,000 pounds and a maximum load displacement of 33,000 pounds. I think I'll just average those and use 28,000 for my ratios. The D/L is 107. L/B is tricky for cats. If I use beam max, I get an L/B of 1.98 which you would expect with a maximum beam of 24 feet 6 inches. But I think it's more interesting to look at the L/B of the individual hulls. In this case it's 7 feet, 6 inches; about half the beam of a typical monohull of this length. Skinny hulls are one of the reasons cats are fast. The hull sections are arclike, flattening off a bit toward the stern. There is a lot of freeboard in these hulls but you need that for the headroom when you have low displacement hulls. Of course, the freeboard is exaggerated in the 2D drawings. The daggerboards are "C" curved boards with a draft down of 11 feet 6 inches and boards up draft of 2 feet 3 inches. Boards are controlled by push button line drivers.
There are options for two or three stateroom layouts but I'll concentrate on the three stateroom version. With the long overhang of the cabinhouse top, the cockpit and main cabin almost become one living area. In the main cabin there is a galley with an island counter, the nav station off to port and an L-shaped dinette aft. There is more space for dining in the cockpit. There are fore and aft staterooms in the port hull that share a central head and shower. The starboard hull is all owner's stateroom with a work room forward that looks like it could accommodate upper and lower berths.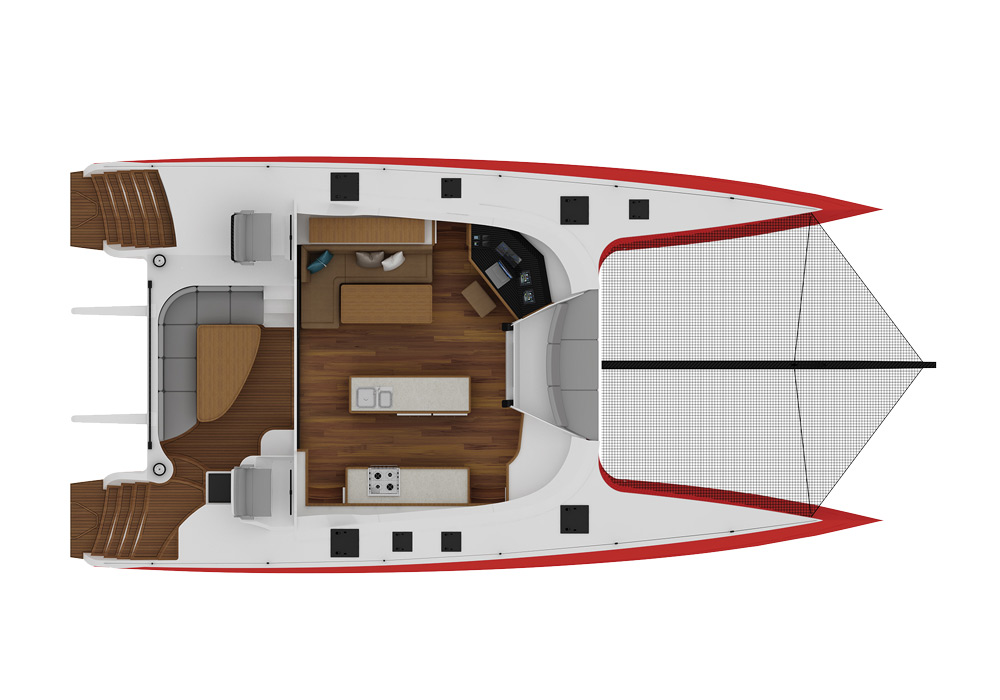 The rig is big with a square-top mainsail. You can have a self-tacking jib or you can have a Solent-style jib. I chose the Solent jib for my SA/D 26.5. You can add a reacher and a spinnaker if you are after more performance.
There is quite a variety of cruising cats available today. Some are quite heavy and I would not expect those to perform any better than a monohull of the same LOA. But this cat is light and uses technology right out of the racing cat classes. This is a cruising cat designed for the serious sailor. The 3D renderings that came with this press package are beautifully crafted.
---
LOA 48'11"; LWL 47'5"; Beam 24'8"; Draft 2'3" (board up) to 11'6" (board down); Displ. 23,000 lbs.; Sail area 1,349 sq. ft.; SA/D 26.5; D/L 107; L/B 1.98; Auxiliary twin Volvo D2 40-hp; Fuel 119 gal.; Water 106 gal.
Our Best Estimate of the Sailaway Price: $1.5 Million
---
HH Catamarans
318 South U.S. Hwy. 1
Jupiter, Florida 33477
+86 186 5929 2492