Safe and sporty design for shorthanded cruising
I'm familiar with the company C-Yacht and I am familiar with the designer of this clean-looking, Dutch-built design from the Gerard Dykstra design office. Dykstra is responsible for some very beautiful custom yachts that lean toward the traditional style. I would say that Dykstra is one of my design heroes. For this project, the look is not at all traditional but pure Euro modern. The aim in this design appears to be lively cruising for a family or charter group.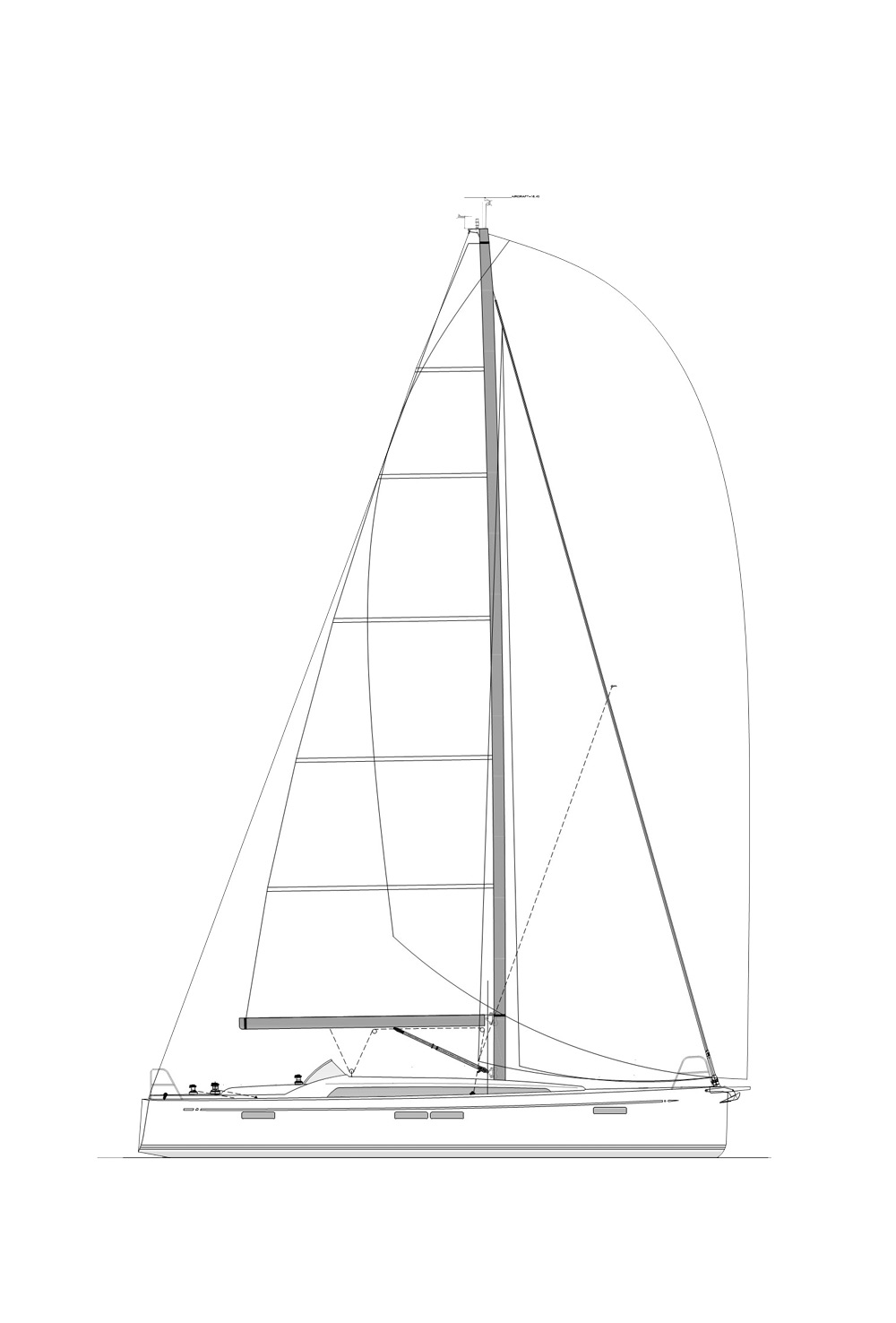 This is a typical modern European hull with minimal overhangs and lots of beam aft, once again. I guess the formula is working for them. Draft is 6 feet 3 inches. The D/L is 206 and the L/B is 3.05, indicating a moderate displacement, beamy boat. The sheer is almost straight. I like some sheer spring but on a boat with contemporary styling a flat sheer works best.
There are twin quarter cabins aft with large double berths and hanging lockers. There is a head to port and the galley is to starboard. In the main cabin you have the option of inserting a nav station in the area where the aft head shower is. The galley layout looks fine to me. There is my requisite counter space each side of the sink and range. I like the use of the angled bulkheads in the main cabin. They get rid of some of the orthogonal feel of most boats. They make the area look inviting. "Streisand chairs" are to port and a U-shaped dinette is to starboard. Forward there is a very spacious owner's cabin with head, shower, seat and a long hanging locker. There is nothing novel in this layout, which probably means it will work well.
This rig, compared to that of the Amel, is more typical of what we see today. It is "fractional," meaning the headstay does not go to the top of the mast. This leaves plenty of room for a spinnaker furler sock. There is athwartships track on the deck for a self-tacking jib. There is also track on the deck for overlapping headsails. The SA/D is 19.6.
The deck plan is pretty normal. There are twin wheels aft with a drop-leaf table forward in the cockpit. The entire transom hinges down to make a very large swim platform. There is an interesting-looking low, curved, frameless windshield forward. The cabintrunk is low and nicely sculpted in a subtle way with lines coming aft from the mast partners buried under the deck.
With two near vertical ends it's hard for this design not to look a bit boxy. But maybe that will not be so noticeable when you see the boat on the water.
---
LOA 42'7"; LWL 38' Beam 13'5"; Draft 6'7"; Displ. 25,353 lbs.; Ballast 10,140 lbs.; Sail area 1,055 sq. ft.; SA/D 19.6; D/L 206; L/B 3.05; Auxiliary 110-hp; Fuel 180 gal.; Water 160 gal.
Our best estimate of the sailaway price: $412,000
---
Flevo Marina TC
8221 RC, Lelystad (The Netherlands)
+31 (0)320 26 46 60