Sailing fashion tacks damply to the dark side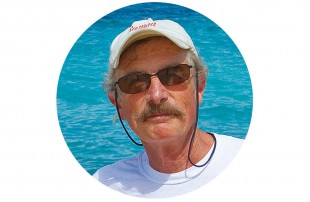 Folks who enter the rustic confines of our family's beach cottage are greeted by a small display of sailing heirlooms including a color photograph of me at a barely-adult age along with two older, more seasoned sailors. Though the picture was taken on a 45-foot sailboat at a dock in northern Florida, the three of us are dressed for winter owing to a November cold front that put ice on the deck that morning. The most striking piece of clothing in the photo is not the beret one of my senior mates wears or even the mad-bomber fur hat that covers the head of the other. It's my bright, shiny, yellow bibs, a sure sign that the image depicts ancient history.
Bibs like that, a few readers may recollect, were called oilskins, the term "foul weather gear" not being in wide use at the time, or perhaps not yet invented. Mine were not authentic oilskins made the traditional way with cloth saturated with linseed oil and natural resin. Rather, they were knock-offs made of some sort of rubberized fabric. They came (from Sears Roebuck, I'm pretty sure) with a matching jacket. The set was cheap and cheesy-looking. It was also waterproof. Imagine that.
I have not been able to say that definitively about any of the sailing bibs and jackets I've gone through since that photograph was made. This is technology's fault. Foul-weather-gear (FWG) tech advanced rapidly, with each generation striving to be more "breathable" than the last. This was advertised as a marvelous benefit that allowed the garments to breathe air so the wearer would not, heaven forbid, perspire. Sooner or later, the ones I bought breathed more water than air.
Those cheesy oilskins, on the other hand, proved their mettle on a passage turned into an immersion test by the same cold front that iced the deck. Waves rolling over the bow and cabinhouse like surf breaking on a beach made the cockpit a bathtub and the saloon below a shower with salt water cascading through ill fitting hatches and portholes. Through it all, except for a few unfortunate dollops down my neck, the oilskins kept me dry.
Few sailors today, and certainly none who have a care about their sailorly image, would be seen in a getup like those oilskins, and not just because of their primitive inability to breathe. That gauche yellow is simply too far out of style to be acceptable on a 21st-century yacht.
Foul-weather fashion has evolved from bright hues to the dark end of the spectrum. Storm-cloud gray, charcoal and dense, inky, Darth Vader black are the de rigueur colors for the gnarly-sailor look.
It goes without saying that this is counterintuition carried to a head-scratching extreme. Those canary oilskins and the orange and red foul-weather suits that were briefly popular after the appeal of yellow faded were bright so they could be seen, visible even when the wearer is overboard in a nighttime sea that is the color of, well, black FWG.
Sailors are bucking a societal trend here. While they go dark, a big segment of the population is lighting things up with clothing colored brilliant neon green. This started as high-visibility safety gear for public works employees and construction workers, but now flaunting day-glo green in everything from T-shirts to dresses and jeans to tracksuits is a fashion statement that says, "Look at me, I'm really cool."
Good luck finding FWG in that color. As far as I can tell, the closest you'll get is the hoods of black FWG jackets, which are revealed as neon green when unrolled.
Color aside, "technical" is now the leading buzzword for sailing garb. Scientists have been hard at work perfecting clothing designed specifically for the rigors of sailing. This involves not just FWG suits, but layers of clothing worn beneath, which are recommended to be numerous, a minimum of base, mid and outer layers plus (not quite) waterproof jacket and pants for the proper technically attired sailor. At least that explains why mitigation of sweating is a major factor in FWG innovation.
Somewhere in this ensemble there should be a special pocket for a very large wallet. I added up the cost of these items from one of the big sailing clothing makers's website and arrived at a total of more than $1,600, or about $2,000 if a pair of leather sea boots are thrown in.
But don't despair You can still find bibs like the ones I wore in that historic photo with a jacket in matching bright yellow for $50 to $75. They're made of a modern-day "oilskin" material consisting of a chemical sandwich of polyethylene, vinyl acetate and polyester and are guaranteed to be 100% waterproof. It wasn't mentioned in the catalog copy I read, but I think it's safe to assume the material doesn't breathe. The seller does offer the assurance, however, that the suit is up to the challenges of "hosing down the barn or fishing through record rainfall."
I'm just passing this along as a public service. I will not be wearing bright yellow oilskins this sailing season. Optics matter, so I will be sitting on the rail in layers covered by my Darth Vader-black FWG jacket and breathable storm-cloud gray bibs.
I will be a slave to fashion with a wet butt.