The country's top sailing instructors share what makes a good teacher and how to get the most out of a sailing school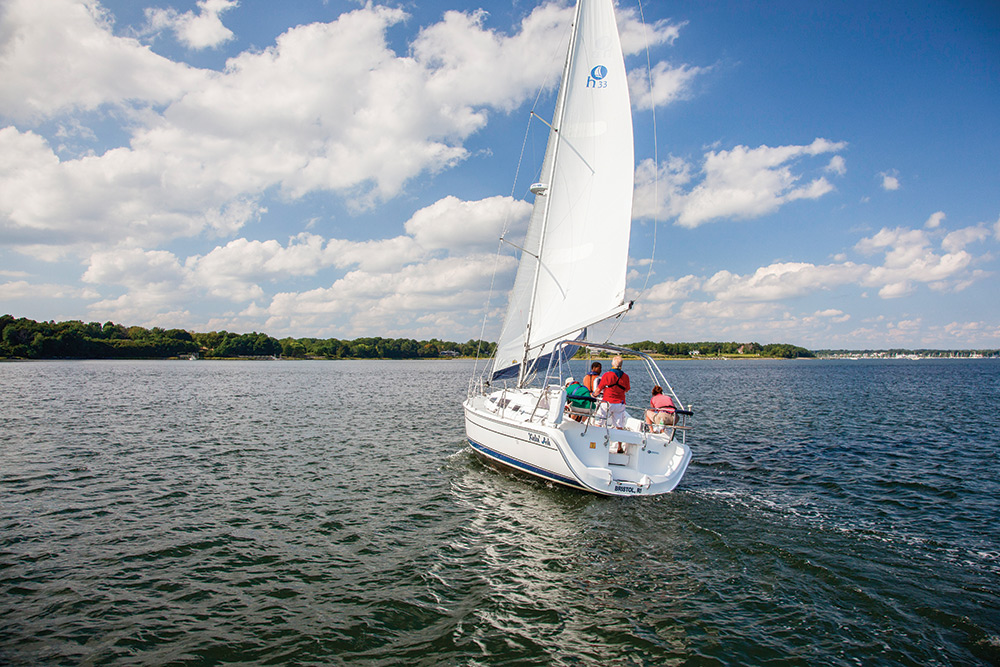 Billy Black photo
For many would-be sailors, their first sailing experience will come in a formal learning environment with an instructor guiding them through it. Sailing instructors are ambassadors of the sport and may be one of the most important factors in whether someone becomes a lifelong sailor or returns to their landlubber roots. It's a tall order for instructors, who take the responsibility seriously. Every year, thousands of sailors take a class to learn new skills or improve and expand their sailing knowledge, but how do you know you're getting the most out of a learning experience?
We spoke with some of the best sailing instructors in the country and the Caribbean to glean some of the knowledge they impart to their students and learn more about their approach to teaching sailing. These instructors were named the best sailing instructors in 2015 by the American Sailing Association and US Sailing.
---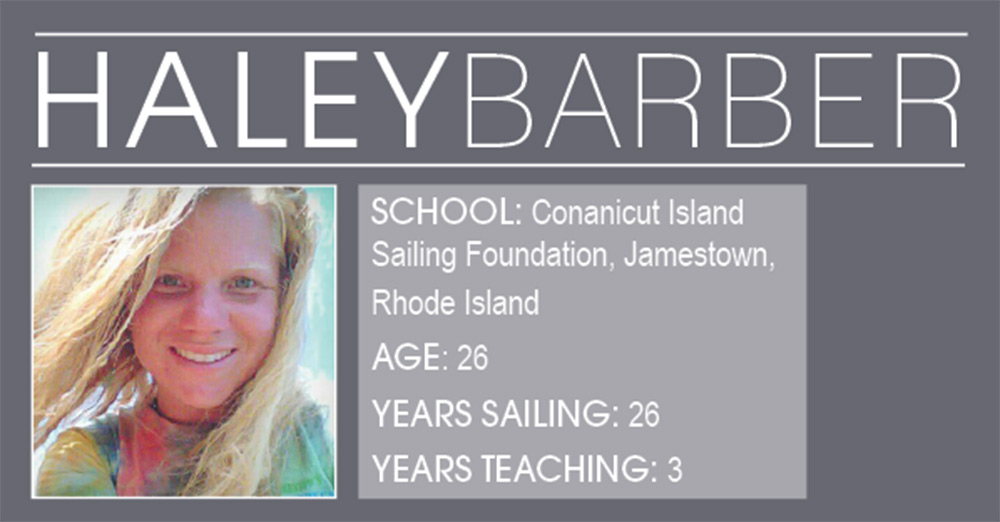 Haley Barber's job at CISF is about much more than just teaching sailing: It's about children ages 4 to 16 to be comfortable around water and respect the environment.
"Our approach is about being calm and not make them feel alone,"she said. "It's more about the community and the camaraderie of sailing, so we encourage students and create a safe space for them. We honor that comfort zone and then we push them to go a little further."
Barber said much of her teaching style comes from her experience as a sailing student when she was child. She was never interested in racing and didn't care for being alone in an Opti.
"We encourage the social aspects of sailing," she said. "We want kids to think, 'I can go sailing and bring my best friends and we can have a fantastic time."
Barber said she particularly enjoys CISF's family free sail on Friday nights. "Most of the kids come with their parents and they go out sailing together and show their parents what they've learned for the week. The parents see how comfortable their children are with and they get comfortable too. I believe that having children teach their parents is a very effective approach."
---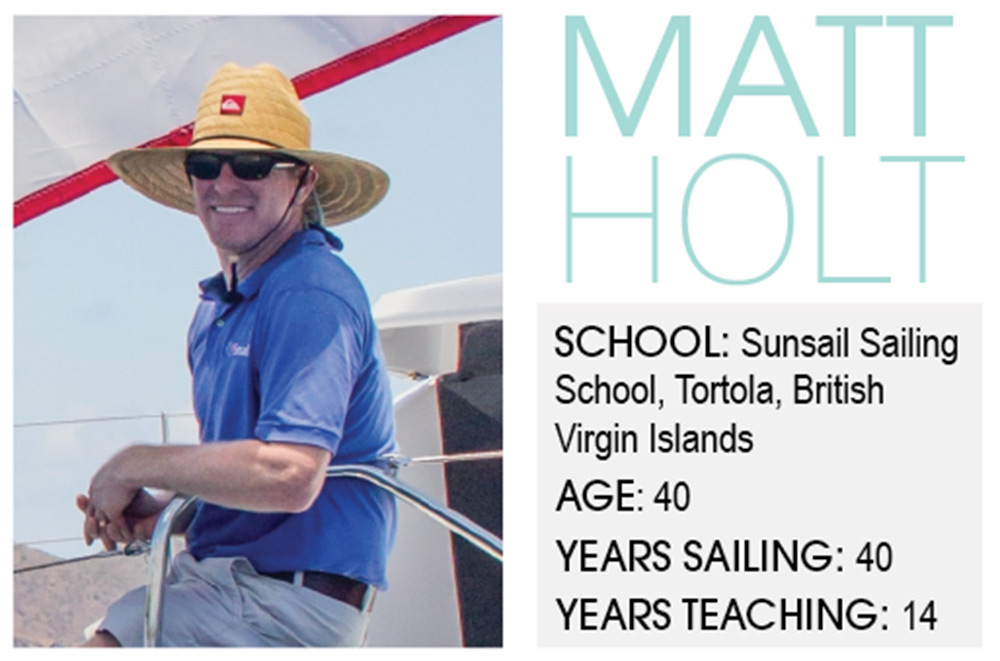 Matt Holt has what many might consider a dream job: teaching sailing in one of the most beautiful sailing grounds in the world, the British Virgin Islands. But working at a school affiliated with a charter company brings the unique challenge of having to teach to a diverse group of people who may all be looking for a different experience.
"Sometimes people just need a coach who can guide them to the part of sailing that suits them best," Holt said. "Everybody is drawn to sailing for different reasons, and as an instructor, you need to cultivate that."
Holt said he enjoys teaching a wide variety of people but especially likes working with students who "want to get a little old school."
"There is so much history down here that I can go a little overboard getting into it," he said. "But that's the best part to me, that sailing is a sport that's shared. I love sitting in the cockpit, talking with people and sharing the experience."
Holt said he works with a lot of couples and he enjoys watching the individuals in the relationship grow as sailors. "Often, there is a leader and a more beta personality in the couple. I love helping bring the beta person up to a standard of sailing that impresses both members of the couple. The more passive member suddenly realizes they are quite good at sailing."
Favorite story: "On each of our cruising weeks, we'll go out night sailing, which is not something that charterers are generally allowed to do in the BVI. For some of us it's routine, but for a student who has never sailed before, when you go sailing at night, it's awe-inspiring, and you can see that awe in a novice sailor's eyes. The sky is filled with beautiful stars, it's a crisp, clear night, and we have the cruising ground all to ourselves. It's magic. It's certainly my favorite part of teaching sailing."
---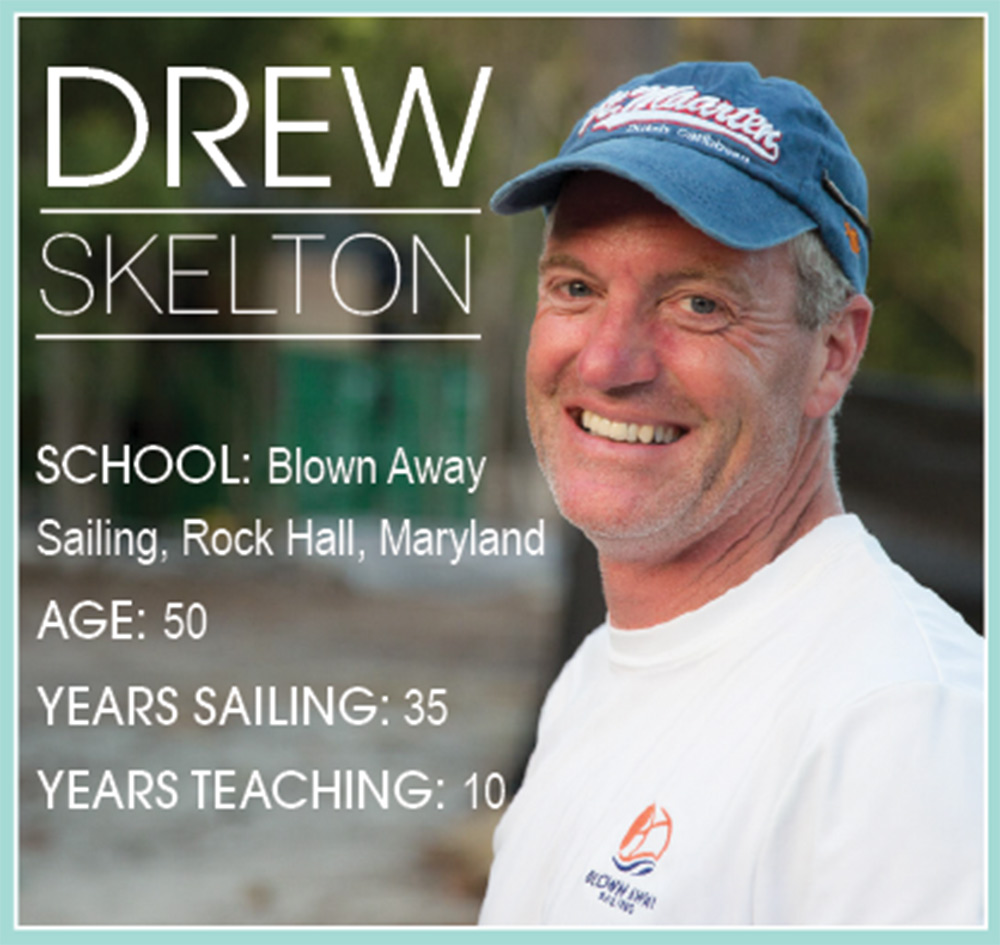 Drew Skelton believes that if there's one thing a sailing instructor needs in spades, it's a sense of humor. "You have to learn to laugh at yourself and not take things too seriously," he said. "You have to put people at ease so they can relax and absorb the material."
Skelton said the ability to keep things light and fun is crucial, but it's also important that an instructor understands that everyone has their own method of learning, and he'll even ask students outright how they like to learn. "You have to be flexible with students, and put the round peg in the round hole."
He said while he's flexible with learning styles, he always starts with two rules: be safe and have fun. "If you're not having fun, chances are you're not coming back. So I help people relax. A lot of my students become friends and after the class is over they want to hang out and I'm thrilled."
And he shared advice for students as well, to help them get the most out of a class. "If there's an interest in sailing, pursue it and get out on the water. Ask lots of questions and don't be intimidated to take the tiller. Once students get over that apprehension they really enjoy it an can embrace it."
Perhaps most importantly, Skelton said he encourages students to find sailing resources close to them so they can continue what they learned in class. Many students take a course, but don't sail once they get home. The best way to really learn is to put the knowledge students learn in class into practice when they get home, he said.
Skelton said he also thinks that couples should consider taking separate classes so that each person can build their confidence in their own way.
"It's very satisfying for me to see people really experience sailing for the first time. When there's good wind, good water and the boat starts to dig in and heel a little, they just light up and say, 'This is cool.'"
Favorite story: We had one of those classes where everything was going wrong. It was an ASA 101 class that we were holding on a 36-footer and the wind got excessive; it was 30 knots or more. One of the students said, 'This is the best!' She was really enjoying it. She felt safe and it was a great learning experience for them all. When things go a little bad, you can benefit from those experiences and turn them into a learning tool."
---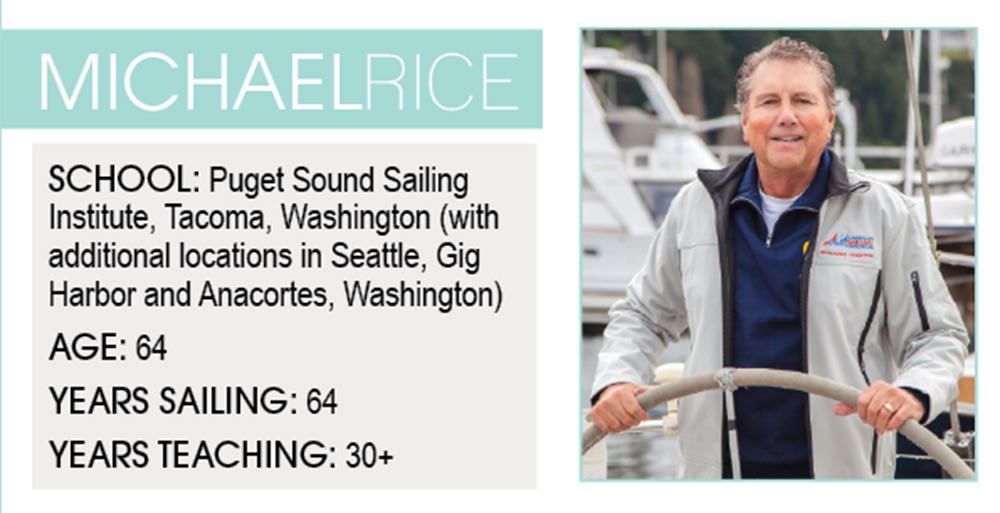 Michael Rice, who is the director of the Puget Sound Sailing Institute, said he thinks there is one characteristic an instructor must have over all others.
"They must be patient," he said. "No matter how good of a sailor you are, if you're not patient you can't teach someone else."
Part of being patient and a good instructor is listening to students so he can gauge how much of the material they are comprehending. But there is something intangible that a good sailing instructor brings to the mix as well.
"You have to have a love for what you're doing," he said. "Just in being yourself that translates to other people and they catch that passion that you have. My goal is to communicate that with others and let sailing become their passion too."
Favorite story: "We were doing a teaching charter in the Tobago Cays and the boat was anchored while we took a break from classes. I was onshore when all of a sudden there was a horn blast from the boat. When I got to the boat, one of the students shouted, 'We're sinking!' There was water coming but the bilge pumps were keeping up with it fine, so I figured this would be a great teaching opportunity.
"We went through all the things it could be and ruled them out one by one. It turned out that one of the hoses for the galley sink had blown, so we talked about how to fix it. Finally one of the students said, 'Don't you ever get flustered? I can't believe you didn't get upset!'"
---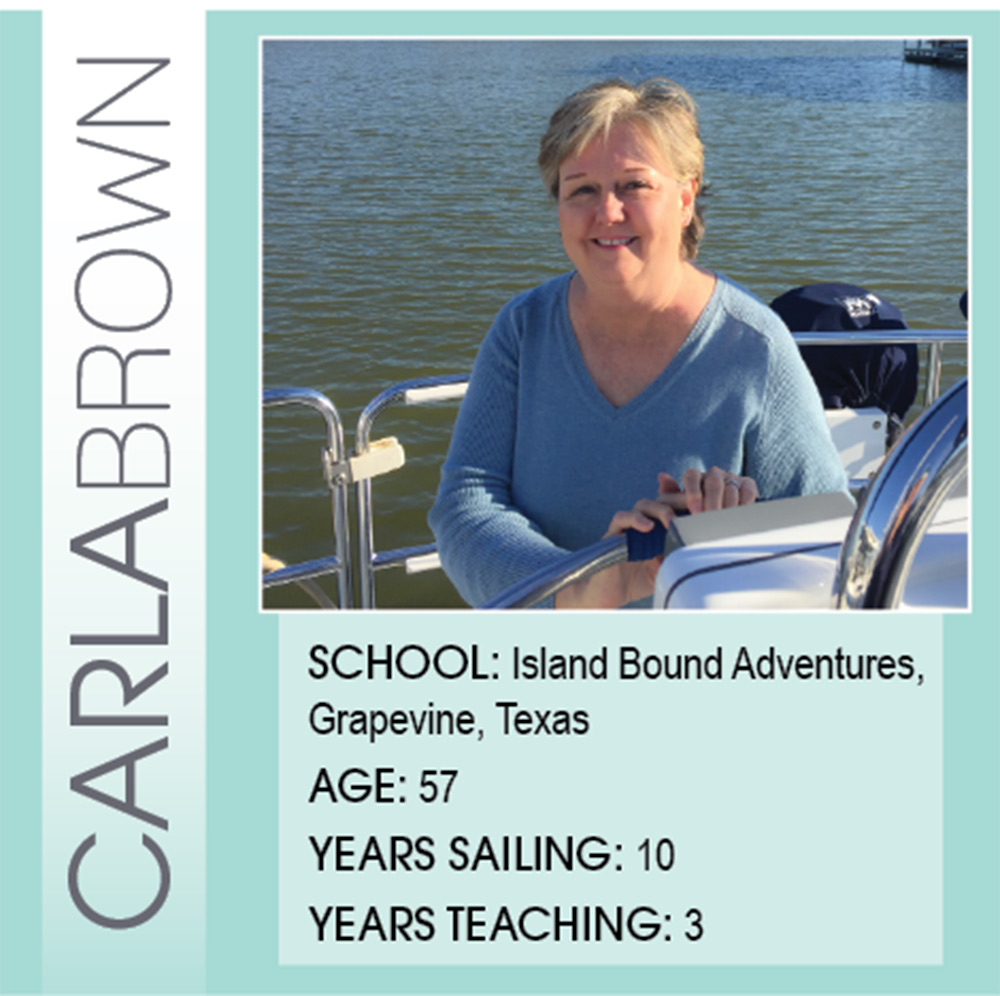 Although Carla Brown hasn't been sailing as long as many instructors have, she said she sees that as an advantage when it comes to making students feel comfortable.
"I try to put people at ease and prove to them that sailing is a very learnable skill," she said. "I portray it as: If I can do it, anybody can."
Brown said she has taught students from age 14 to more than 70 and enjoys the challenge that teaching a broad demographic brings. Still, the goal for every student's experience is the same regardless of their age.
"You want them to have a positive experience," Brown said. "So you have to put them at ease, give them lots of positive reinforcement and make sure they feel good about what they are doing."
Brown, who was an elementary teacher for many years, said she enjoys turning learning into fun so she will at times make an exercise into a game. In one case she has two boats play tag with each other, which forces everyone on the boat to participate and focus on their job on the boat, putting a premium on boat handling skills.
Favorite story: "Recently I finished a class with four people who were all in their mid-20s and all knew each other. They were extremely enthusiastic and so much fun to be around. It was just a great experience to be a part of that."
---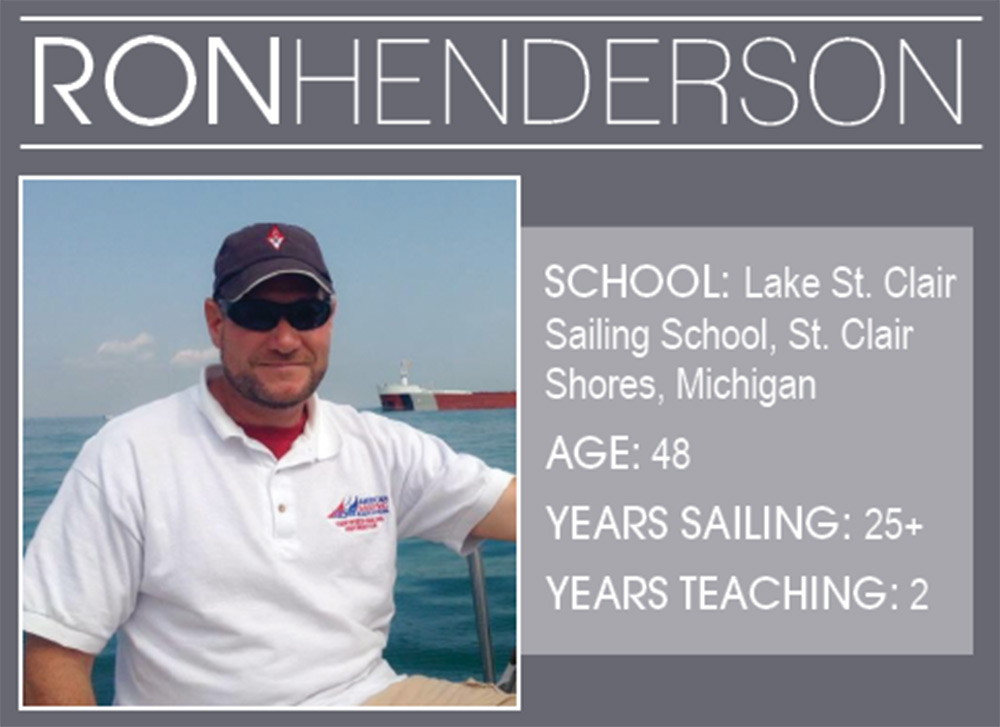 Ron Henderson said much of his teaching style comes from his own experience. "I always hate schools where the instructor just talked and talked. Nobody likes to be talked to all the time, so I make it personal for them, listen to them, show them what they need to do and then let them give me feedback," he said.
And, of course, fun has to be factor when it comes to learning sailing, Henderson said.
"I try to make classes very enjoyable," he said. "It should be, it's an exciting sport. Sailing is so much about feeling the boat, the wind, the weather."
Part of the fun is the constant learning that every sailor does, he said. "I tell students, you are always learning when you are sailing. I'm still learning. Every time I go out, I learn something."
Many of Henderson's students are people on the verge of retiring with plans to do all kinds of exciting sailing. "It's fun to get them more excited about all the things they are going to be doing, and I get excited for what they are going to be doing too."
Favorite story: "I was out with three students on a 25-foot Catalina and the wind was building. It was a perfect day to show them reefing, so we reefed the main and rolled the jib to just a sliver. They were good students and they all caught on and were enjoying it, so we kept sailing. A bunch of racers went by with full crews, heeled over and sailing fast and it was so fun for all of us. I felt like they learned a lot that day. Anyone can sail in light air, but heavy air takes more skill."
---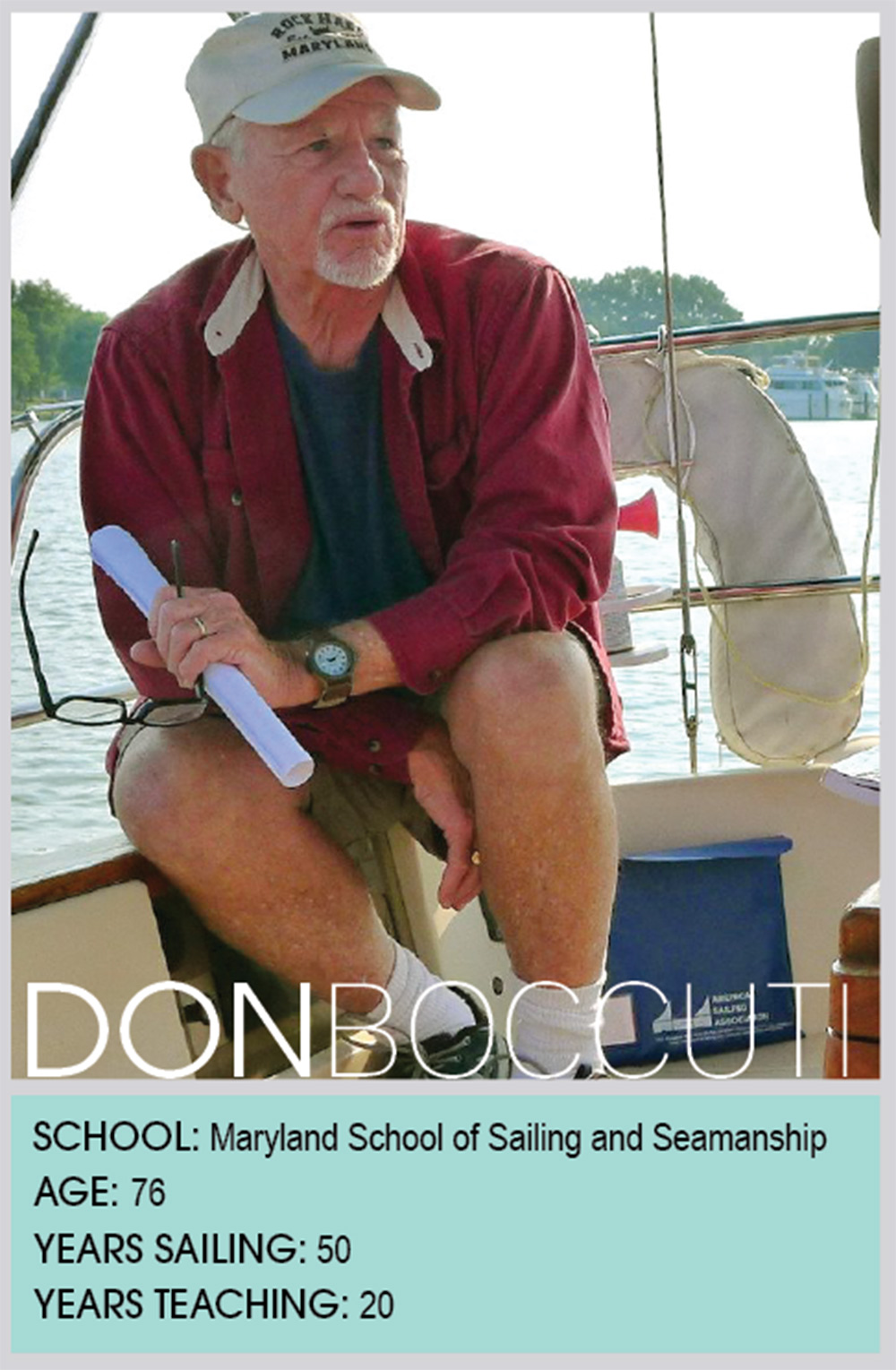 Don Boccuti said the key to being a good sailing instructor is balancing enthusiasm with a take-charge attitude. "I try to make students at ease with what they are doing, but at the same time you have to establish who is in charge and who they should be listening to," he said. "When I'm doing a docking class, there are a lot of things happening quickly and there can be a lot of apprehension, so I like to get people focused on one thing. If you break it down into little pieces, it becomes a bit easier."
Boccuti said he also expects students to do their homework, which is important so they can make the most of a class. "I don't want to report things they should have read," he said. "I do my homework and I expect them to do theirs."
He said he tries to help students learn about the lifestyle of sailing, not just the how-to. "I like to relate stories to students," Boccuti said. "I'll explain to them the feeling of being at anchor and how wonderful it is to help bring these images alive. The outcome of becoming a sailor is going to be that you can go places with your boat and your family. I try to make them see down the road. Sometimes there's a bit of drudgery that you have to get to, but I want them to see the big picture of what's waiting on the other side."
Boccuti said he's happy to be able to teach sailors of all skill levels and particularly satisfied when beginners return to take additional classes.
Favorite story: "I had a class where there were four people and one of the women did not want to be there at all. She had absolutely no enthusiasm for it. She turned to me and said, 'Don, if you stop all this jibbing and jibing and take the boat back, I'll buy you all the beer you can drink.' I've met the most interesting people and I learn something from every one of them. I just love the fact that you can bring strangers on a boat and they'll leave as friends."