This new cruiser draws inspiration from cruising catamarans for its living spaces
We have two big production built cruising boats to review this month and both are from very prestigious yacht design offices and built by very successful builders.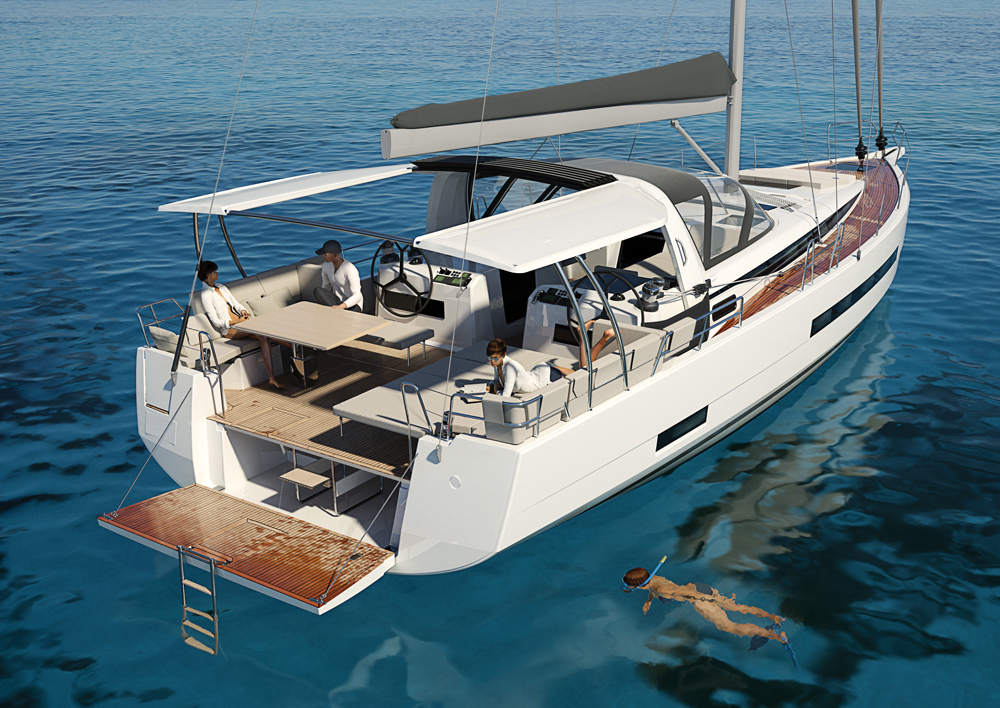 Our theme for this month will be volume. I talk about it frequently: Interior volume sells cruising boats. I'd go so far as to say that today volume is the No. 1 priority for these kinds of boats and not boat speed or performance. Let's see how the well-known French designer Phillipe Briand tackles the problem of volume in this new Jeanneau 55 design.
Think of a box 55 feet 8 inches long and 16 feet 4 inches wide. The depth of the box will be determined by the displacement required to float the structure with volume left over for the appropriate amount of ballast for stability.
The 55 displaces 40,878 pounds for a D/L of 125.5 with a ballast-to-displacement ratio of 26%. Note that the beam max is carried as far forward as possible without using a scow-type bow. Max beam is carried all the way to the transom. Briand uses a topsides chine with almost no rocker to retain the volume where it will benefit the interior layout the best. Look how much cabinsole area there is forward in this design.
The DWL is 52 feet 7 inches for an overall hull length of 52 feet 11 inches. This leaves 4 inches for overhang. That's almost nothing. Heeled, the chine digs in at the transom. I'd love to see a full set of lines for this boat. The L/B is 3.23. Standard draft is 8 feet 4 inches and the shoal-draft version draws 6 feet 5 inches. There are twin rudders.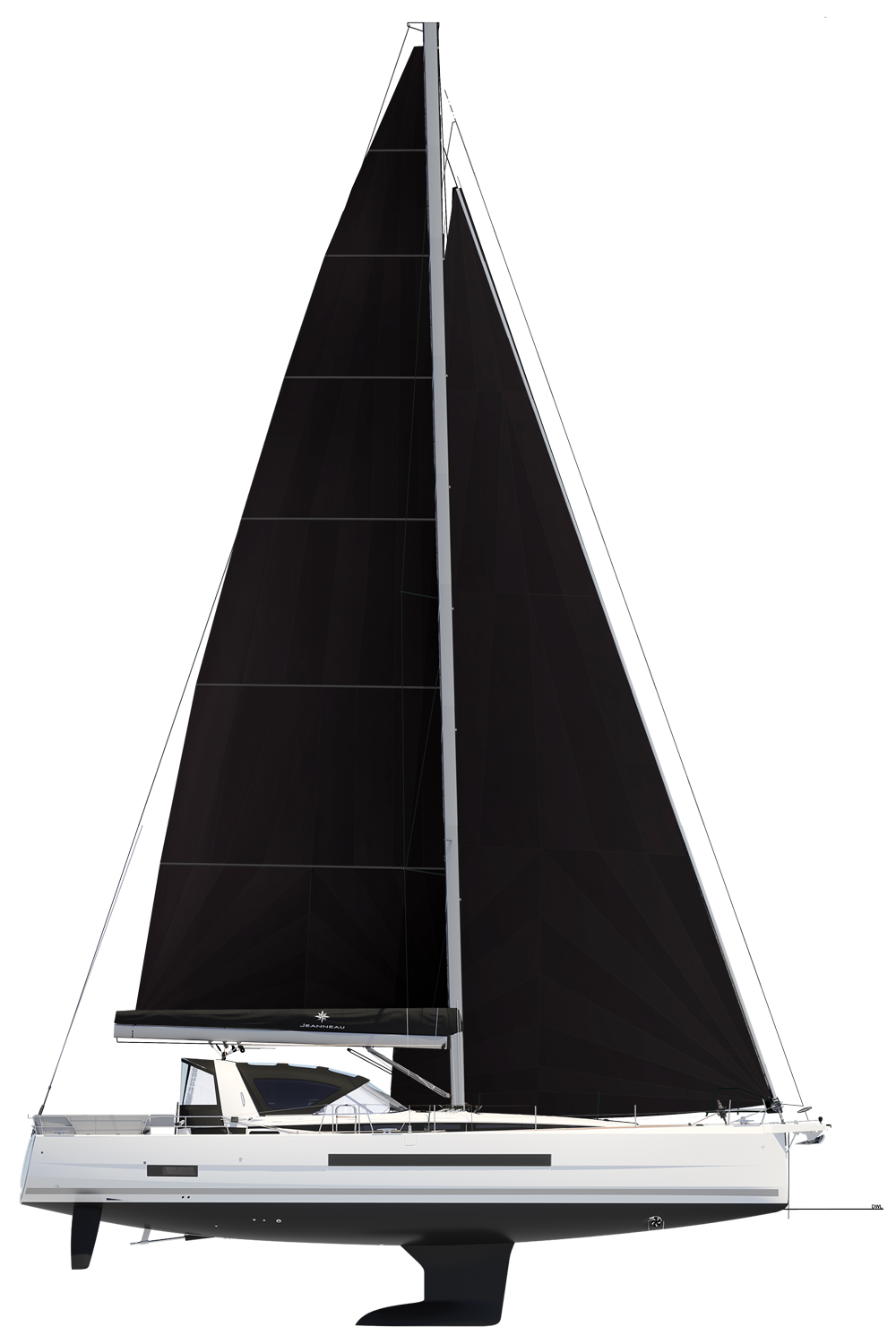 I only have one interior layout for this design. The interior design and I assume the overall styling was done by Andrew Winch and Jeanneau Design. There are three sleeping spaces, call them staterooms if you like. But what makes this layout unusual is the two, near mirror-image staterooms aft are accessed from the covered cockpit area. The port side stateroom has a bit more volume aft of the adjoining head. The deck plan does not show this deck access clearly but I'll take it on faith that it works well. It certainly optimizes privacy for these aft cabins.
The owner's suite forward is huge with en suite head and shower stall. Forward of this head is a tight crew cabin with head. The saloon features an L-shaped dining area to port. The galley appears to stretch the entire starboard side of the saloon although the drawing is sparsely detailed so there may be more than a galley going on there. I can't tell. I'll say this, there is a lot of counter space. It's nice to see some fresh thinking going on in this layout. It's unique.
The deck layout of the 55 is as innovative as the interior layout. There is a long trenchlike cockpit area leading aft from the main companionway that is flanked by long settees. It runs aft past the companionways to the port and starboard aft cabins and opens up to a huge aft cockpit area with twin steering stations. Aft of the steering stations is a raised area for lounging. The fold-down swim step sits flush to the transom.
There is an optional hard-top cover that extends out of an arch over the forward 70% of the forward cockpit. This hard top is very attractively done and almost all see-through but I can't tell if this hard top retracts or it's fixed. There are extensions going aft from the arch that provide shade over almost all the rest of the cockpit. This complex hard-top design with its options enhances the look of the boat and puts focus on the unique features of this design. Starting from my "the boat as a box" premise, the design team has managed to produce a very handsome yacht. Credit to them.
The standard rig has a SA/D of 19.01. You can choose a bigger rig with 301 square feet of additional sail area for a SA/D of 23. You can choose a self-tacking jib rig or a regular rig with deck mounted jib tracks. The mainsheet is on top of the arch and there is no traveler. Headsail and mainsheet control are just forward of the port and starboard steering stations leaving the cockpit clear of clutter.
This is a complex design. I have tried to do it justice with my word count limit but I think you'll have to go aboard a 55 to fully appreciate what the design teams have done. There must have been some very interesting meetings to make sure this all worked seamlessly. I would have liked being a fly on those walls.
---
LOA 55'8"; LWL 52'7"; Beam 16'4"; Draft standard 8'4", shoal 6'5"; Displ. 40,878 lb.; Ballast standard 10,803 lb., shoal 12,522 lb.; Sail area standard 1,410 sq. ft., optional 1,711 sq. ft.; Auxiliary 110-hp; Fuel 61 gal.; Water 201 gal.; D/L 125.5; L/B 3.23; SA/D standard 19.01, optional 23
---
Our best estimate of the sail away price: $1.4 million
Jeanneau America
105 Eastern Ave
Annapolis, MD 21403
(410) 280-9400