Motorsailer

This design epitomizes the essence of what a "custom boat" is. It's truly different in an age when sometimes I can hardly tell the stock offerings apart. The designer is Frank Stapelmann and the owner of the boat is his brother. The builder is my old pal Steve Rander and the Schooner Creek crew. Apart from specific design differences this design was drawn by hand. No computers here, so don't look for glitzy 3D models or art department renderings. But hand drawings can be beautiful, and these aren't. They are a bit crude and the prints I received are hard to read in many areas. But that's just an aside to what is an intriguing design. I would always rather see the actual designer's own drawings.
It's normal when you look at a design like this to say, "I wouldn't want that and I sure would not have done that and why in the dickens did they do that?" There, in a nutshell, is the heart and soul of the custom design. This client had firm ideas of his own and he could not find a stock boat that satisfied his needs. That's the fun of it for the designer: the chance to create something really different.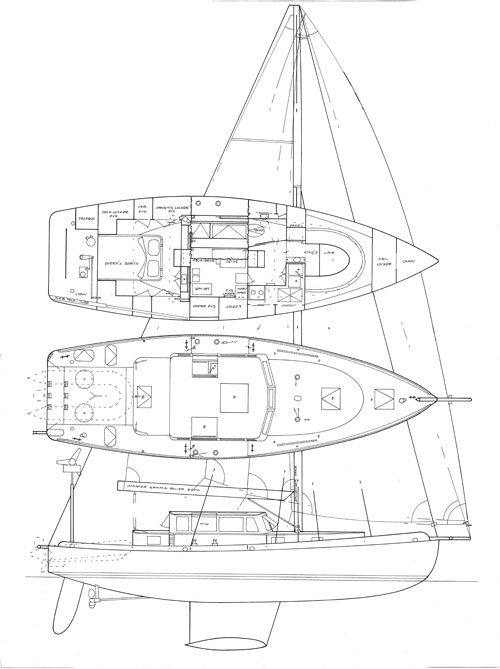 I like the hull. The ends are short but there is a nice shape to the bow profile. The sections show some hollow just aft of the stem. The D/L is 227 and there is 13 degrees of deadrise amidships. The L/B is 3.13. There is a hint of tumblehome at the transom. The keel is a steel fin that doubles as a fuel tank with a lead bulb at the tip. This type of keel is a Schooner Creek specialty. The rudder shows very little taper to its planform and about 10% balance area.

The layout is strange but exactly what the client wanted. The boat is a motorsailer, so there is a pilothouse that you enter through athwartship hatches on either side. The designer says this is not a totally weather tight situation but according to the designer it is "drier than any canvas structure." You steer from inside with a winch handle into a tiller type arrangement. From what I can tell there is one to starboard and one to port but there is no wheel. Below the pilothouse is a real engine room. Going forward from the pilothouse you have a head to port and a large galley to starboard. Forward of this is a horseshoe shaped dinette that converts to a berth. If you go aft from the pilothouse you have a large owner's cabin with a centerline double flanked by large hanging lockers. There appears to be a sink in the aft cabin too.

The deck is just as unusual as the interior layout. There is no outside steering that I can see. The "cockpit" area is designed to be completely taken up by the inflatable dinghy. This is good. We'd all like a place to tuck our dinghy where it can be easily launched and easily retrieved. But cockpits are nice too. Of course, at anchor you could hang the dinghy off a painter and sit around in the dinghy nook. The jib tracks show a sheeting angle of 18 degrees. That's a lot but this is a motorsailer so maybe they don't need to go to weather much.

The rig is a tall masthead sloop with a steel pipe bowsprit to help fly an asymmetrical chute. There appears to be an inner forestay for a staysail and running backs. There are fore and aft lowers and the cap shrouds are in line. This is a very conventional rig. I don't have rig dimensions but with a 75-horsepower diesel engine turning a 27-inch-diameter three-bladed Max Prop I doubt light air performance will be an issue.

The boat is finished very plainly with custom cast bronze fittings and no wood trim. The tall bulwark is a striking feature. Clearly Mr. Stapelmann has designed a boat that will have other sailors asking, "What is that?" That's a good thing.
---
LOA 45'9"; LOD 40'9"; LWL 37'6"; Beam 13'; Draft 6'6"; Displacement 26,817 lbs.; Ballast 8,484 lbs.; Sail area 825 sq. ft.; SA/D 14.73; D/L 227; L/B 3.13; Auxiliary Volvo D2 75-hp; Fuel 180; Water 180
Frank Stapelmann, 6293, Muirfield Dr., Goleta, CA 93117, (805) 451-4488, fskukui@aol.com.

OBE: $1.2 million
Our Best Estimate of the sailaway price