I can't believe my eyes! Here is a new design from Paul Gartside of Shelbourne, Nova Scotia, that appears to be drawn by hand. Amazing! It's a fanciful, romantic little boat, and Paul's romantic, hand-drafting style suits it very well, and makes studying this design a treat for the eyes. Paul is both the designer and builder of this cutter.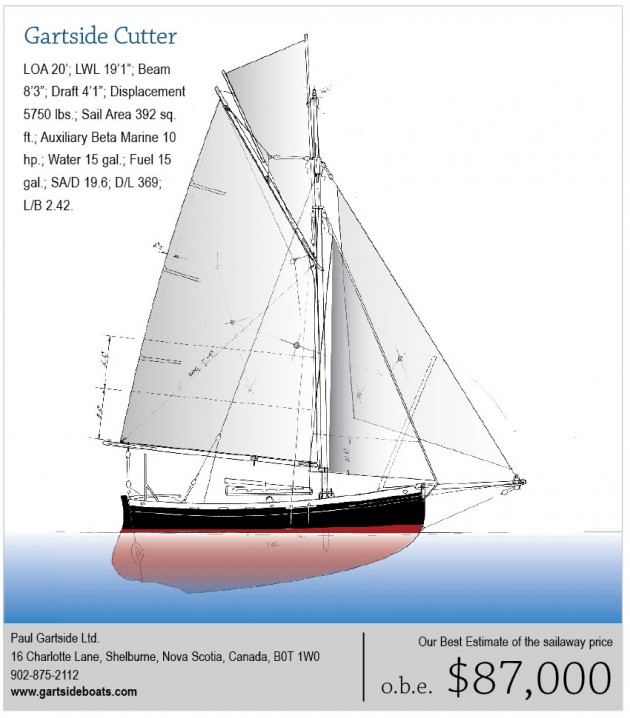 This is an Itchen Ferry Cutter style very similar to the Bristol Channel Cutter type best known through the work of Lyle Hess. Paul has stayed true to the type so there is nothing new or different about this hull with the exception of the way he has cut the aft end of the keel up. The 20-footer is heavy, with a D/L of 369 and a displacement of 5,750 pounds.

The sections are a wineglass shape with hollow garboards. I would consider this a textbook "full-keel" profile as you can't tell where the forefoot end and the keel begins. It's chubby. The L/B is 2.42, and I consider anything under 3.00 beamy. This is a very pretty and shapely hull with a strong spring to the sheerline.

Paul's drafting style is right out of the Bill Garden school with close attention paid to deliberate "whimsy." I suppose you could call it "sloppy" drafting but it's exactly that free element that gives the drawings life and vitality. Even Paul's lettering is fanciful.

With 20 feet of LOD to work with there is not much of an interior in this boat. But there are two comfortable settee berths and room for a portable toilet forward. There is a kind of mini galley to starboard. To my eye, this is a layout for one sailor. I can see myself as that one sailor. One man, one dog and one boat is a winning formula.

The Bristol Channel Cutter type needs a gaff rig. Gaff rigs are fun. You have a throat halyard for the inboard end of the gaff controlling luff tension. You have a peak halyard for the gaff controlling leach tension. Between these two halyards you can really shape the sail for the conditions.

Paul's rig has a topsail and that requires another three lines. But as my old boss Jay Benford once said, "The amount of enjoyment you get out of sailing is proportionate to the number of lines you have to pull." I think he was trying to be funny but there is some wisdom there. I don't think you'd want a vintage MG without a manual transmission. Of course the gaff rig won't point high. But this hull with its full keel won't point high regardless of what rig you put on it. So, why not make a really pretty picture and go with the gaff.

Paul added a short, steel extension to the stem to get the tack of the staysail beyond the stem to improve balance. Note also that this is a hinged bowsprit. In the old days these boats had reefing bowsprits. They are on center, and bypass the stem at an angle so that the tack of the jib is on centerline.

In the old days the bowsprit would just slide back onto the deck to reduce the LOA at the dock. Paul's bowsprit hinges up so that the length at the dock is about 20 feet. I really like the way the stem protrudes above the deck. It looks natural to my eye.

The deck plan is simple with a cockpit well and no coamings. You just sit on the deck like you do on any modern racing boat. There is a bulwark that looks to be about 6 inches tall. Halyards go to pin rails port and starboard at the mast. There are no winches.

Paul will build you one with a triple-skin glued wood hull with 6-ounce glass sheathing. The engine is a Beta Marine two-cylinder, 10-horsepower diesel.